The murder of Hande Kader, a transgender activist and sex worker, led to a massive protest in Turkey's Istanbul, on Sunday evening (21 August). Protesters chanted slogans and demanded justice for Kader, who was found dead earlier in August. The 22-year-old's body was found mutilated and badly burnt in the neighbourhood of Zekeriyakoy — a village of the Sarıyer district of the Istanbul municipality.
According to reports, opposition MPs and some political leaders were also the part of the protest. "We will not stop until we find those responsible for Hande Kader's murder," Ebru Kiranci, spokeswoman for Istanbul's Lesbian, Gay, Bisexual, Transgender & Intersex (LGBTI) Solidarity Association, said.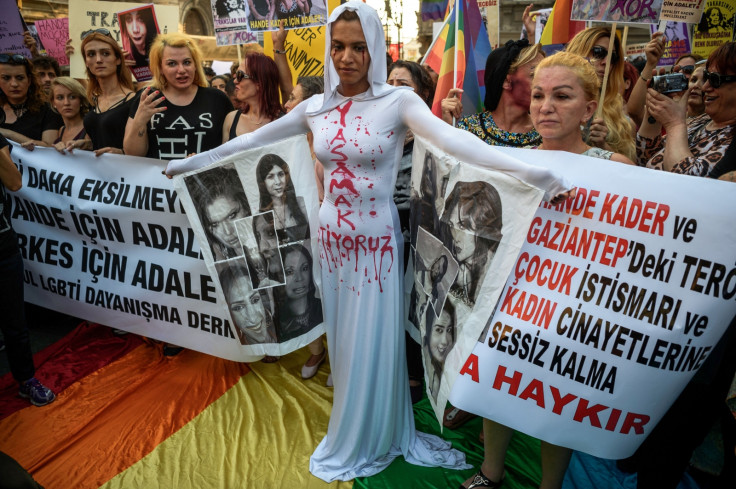 Kader's flatmate, Davut Dengiler, said that her body was identified at a city morgue. "I was about to leave the morgue. I felt a sense of lightness for not having found her there. At the last minute, a doctor there said, 'There's also a burned body - look at that as well.' I did. I told them identifying features. They then looked at the computer, at the report. The doctor put his hand on my back and gave his condolences. I lost myself," BBC quoted Dengiler as saying.
The murder of Kader came just two weeks after the killing of a gay Syrian refugee Muhammed Wisam Sankari. In the police investigation, it was found that Sankari had been raped and beheaded; his body was found at the place near to the area from where Kader's body was discovered.
Homosexuality is not a crime in Turkey, but the country is extremely conventional on the issue and transgender people are looked down upon and treated inferior in the society.
A recent poll by the Pew Research Center said that around 80 per cent of Turks believed homosexuality was "morally unacceptable".