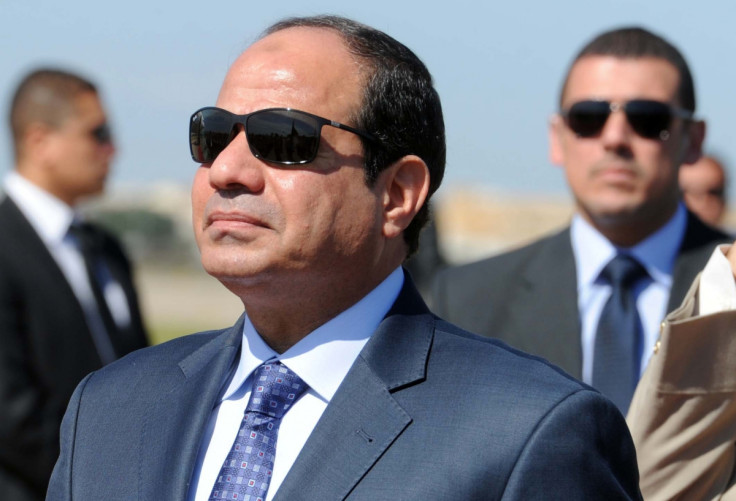 Prime Minister David Cameron has been urged to confront Egyptian president Abdul Fattah al-Sisi on alleged human rights abuses on his first official visit to the UK on 5 November.
Protesters will gather outside Downing Street – where Cameron is to speak with al-Sisi on issues expected to include trade, terrorism and the conflict in Libya – to demand that the Prime Minister hold "dictator" al-Sisi to account for the alleged murder and mass imprisonment of political opponents.
Sameh Shafi of the Stop Sisi Campaign, which organised the protests, told IBTimes UK: "Al-Sisi's human rights background is absolutely abysmal. He has imprisoned over 40,000 people, it is an abysmal situation in Egypt, things are going from bad to worse.
"He [Cameron] should not be inviting a blood-soaked dictator to the UK, where our values stand with human rights, freedom of speech, democracy. We should not give a red-carpet treatment to someone like that."
Downing Street announced the visit in June, the day after an Egyptian court confirmed the death sentence for former president Mohammed Morsi of the Muslim Brotherhood, who was overthrown in an al-Sisi led military coup in 2013.
Since then government forces have arrested up to 40,000 government critics, predominantly supporters of the Muslim Brotherhood, as well as allegedly clamping down on journalists and activists.
Downing Street has confirmed to IBTimes UK that the visit will take place on 5 November. Groups including the Stop the War coalition, the Muslim Association of Britain and the Campaign Against the Arms Trade are expected to take part in protests, planned for Wednesday and Thursday.
The UK ambassador to Egypt, John Casson, reportedly said in an Arabic language Facebook posting that among the issues Cameron and al-Sisi will discuss are helping Egypt to become a "stable and prosperous" democracy, with the Egyptian authorities accused of brutally supressing opposition groups.
In an interview with Middle Eastern Eye in August, Labour leader Jeremy Corbyn said that he would not have invited al-Sisi to the UK because of his human rights record, and shadow chancellor John McDonnel signed a petition published in the Guardian last week calling for Cameron to rescind the invitation.
Several organisations with links to the ousted Muslim Brotherhood appeared on the petition, and are expected to attend the protest, including the Egyptian Revolutionary Council.
Cameron ordered an inquiry into the Muslim Brotherhood's activities in the UK in March, after it was allegedly linked with fostering extremism and violent attacks in Egypt. The unpublished report has cleared the organisation of links with terrorism, the Financial Times reported.
Amnesty International UK director Kate Allen joined calls for Cameron to confront al-Sisi on human rights.
"President al-Sisi's arrival in the UK is key test of whether David Cameron is prepared to do more than roll out red carpets for authoritarian leaders," she said.
"We want to see David Cameron personally raising human rights issues in talks with President al-Sisi. There have been horrifying mass death sentences since President al-Sisi came to power – some after grossly unfair trials – and thousands have been detained in an attempt to quash all opposition.
"Almost no one's escaped attention in al-Sisi's crackdown, with members of the Muslim Brotherhood, peaceful protesters and journalists all now languishing in jail."
In October, opposition leader Corbyn challenged Chinese president Xi Jinping on the country's human rights records during a state visit to the UK, while the British government cancelled a contract to provide prison services to Saudi Arabia over concern about its human rights.