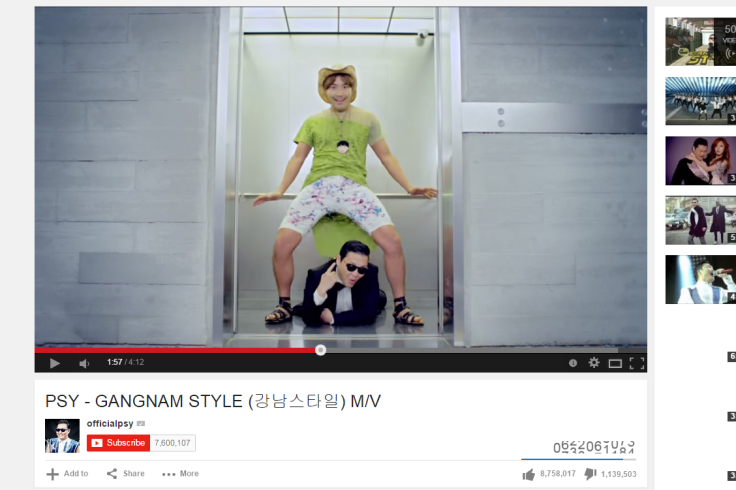 Psy's 2012 monster-smash Gangnam Style has made history after surpassing the two billion milestone on YouTube.
As a result of the Korean rapper reaching the magical landmark, the music-sharing site was forced to upgrade its counter.
"We never thought a video would be watched in numbers greater than a 32-bit integer (=2,147,483,647 views), but that was before we met Psy," said YouTube on Google+.
"Gangnam Style has been viewed so many times we have to upgrade! Hover over the counter in Psy's video to see a little math magic and stay tuned for bigger and bigger numbers on YouTube."
Gangnam style, which made pretending to ride a horse a viral dance, has been a hit ever since Psy dropped the surreal video two summers ago. By Christmas 2012 it had racked up its billionth view on YouTube.
But it is not alone in its popularity. There are few others video vying for the YouTube crown.
IBTimes UK recaps the top five most watched YouTube clips of all time.
5. 2011- Party Rock Anthem by LMFAO featuring Lauren Bennett & GoonRock
There's a good chance that the American dance-pop recording duo, LMFAO, British singer Lauren Bennett and American music producer GoonRock had no idea what they had on their hands when they released this gem back in 2011. It has had 780 million views.
4. 2011- On the Floor by Jennifer Lopez featuring Pitbull
This track from Jennifer Lopez' seventh studio album, Love? may just be her biggest hit to date. Surely almost 800 million views is enough proof?
3. 2007- Charlie bit my finger – again!
This famous viral clip showing sibling bonding at its best has over 800 million views and counting.
2. 2010 - Baby by Justin Bieber ft Ludacris
The Canadian pop star's bubble gum hit is the second most-watched video with 1.1 billion views.
1. 2012 - Gangnam Style by Psy