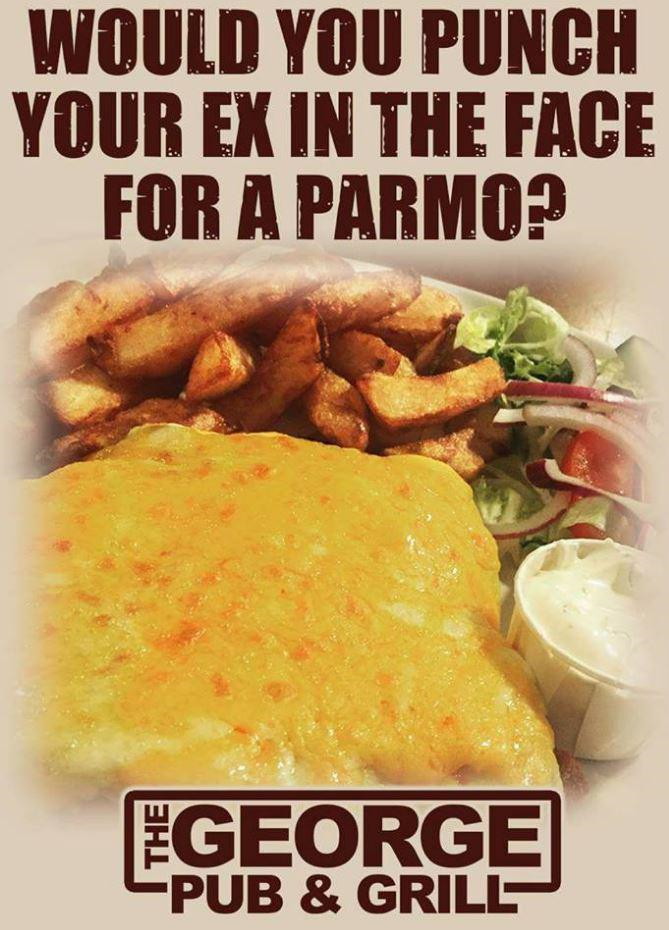 A gastropub in the north-east of England has been forced to remove an online advert which asked "would you punch your ex in the face for a parmo?".
The advert appeared on the Facebook page of the George Pub and Grill in Stockton to promote the breaded chicken topped with béchamel and cheese dish, which is poplar in the Teesside area.
The pub, which is known in the area for its extreme eating challenges, was criticised for the "appalling" advert and the way it trivialised domestic violence.
Lesley Gibson, chief executive of Teesside domestic abuse service Harbour, told the Gazette Live: "I don't think it's appropriate for domestic violence to be used in this way.
An official complaint was made to the Advertising Standards Agency (ASA) has on the basis it encourages domestic violence and was "offensive and socially irresponsible".
The ASA has upheld the complaint and told the pub that the advert must not appear again in its current form.
In their ruling, the ASA said: "The ASA considered that the phrase 'Punch your ex in the face' referred to domestic violence and was likely to cause serious offence.
"We considered that referring to domestic violence in an advert for a fast food dish trivialised and condoned domestic violence and concluded that the ad was not prepared in a socially responsible manner.
"We told The George Pub and Grill not to trivialise or condone domestic violence in its advertising."
In response to the ruling, the pub posted a Facebook competition for a free parmo with the caption "please remember all violence is bad".
The poster adds: "Do not punch your ex, car or anyone else for a parmo. We have enough free food comps running for you not to resort to violence."
Previously, the pub was criticised for offering a free meal to all customers who weigh more than 25 stone, as well an eating challenge which people are encouraged to eat an 8,000-calorie parmo kebab.