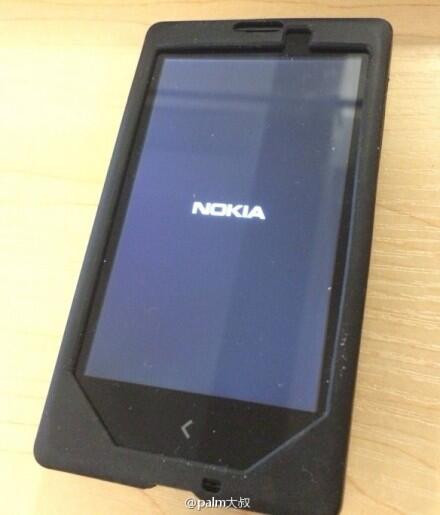 An image of the purported Nokia Android phone, the Nokia Normandy, has now been posted on Twitter. The handset in the image is apparently an "engineering prototype" and has a back button. On its screen, there's a prominent Nokia logo on a black background.
The image was posted by a Chinese Twitter user, @seamissu. The user claims that these images are of the Nokia Normandy, an Android handset from Nokia that has been rumored since November 2013.
The tweet reads, "The engineering prototype of Nokia Normandy." The type of logo is the one that is usually seen while switching on a device.
The back button below the screen is a capacitive touch button, similar to the ones seen on Nokia's Lumia range of phones.
However, since Microsoft has signed a deal to buy the Finnish phone maker, there was speculation that the project will be scrapped. This news of a prototype comes despite Microsoft's plans to acquire the company.
Sources have told The Verge that Nokia's Normandy Handset "is designed as an Asha equivalent to push low-cost devices with access to more traditional smartphone apps - something the company has struggled to achieve for its Series 40-powered Asha line."
It is worth noting that this isn't the first purported image of a Nokia's Android Phone. Earlier this month, the handset in question was leaked in an image, which supposedly revealed a completely custom Android interface running on top of the device. The UI looked similar to Nokia's UI on its Asha line of phones.
The UI on the Normandy handset indicates that Nokia's approach towards Android is similar to Amazon, who went on to completely customise the OS to suit its needs.