Pressure from the Kremlin unhappy at revelations, such as those uncovered in the Panama Papers, has been linked to the sacking of three editors of the news outlet RBC Media, one of its outgoing chiefs has said. Amid concerns of a crackdown on the media in Russia, Elizaveta Osetinskaya, editor-in-chief of RBC group, Roman Badanin, its website editor and Maxim Solyus, editor of its newspaper, left their posts.
But in her first interview since she left RBC, Osetinskaya said: "The publication became a red rag because of the offshore (Panama Papers) coverage. If you look at the major investigations we did, they are all based on the same principle: follow the money," she said, the FT reported on 20 May.
Thanks to its fearless reporting on corruption, RBC has garnered millions of readers in Russia hungry for information in a country whose media environment is controlled. RBC sources said pressure was placed on its owner, Mikhail Prokhorov, a metals billionaire, who ran against Vladimir Putin in the 2012 election.
Among its stories were revelations that Putin's daughter Katerina Tikhonova and her husband Kirill Shamalov got an £870 million soft loan from a state-linked bank, a report that the Kremlin denies.
The business daily Vedemosti reported how an official had said its coverage of the Panama Papers, which claimed Putin's friend, the violinist Sergei Roldugin, controlled offshore companies, went too far.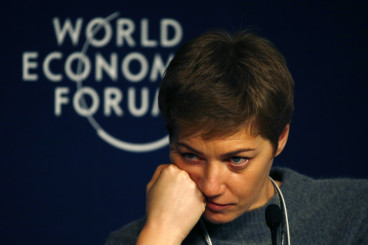 The outlet also ran a story about plans for an oyster and mussel farm next to a billion-dollar Black Sea estate popularly known as "Putin's Palace".
Russia's deputy communications minister Alexei Volin said the RBC editors had been "fired for idiocy," as well as "incompetence and lack of professionalism", and their work had driven the media holding into $22.5m (£15.5m, €20m) worth of debt, Interfax news agency reported.
RBC general director Nikolai Molybog said that the journalists left due to "disagreements on important issues".
The high-profile departures come amid growing concerns about the media landscape in Russia after RBC became the 12th publication in five years to face pressure from the authorities.
In January 2016, a new law restricting foreign ownership in Russian media companies led to the selling off of Forbes magazine's shares, with Meduza reporting how a new owner had meddled in editorial policy and demanded certain stories be removed.
Meduza itself was created after the editor of Lenta.ru was fired in 2014 over articles it produced in what was seen as an act of censorship. More than 80 journalists resigned in protest and set up Meduza in Latvia. Also that year, cable operators began dropping Rain TV for an online survey it ran asking viewers if Leningrad should have been surrendered to the Nazis "in order to save hundreds of thousands of lives."
Founder of Rain TV, Natalya Sindeyeva wrote in The Moscow Times: "Russian society has grown accustomed to the authorities pressuring and censoring the media(...)The authorities have made RBC a lesson for the independent media outlets still left in Russia, effectively telling them: 'Don't make us angry or you'll regret it.'"