Putin's Siberian tiger caught on camera devouring domestic dog
Rare tiger released by Russian president filmed eating a dog in China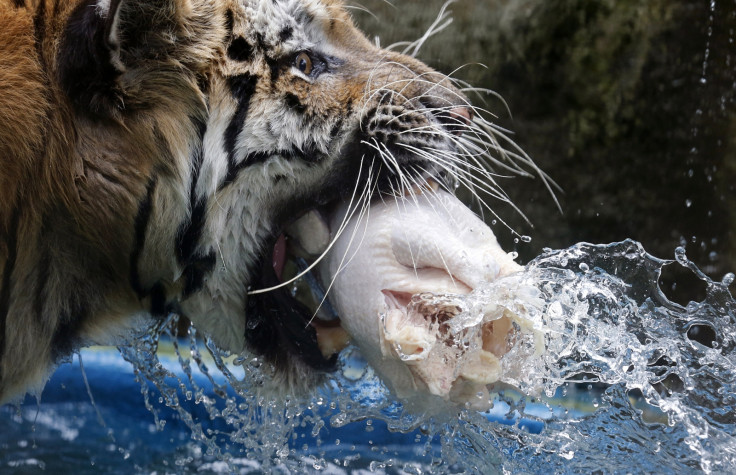 A rare breed of tiger released by Russian President Vladimir Putin into the wild was filmed eating a dog after crossing into China.
The Siberian large cat, which was wearing a GPS tracking device around its neck, was captured on an infrared camera and filmed for two hours, according to China Central Television.
The 19-month-old big cat, Kuzya, crouched over the dead dog and after feasting on the animal, disappeared into the dawn on Heixiazi island which links China and Russia.
Kuzya was one of three Siberian tigers released by Putin in a remote part of the Amur region, in eastern Russia, in May. Satellite signals beamed to Moscow from collar trackers showed two of them remained in Russia, but Kuzya crossed the border into China seeking food.
Chinese officials have been monitoring the animal's movements.
The tiger has also been accused of killing goats and other livestock on farms in China. Blood and feathers near a farm suggested the tiger had rampaged through a hen house and eaten five chickens, according to the Siberian Times.
These claims were denied by Yevgeny Simonov, coordinator of the international coalition Rivers Without Borders, who said: "Only dung and remains of boars that he killed have been found. Also, Kuzya did not eat any cow, dog or human."
There are fears that Kuzya could attack humans if it cannot find enough food.
"China is a densely populated place and the likelihood of meeting people here is great. There is a risk that, not finding places with food, Kuzya can attack humans," said Simonov. "Or it might get stuck in a trapping net placed in the surrounding area to catch deer and wild boars."
As Kuzya is back in Russia, his escapades in Chinahave been waived off by Maria Vorontsova, director of the International Fund for Animal Welfare in Russia.
"I can't tell you he's going to stay in Russia," she said. "But the good news is that during his time in China, he was very well behaved."
The Siberian tiger, also known as an Amur tiger, is on the Red List of Threatened Species with around 450 left in the world.
Russia launched a national campaign to protect the animal four years ago, which is the largest of the five tiger species.
© Copyright IBTimes 2023. All rights reserved.