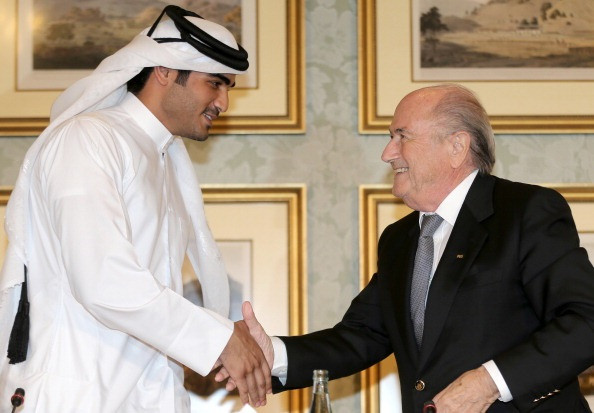 The latest allegations of bribery and corruption in the Fifa ranks have caused yet another storm of controversy to erupt around world football's governing body.
The Sunday Times alleged that Mohamed bin Hammam, the former Fifa executive member for Qatar, used a slush fund to pay millions of dollars to influential football officials in order to win a "groundswell" of support for the bid. The newspaper's allegations are based on "millions of documents" it says it has obtained.
Accusations of corruption will not be a new scenario for Fifa to deal with and although they have not yet been proven, the reams of negative headlines could prove to be too difficult for the sports regulator to swat away.
An urgent question now arises in the wake of this latest wave of damaging allegations: Is Fifa doing more harm than good to Football?
The decision to award the 2022 World Cup to Qatar was met with criticism from all quarters. It was a decision that the footballing community struggled to comprehend. Keen Fifa observers suspected something was amiss.
Fifa is not the only one in the dock; Qatar's reputation, too, is on the line given it has been mired in unrelenting criticism for inhumane working conditions which see labourers work day and night in blistering heat to complete state-of-the-art stadia in preparation for the global football gathering.
But it is not just allegations of corruption that have cast a shadow over Fifa. It has slipped on a series of PR banana skins in Sepp Blatter's tenure as president.
Fifa has become the embodiment of modern-day football as it epitomises the prima donna nature of a sport dominated by money.
From the moment Fifa announced Qatar was to play host to the World Cup, many in the football world shook their heads and asked simply: 'how much did it cost them?'
The news that Jack Warner, formerly president of the body which oversees football in North America and the Caribbean, received large payments from Qatari companies during and after the bidding process did not come as a surprise to many, it actually made a lot of sense.
And Fifa's response to this? Whilst some of the heads of football's national bodies, such as England's FA, have come out and said that the whole bidding process should be revisited following the news, the official word from Fifa is ... Silence.
It's hard to imagine a scenario where Blatter did not know what was (allegedly) happening behind him, considering the allegations that have previously been made, such as bribery directed of the heads of football associations across the majority of Africa, and the Caribbean.
This begs the question, could the footballing world survive without a head, without a central decision-making body? Quite frankly, it would seem so.
More often than not, whenever a controversy surrounds football in local communities, such as Luis Suarez's biting, or racist chants in Spain, Italy and eastern Europe, Fifa leaves the punishment to the country's football association.
As it stands, there is no consistency across the globe when it comes to punishment. Racist chanting can lead to a heavy fine, a slap on the wrist, a partial stadium ban, but very rarely does Fifa intervene or overrule.
In fact, when it comes to racism, despite constant exhortations urging him to act, Blatter once claimed that the players should just deal with it themselves.
"The [player] who is affected by [racism], he should say that this is a game. We are in a game, and at the end of the game, we shake hands, and this can happen, because we have worked so hard against racism and discrimination," he said in 2011.
International tournaments could also obviously do with a shake-up if the current allegations are anything to go by.
Following this year's World Cup, the next two tournaments will be held in Russia, in 2018, and Qatar, in 2022. Both countries have had their human rights problems in recent years, and both present unique problems for those who travel there; the crime rate in Russia, the heat in Qatar.
The World Cup this year will bring in an extortionate amount of money – over £2bn if you believe NPD's report – to the footballing world. With that in mind, it is important that Fifa gets the destination of its flagship tournament right for the sake of the sport.
Instead, if the latest allegations are proven, we will know that Fifa put its own personal greed ahead of the good of the game.
Bribery and corruption claims continue to pop up time and time again. It is now us, as football fans who need to take action.
Russia and Qatar's World Cups have already been the subject of boycott calls. Although that's a highly unlikely scenario, maybe it's just the stand that the footballing world needs to take against Fifa to show that the community can't be bullied with money.
Without us, there is no cash in the World Cup. Without money, there is no motivation for Fifa.