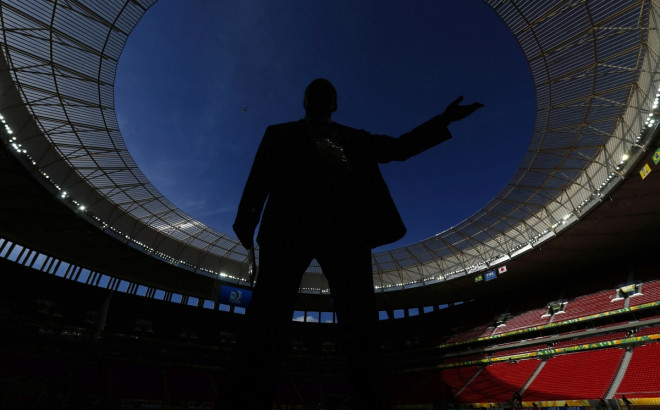 After allegations that former high-ranking Qatari football official Mohamed bin Hammam paid millions into the bank accounts of football chiefs in return for support for Qatar's 2022 World Cup bid, IB Times UK recalls 10 further controversies in the sport.
Here are some more memorable examples of football gone wrong.
1. Bruce Grobbelaar
The former Liverpool goalkeeper was (wrongly) accused of match-fixing by the Sun in 1994 after being caught on video discussing the throwing of a match to beneift a betting syndicate. Grobbelaar was cleared after the jury could not agree on a verdict.
He went on to sue the Sun, successfully, for libel and the newspaper appealed. Grobbelaar was awarded £1 in damages, the lowest possible under English law, because the allegations were not proved. He was forced to pay the Sun's legal costs of approximately £500,000 and to declare bankruptcy.
2. Sam Sodje
Former Portsmouth and Charlton defender Sam Sodje was arrested over match-fixing claims after being filmed claiming that he could arrange for specific players to receive yellow cards in return for lucrative sums of money. Sodje charged £30,000 for a booking and £50,000 for a red card during a match. He also admitted to punching a player in a match to be sent off and receive a £70,000 pay packet. Watch the sending off on YouTube, below:
3. DJ Campbell
DJ Campbell was arrested in the same operation as Sodje (above). He was subsequently released without charge. He was playing for Blackburn Rovers at the time and the striker was loaned out to Millwall for the rest of the season, scoring on his debut.
4. Nigerian FA official
A senior Nigerian FA official and the chairman of its own disciplinary committtee, Olaleye Adepoju, was banned from football for 10 years for taking a bribe.
Adepoju was the chairman of Oyo State's football association in south-west Nigeria and was alleged to have taken a $9,400 backhander from the Shooting Stars team to judge in their favour after they had abandoned a league match in 2013.
5. Croatian FA official
Croatian football official Zeljko Siric was sentenced to four years in prison for taking bribes to guarantee which referee would take control of a club's matches.
Siric, a former vice president of the Croatian FA, was found guilty of taking $41,000 in bribes from Hadjuk Split football club in return for putting referees on Hadjuk games at their request.
6. Seven football league players
Earlier this year, police arrested seven footballers, and rearrested six more, for alleged bribery and money-laundering. All of the players were playing for Football League clubs based in north-west England.
7. Amos Adamu
Nigeria's Amos Adamu received a three-year ban and 10,000 Swiss franc (£6,341) fine from Fifa's ethics committee after being found guilty of breaching the world football body's bribery rules. The ban came after a Sunday Times investigation which alleged that officials had requested money in return for World Cup votes. He was banned from participating in the vote for the 2018 and 2022 World Cup hosts.
8. Arsenal get promoted
In 1919, when top-flight football resumed after the first world war, the division was expanded from 20 to 22 clubs. Previous expansions dictated that the relegated clubs from the previous season stayed up, and the top two sides from the second tier were promoted. So it was that Chelsea, who finished in 19th, got to stay up, and Derby County and Preston North End came up from the (then) Second Division.
But, somehow, it came to pass that Arsenal, who finished fifth in the Second Division, were promoted to the top flight at the expense of... their north London neighbours, Tottenham Hotspur, who've had a chip on their shoulder about it ever since.
Arsenal have never since dropped a division.
9. Accrington Stanley v Bury betting
In a match between Accrington Stanley and Bury on the last day of the 2007-08 season, unusual betting patterns were spotted. An investigation was announced which resulted in five players being charged with betting on Bury to win.
Four of the players played for Accrington, meaning that they were betting on their own team to lose. The game finished 2-0 to Bury. All players were fined £2,000-£5,000 and banned from playing for various lengths of time, the longest being a year for Jay Harris. FA rules forbid a player to bet on matches involving his own team.
10. Nigeria v Scotland friendly
Last week, police investigated alleged attempts to affect the outcome of the Scotland versus Nigeria friendly in London after the game was "red-flagged".
The British National Crime Agency (NCA) reported irregular betting patterns from Asian markets but no players were accused of involvement. Nevetheless, the NCA informed the Scottish FA of its concerns.