Qataris have begun clearing the supermarket shelves of the oil-rich emirate as an economics embargo triggers panic food-buying in the Gulf state.
Saudi Arabia, which has the only land border to the peninsula desert kingdom, as well as Bahrain, United Arab Emirates (UAE), Libya, Yemen and Maldives have cut ties with the tiny kingdom, accusing it of destabilising the region and supporting terrorist groups like the Muslim Brotherhood. This has unleashed an unprecedented crisis on Qatar's 2.7m inhabitants – many of them foreign workers.
Around 35% of Qatar's food imports come inland from Saudi Arabia. With Riyadh's decision to close its land border, Doha will have to rely on costlier sea and air routes, adding to inflation. The food shortages will hit as most Qataris celebrate the daily fast of Ramadan, breaking it nightly with the Iftar meal.
There have already been reports of panic buying in supermarkets in Doha. Many Qataris often tend to drive into Saudi Arabia to do their weekly shop at lower prices; an avenue that would also now be slammed shut.
According to AFP, multiple queues up to 25-people deep formed in Carrefour supermarket in Doha's City Center mall, one of the busiest shopping areas in the Qatari capital.
Shoppers piled trollies and baskets high and shelves were stripped of essentials such as milk, rice and chicken.
Among the hundreds of shoppers desperately searching for staple goods was Azir, a Sri Lankan who went to the store when relatives called him from home after watching the news on television.
"I was asleep. My family phoned me and woke me up from Sri Lanka," he said, his trolley full of nappies for his 18-month-old child.
"I came because of the crisis."
Meanwhile, the economic meltdown could hit energy prices. The country has only around 2.7m citizens, but is the world's biggest producer of liquefied natural gas, sharing a vast underwater field with Iran.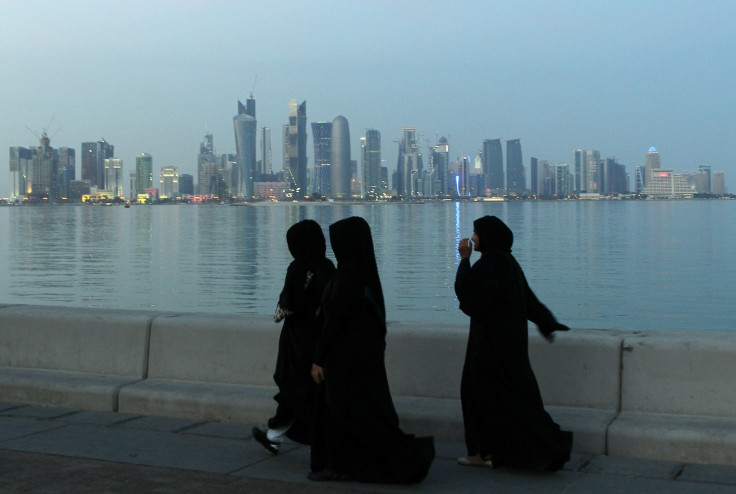 On 25 May, Opec agreed with 10 non-Opec producers to extend their joint oil production cut of 1.8 million per day (bpd) to March 2018 in a bid to support the oil market. However, if tension between Saudi Arabia, UAE and Qatar escalates, compliance with the cuts could suffer and the whole deal could unravel. Understandably, both Brent and West Texas Intermediate (WTI) oil futures headed lower in response.
Qatar is an international business hub, and major companies from Gulf Cooperation Council (GCC) economies have a presence in Doha. The diplomatic row hit Qatar's main share index, which closed 7.27% lower on Monday.
Materials aside, there are major concerns about Qatar's workforce, an overwhelming majority of which comprises of immigrants.
The diplomatic row bans citizens from Saudi, Bahrain, UAE, Libya and Yemen from travelling to Qatar, living there or passing through it. People affected have 14 days to leave. Qataris will have the same amount of time to get out of Saudi Arabia, the UAE and Bahrain.
Only Egypt, which has over 175,000 of its citizens living and working in Qatar, is yet to issue a similar ban. Should it decide to do so, a loss of that workforce would be calamitous for Qatar, and quite difficult to manage over the short to medium term.