Economic 'Qatarstrophe' looms as Saudi Arabia and other Gulf nations sever ties with Doha
Decision by several Saudi-led Middle Eastern nations to sever ties with Qatar would have far reaching implications from flights to football.
Several Arab nations led by Saudi Arabia have cut diplomatic ties with Qatar accusing it of "adopting various terrorist and sectarian groups aimed at destabilising the region including the Muslim Brotherhood Group, Daesh (ISIS) and Al-Qaeda."
The diplomatic row has all the hallmarks of escalating in to a full-scale economic embargo, especially on account of the hardline stance taken by Saudi Arabia, with the Kingdom's government saying it had closed its borders, severing land, sea and air contact with the tiny Qatari peninsula reliant on it for food and materials.
Bahrain, United Arab Emirates (UAE), Libya, Yemen and Maldives have also cut ties, likely to be felt by Qatar's 2.7m inhabitants.
Food and agricultural products
Around 35% of Qatar's food imports come inland from Saudi Arabia. With Riyadh's decision to close its land border, Doha will have to rely on costlier sea and air routes adding to inflation.
There have already been reports of panic buying in supermarkets in Doha. Many Qataris often tend to drive into Saudi Arabia to do their weekly shop at lower prices; an avenue that would also now be slammed shut.
Construction
In anticipation of the 2022 Football World Cup, Qatar is in the middle of a substantial construction drive. The country is currently building a new port, eight stadiums, a medical zone and a new metro rail project for Doha.
According to local media, 30% of construction materials being used come via land from Saudi Arabia. If Riyadh's indignation keeps the land border closed for as little as two months, not only food price inflation would creep up, but all of the aforementioned projects would face delays and revised cost permutations.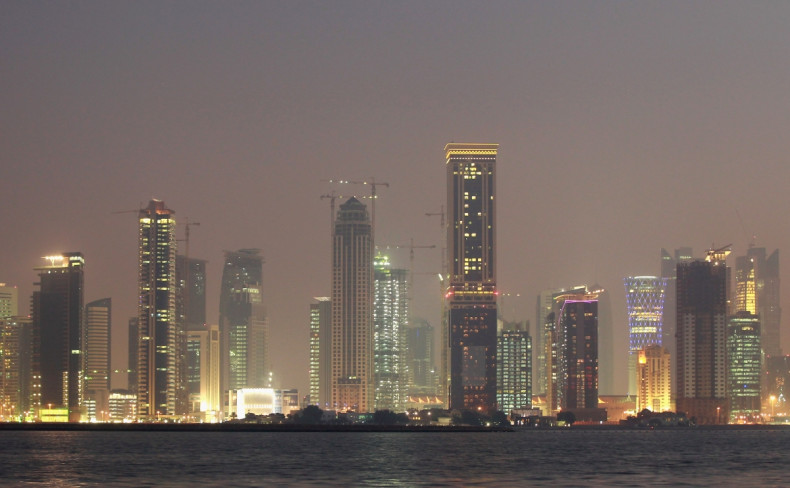 Flights grounded
Civil aviation is a burgeoning business in the Middle East, and the diplomatic row is likely to end-up hurting Doha's flag carrier Qatar Airways the most. Dozens of its flights to Dubai, Abu Dhabi, Riyadh and Cairo will have to be grounded.
But given that the UAE, Bahrain and Saudi Arabia, will close their airspace to Qatar Airways, would mean longer flights courtesy of altered flightpaths, and a bigger bill from fuel expenses.
Additionally, Dubai's Emirates and Abhi Dhabi's Etihad Airways are cancelling all flights to Doha effective Tuesday (6 June). UAE's budget carriers FlyDubai and Air Arabia are doing so as well, while Bahrain's Gulf Air and Egyptair are also expected to follow suit.
'Crude' problem for Opec
On 25 May, Opec agreed with 10 non-Opec producers to extend their joint oil production cut of 1.8 million per day (bpd) to March 2018, in a bid to support the oil market. However, if tension between Saudi Arabia, UAE and Qatar escalates - compliance with the cuts could suffer and the whole deal could unravel. Understandably, both Brent and West Texas Intermediate (WTI) oil futures headed lower in response.
People fret, stocks tank
Qatar is an international business hub, and major companies from the Gulf Cooperation Council (GCC) economies have a presence in Doha. The diplomatic row hit Qatar's main share index, which closed by 7.27% lower on Monday (5 June).
Materials aside, there are major concerns about Qatar's workforce, an overwhelming majority of which comprises of immigrants.
The diplomatic row bans citizens from Saudi, Bahrain, UAE, Libya and Yemen from travelling to Qatar, living there or passing through it, and people affected have 14 days to leave. Qataris will have the same amount of time to get out of Saudi Arabia, UAE and Bahrain.
Only Egypt, which has over 175,000 of its citizens living and working in Qatar, hasn't issued a similar ban. Should it decide to do so, a loss of that workforce would be calamitous for Qatar, and quite difficult to manage over the short to medium term.
Overseas interests
For the moment, it remains a largely contained, albeit epic, regional spat. However, were the spat to result in an international spillover, its impact on overseas Qatari holdings would be difficult to gauge.
The Qatari Royal family owns several commercial and residential properties in Western capitals, especially London. From the iconic Shard building in the British capital to Paris St. Germain football club, stakes in Sainsbury's supermarket to ownership of Harrods and holdings in British Airways, the Qataris are everywhere.
So far there are no signs of the spat escalating beyond the region. Speaking in Sydney, US Secretary of State Rex Tillerson, urged all parties to resolve their differences through dialogue, and the British and French governments have expressed similar sentiments.