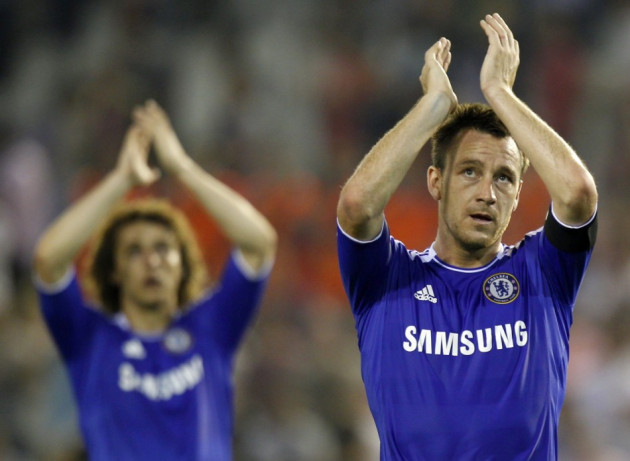 Anton Ferdinand spoke for the first time Thursday about the racial allegations involving England and Chelsea captain John Terry, describing it as a "crazy" week.
The QPR defender was the subject of an alleged racial slur by Terry during a tense west London derby last weekend. Terry has denied making the comments but the Football Association are investigating the claims, while the Metropolitan Police are also involved after a member of the public registered a complaint.
As part of the FA's on-going investigation, officials are due to interview Ferdinand at QPR's Harrington training ground Friday afternoon.
Ferdinand, however, insists his mind is on football, with QPR's trip to Tottenham this weekend at the forefront his mind.
"The last few days have been crazy," Ferdinand told Telegraph Sport. "But I'm looking forward to Sunday's game and fully focused on football.
"Anyone who knows me will know that whatever's going on, football's always going to be my number one priority.
"I can't wait for Sunday's game: a derby, a very big game."
Ferdinand refused to discuss the alleged incident but thanked his teammates as well as peers at other clubs, notably his cousin Les Ferdinand and Blackburn striker Jason Roberts.
"I'd like to thank players like Jason Roberts for the support they have given me," he said.
"Not just professionals at other clubs but my teammates at QPR.
"They've been fantastic for me. Having teammates around you like I have is nice to feel, and nice to see."
Although Ferdinand refused to discuss the alleged incident, it has been suggested that his interpretation of events differs from Terry's account.
The Chelsea captain has said that he thought Ferdinand was accusing him of using a racial slur against him and, subsequently, "responded aggressively, saying that I have never used that term."
Although the pair spoke after the match to clear things up, it is not believed Ferdinand was aware of the racial element to the confrontation during the match and has since held discussions with the club and QPR manager Neil Warnock to discuss his position.
The FA will interview both players as well as Ashley Cole, who is believed to be a key witness to the events, as part of their investigation.
Both clubs say they are focused on this weekend's games, with QPR travelling to White Hart Lane and Chelsea entertaining Arsenal, and are keen to see an end to the controversy.
Video footage of the alleged incident is available here.