A band of talented Quadruplets will attend Yale together this year after receiving a combined 59 college offers.
The Wade brothers, 18, from Liberty Township, Ohio, had been divided about which college to attend but were eventually wooed by the Ivy League institution – America's third oldest university.
Brothers Nick, Zach, Nigel and Aaron were born on 8 January 1999 after their high school principal mother, Kim, underwent fertility treatment.
"It was a big deal for me that they stay together," Kim told CNN. "We discussed it and the logistics of travel, and the support they will all have for each other... we decided as a family it's the best place for all of them."
Nick, Zach and Nigel decided to head accept Yale's offer days before the 1 May deadline but Aaron was torn between the Connecticut campus and rival university Stanford.
"I absolutely enjoyed the people and the social environment and appreciated the strong arts and humanities at Yale," Aaron told NBC News.
"There was a part of me that didn't want to like the school [Stanford] because it would make my decision easy. Alas, that didn't happen. I loved it as well.
"But at the end of the day, Yale made sense logistically — and it's an amazing school," he added. "I don't regret my decision even though right now it kind of feels like a sacrifice."
Father Darrin, a software engineer at General Electric, said that discipline and "lots of push-ups" were key to the boys' success. He had been rooting for Yale and was pleased when all four of his sons accepted the offer.
"They made the best offer, and it was the benchmark for my sons," he said. "I am glad this day is over with."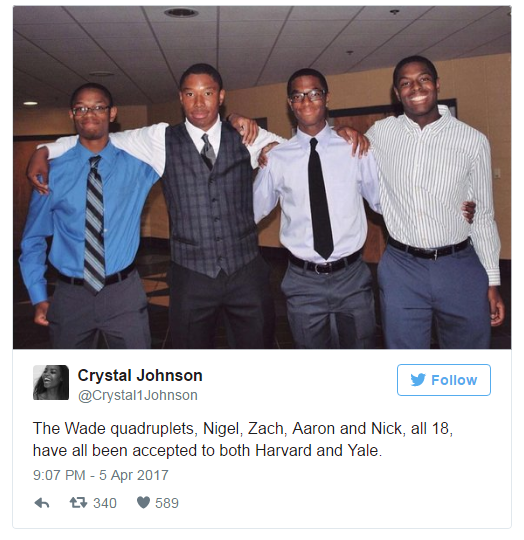 The 51-year-old added that the brothers had largely kept him and his wife in the dark about their Ivy League ambitions. The couple had assumed that such grand institutions were beyond the family's financial means.
We didn't have the resources for places like that," he said. "They honestly would not let my wife and myself know what they wanted to do. We have more or less tried to stay out of it."
The brothers are reported to have been offered generous financial aid packages by a number of universities but Yale's was the most comprehensive.
The family also paid tribute to the way Yale, whose alumni include five former US presidents, made them feel courted and comfortable.
"The alumni reached out and made themselves available to us as a family," Darrin said. "I had people I didn't know calling and saying we want your sons there and they are going to be sure they are taken care of."