Victim's family pay for Arkansas death row killer to meet his granddaughter hours before execution
Kayla Greenwood, whose father was killed by Kenneth Williams, ensured Williams' family met him one last time.
The family of a man killed by an Arkansas death row inmate paid for the convict's family to visit him hours before he was executed.
Kenneth Williams, 38, was united with his daughter and granddaughter yesterday (27 April) before becoming the fourth man to be executed by the state this week.
Jasmine Johnson and her daughter, three, who had never met her grandfather, were flown out after the family of Michael Greenwood, a man he killed in a traffic collision, paid for their tickets.
The Greenwood family said that they had forgiven Williams who killed Greenwood in 1999. Williams had escaped from prison where he was serving a life sentence for killing a cheerleader. Williams faced execution for killing another man, Cecil Boren, while on the run.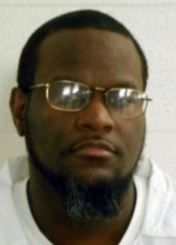 Kenneth Williams
Greenwood's daughter, Kayla Greenwood, told the Springfield News-Leader that she learned only a few days before that Williams had not seen his 21-year-old daughter for 17 years.
Greenwood said her mother bought plane tickets so mum and child could fly from Washington state to Arkansas to see Williams on Wednesday, a day before his execution.
Johnson, who was greeted at the airport by Kayla Greenwood, told WREG News: "I was in shock, I was shaking. I'm really thankful for this opportunity as I was in such shock for them even contacting us."
An emotional Kayla Greenwood told WREG: "It's like I'm meeting a sister that I never knew I had this whole time, somebody who knows how I feel.
"I'm just so excited and I just wanted to have the right words to say for Jasmine, to support her and to help her.
"I think it will show her that people can have unconditional love for you. A stranger that's never met you. You can bring a beautiful thing out of any situation."
Later in the day, Williams was killed by lethal injection as the state of Arkansas attempts to rush through a number of executions before their batch of midazolam expires at the end of April.
The Guardian reported that Williams writhed, seemingly in pain during the 13 minute injection of the sedative, which was never designed for executions.
After the killing, Asa Hutchinson, the state governor said: "The long path of justice ended tonight. Arkansans can reflect on the last two weeks with confidence that our system of laws in this state has worked."