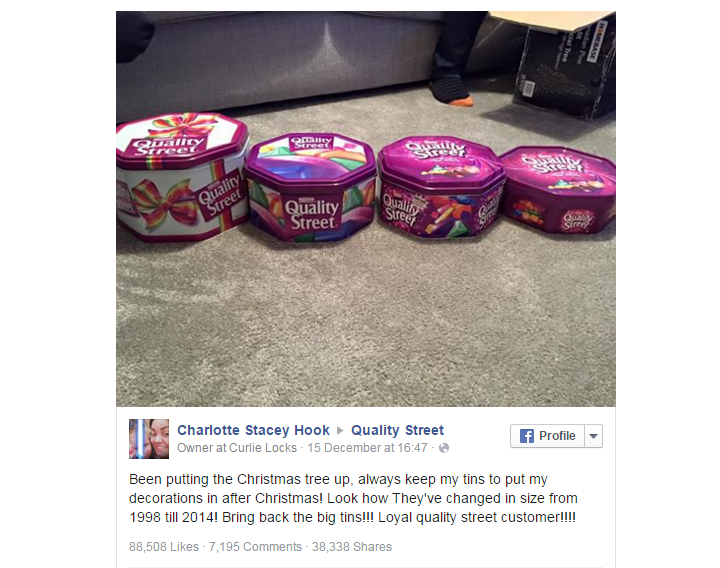 Shrinkflation, value engineering, customers being ripped-off - call it what you like but Charlotte Stacey Hook has made a great posting showing very clearly what we all know has been happening: the size of Christmas tubs of chocolates is shrinking. We've been getting less and less for the same or even more money. Bet hey, that's business for you!
A Nestlé spokesman said: "As well as the 780g tub pictured, we also have a 1.3kg tin available which lovers of Quality Street might like to try this Christmas."
Normally, we would expect manufacturers to hide behind the increasing price of raw materials to account for making products smaller, but Hook's posting and subsequent comments show some consumers are incensed. And what Hook has shown is nothing new – the trouble is when raw material prices drop again those savings never seem to be reflected in prices (or even having more sweets in a tub).
But that's not going to stop us buying these prominently marketed tubs of chocolate sweets. There is no escaping the attractively presented pyramids of aggressively price promoted tubs in stores around the country: they are seen as must-have stocking fillers.
The retailers won't care too much as their job is to stock what the supplier offers and the key these days is to hit a price point that can be emblazoned about those shiny treats. This is nothing new for the likes of the pound shops which have to get suppliers to meet their price points, and this trend is being seen in the major grocery chains too.
What some suppliers try to do is promote the lower number of calories in products in an attempt to promote some sort of healthier message – which is achieved by cutting the amount of product in a pack. Other tricks are to keep the pack the same size but have fewer products in it, which can leave customers disappointed when they break into that packet.
According to a recent study by kitchen specialists Appliance City, Mars bars are 28% lighter now than they were in the 1990s.
This trend of cutting pack sizes and searching for ways of saving money on packaging is not a new one. But in this age of consumer power, especially through the immediacy of social media, means suppliers (and retailers) are getting rapid feedback. Whether they do anything about this is another matter altogether. And if all the suppliers are shrinking pack sizes and keeping prices up it will take a brave one to break ranks and start offering better value.
At the end of the day these are profit-making firms with shareholders to satisfy, so it looks like tough luck for the customer.
---
John Pal is Senior Lecturer in Retailing Alliance at Manchester Business School
---