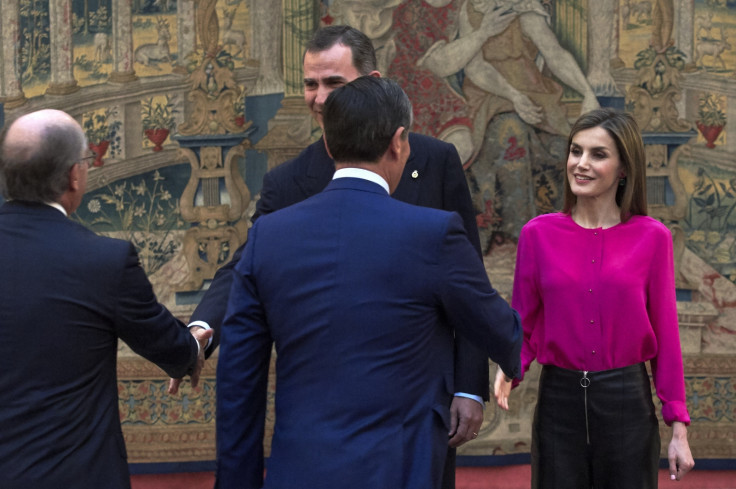 Queen Letizia of Spain proves royals aren't subjected to neutral colours, plain fabrics and old-fashioned garments, as seen in the coat dresses worn by Kate Middleton. The Spanish monarch arrived in a killer contemporary outfit while attending a meeting at The Princess of Asturias Foundation on Wednesday (15 June).
The former journalist accompanied her husband, King Felipe VI, to the Royal Palace of El Pardo in Madrid and toyed with the boundaries of royal sartorial expectation. In contrast to the Duchess of Cambridge's more traditional style, Letizia gave a nod to current trends in a pair of leather culottes, which paid tribute to the 1990s craze for a wide-leg cut and prominent front zip.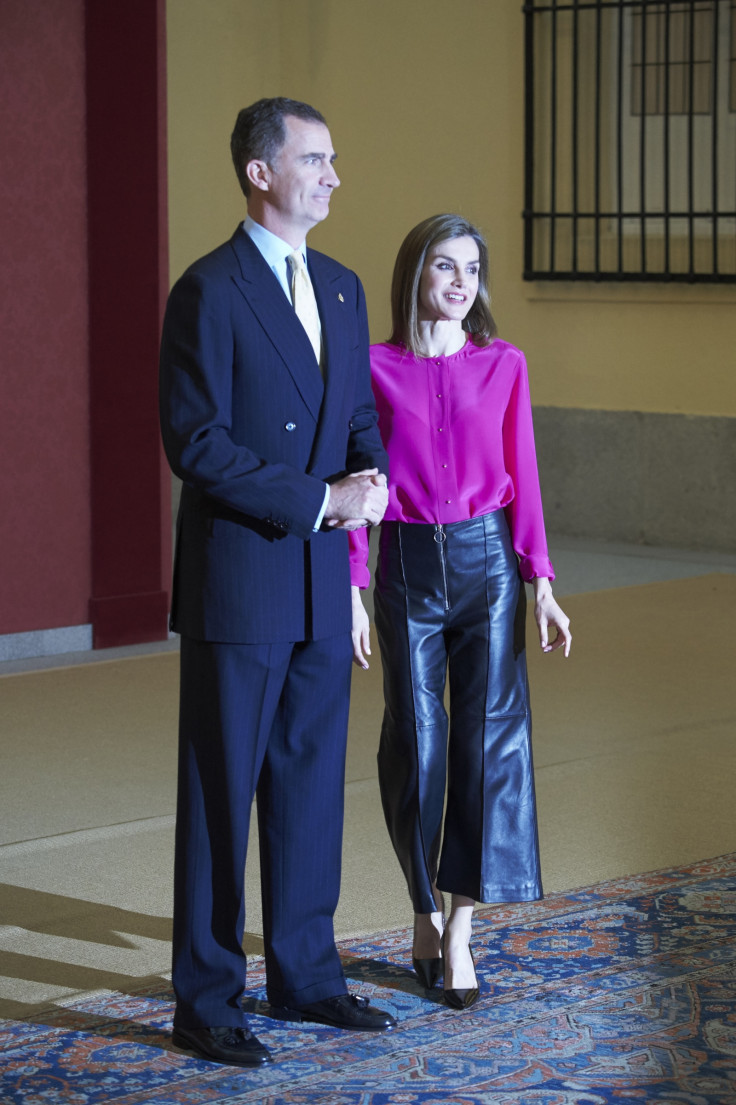 The Spanish monarch, 43, added further muscle to the daytime ensemble by pairing the statement trousers with a fuchsia pink silk blouse, but added a classic touch with some patent black court shoes and elegant earrings. Her look was ever more striking as she stood next to her husband, who was dressed in a timelessly classic navy suit paired with a sky blue shirt and yellow tie.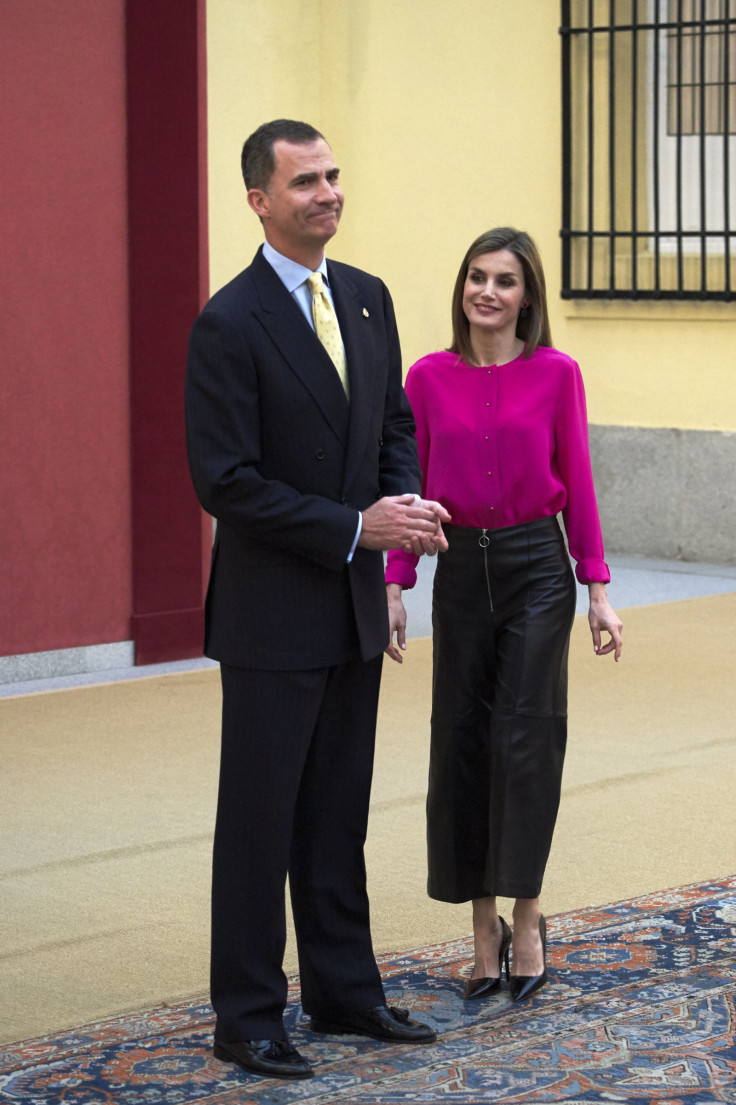 The royal couple – who married in a picturesque cathedral in Madrid in 2004 – appeared to be more in love than ever as they exchanged private jokes and laughed among themselves during their royal duties. At the event, they met with members of the Board of Trustees for the Princess of Asturias Foundation – a non-profit, private institution aiming to promote scientific, cultural and humanistic values which are core to the Spanish nation.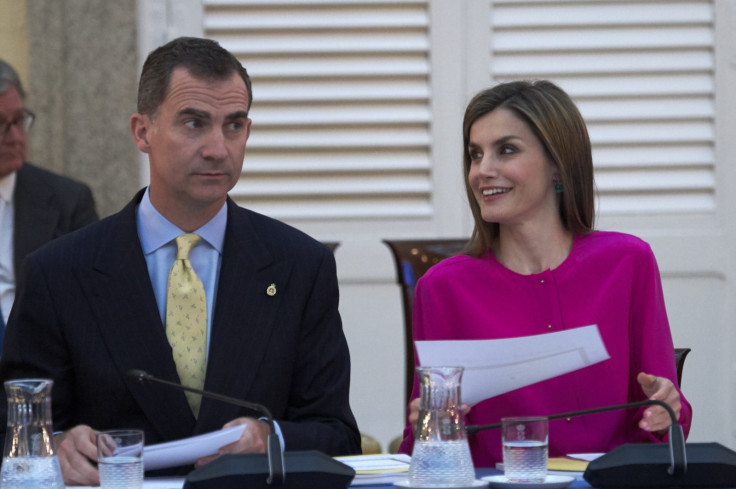 Alongside his wife, King Felipe VI listened with intent as a report on 2015's efforts was read out – these included 40 free events open to the general public, attended by approximately 11,000 people.
Queen Letizia has made a number of public appearances over the last week. Like Middleton, she also paid an emotional tribute to the victims of the Orlando nightclub massacre during an official visit to Salamanca – as the British Duke and Duchess did at the US Embassy in London.
Letizia of Spain generally takes more risks with her clothing than the Duchess, perhaps because she is under less scrutiny than Middleton is in the British press. She veers toward directional fashion with a hint of androgyny and an adventurous take on textures – mixing sharp trouser suits with suede and leather. Just last week, at the La Caixa Scholarships Forum, she wowed in an edgy, grey Hugo Boss leather shift dress.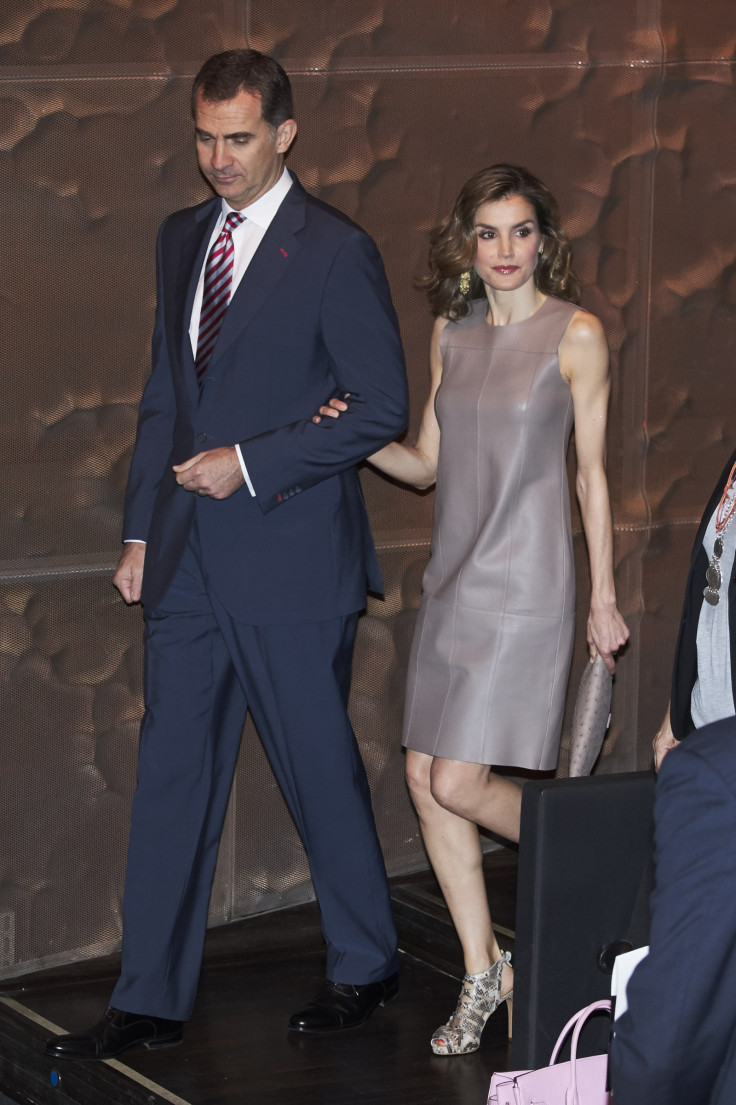 Conversely, Middleton, who is nine years younger than the Queen of Spain at age 34, is more circumspect with her outfit choices. Her recent looks comprise of rather conservative pieces; custom-made Catherine Walker coat dresses, a bridal-esque lace dress by Dolce & Gabbana at Royal Ascot on Wednesday (15 June) and a chic but somewhat shapeless Roksanda dress during the Queen's 90th celebrations.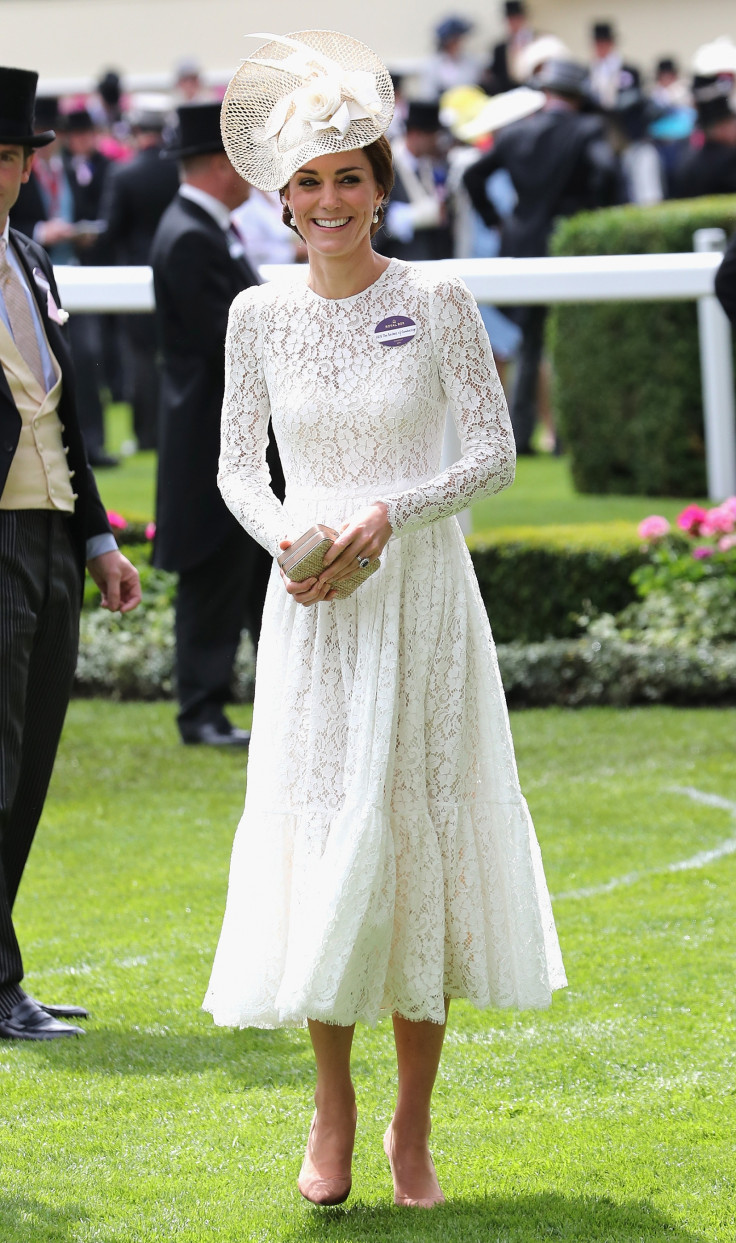 As Queen of Spain, Letizia may feel more autonomous in terms of her fashion choices in comparison to the Duchess who – with her 'risqué' hemlines and unpolished toes – is heavily judged on every thing she does. Either way, Letizia of Spain is blossoming into a unique sartorial innovator whereas Middleton perhaps prefers to play it safe on the sidelines.