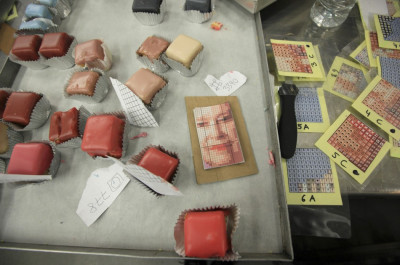 There are only a few weeks left to mark the Queen's Diamond Jubilee and the markets have been flooded with memorabilia and commemorative items to remember the event by. The gala event has attracted tributes from all over the world, despite the fact that the event itself has been scheduled for the first week of June (2 June - 5 June). There have also been various exhibitions and events held across the world, in connection to the Diamond Jubilee.
The merchandise on sale includes collectable novelties like teddy bears, tea towels, cushions and coasters and commemorative medals, coins and postage stamps; also on sale are kitchens with royal themes!
Among the more unusual items in the list are - a new Wallace and Gromit film, a giant 158,000-brick mosaic Lego construction of Queen Elizabeth sitting on her throne, custom-made iPhone cases, Union Jack frying pans, corgi cushions and figurines of Her Majesty waving (powered by solar energy). In addition, there are also consumable items like biscuits and chocolates, in the shape of Her Majesty and other symbols of the royal family.
One of the more interesting attractions created in the build-up to the main event was a giant portrait of the Queen wearing her trademark pearl earrings, created using 2012 cupcakes. In a similar vein, food artist Prudence Staite, teaming with baking expert Dr Oetker, created a replica of the George IV State Diadem.
Meanwhile, one of the more luxurious pieces of memorabilia is a Johnny Walker & Sons Diamond Jubilee Blended Scotch Whiskey edition; each bottle costs £100,000 and there are only 60 such. The collection from the sales will, reportedly, be used for charitable causes and at least £1mn will go to the Queen Elizabeth Scholarship Trust, which aims to preserve traditional artisan techniques. The bottles, incidentally, were bottled 60 years ago, on the day the Queen ascended the throne.
Incidentally, the Queen appeared in a guest role, as a cartoon character, on the popular children's show Peppa Pig and is, famously, the first human character to be featured in the series. Also, in an earlier IBTimes UK report, we'd spoken about art students from Sussex creating an installation - with 8,300 pieces of toast, each bearing the Queen's likeness. The installation was on display till 4 May.
Check out a few interesting tributes to the Queen, on the occasion of her Diamond Jubilee and the teaser to the new Wallace and Gromit film...