The body of PC Keith Palmer has been laid to rest in the Palace of Westminster – the very place he died to protect.
Palmer, 48, married with a five-year-old daughter, was stabbed to death by Khalid Masood as he performed his daily duties protecting the buildings which characterise British democracy, in a terror attack that killed four others.
His body will rest for 24 hours in the Chapel of St Mary Undercroft before his funeral on Monday (10 April) at 2pm.
The honour is normally reserved for heads of state and prominent politicians such as Margaret Thatcher and Tony Benn, however the Queen has given her permission for the gesture in light of the circumstances surrounding Palmer's death.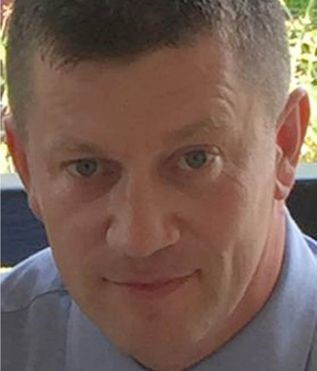 PC Keith Palmer was stabbed by a terrorist in the grounds of the Houses of Parliament.
Met Police Handout
Members of London's Metropolitan Police awaited the hearse containing Palmer's coffin in best dress and arranged a guard of honour before the body was carried inside for a private service led by Reverend Prebendary Rose Hudson-Wilkin.
Hudson-Wilkin will then stay with the body overnight before it is escorted to Southwark Cathedral on Monday for a full police service funeral.
The service is said to expect upwards of 5,000 men and women from police forces across the UK in addition to members of Palmer's family and other notable guests. A further 40,000 members of the public are expected to line the streets to pay tribute as the hearse makes its way to the cathedral.
Ken Marsh, chairman of the Metropolitan Police Federation, told the Daily Mail the response had been "incredible".
"The public are as appalled by what happened as the police," he said.
"At times, they can be our biggest critics, but when something like this happens, they come together with us because they don't like someone hurting one of their own.
"I can't recall an occasion like this in regard to the number of officers who will be there, but we must not lose sight of the fact that it is a family funeral.
"It is for Keith's family and we have made sure we have done everything his wife wants because, first and foremost, it is for her to mourn her husband."