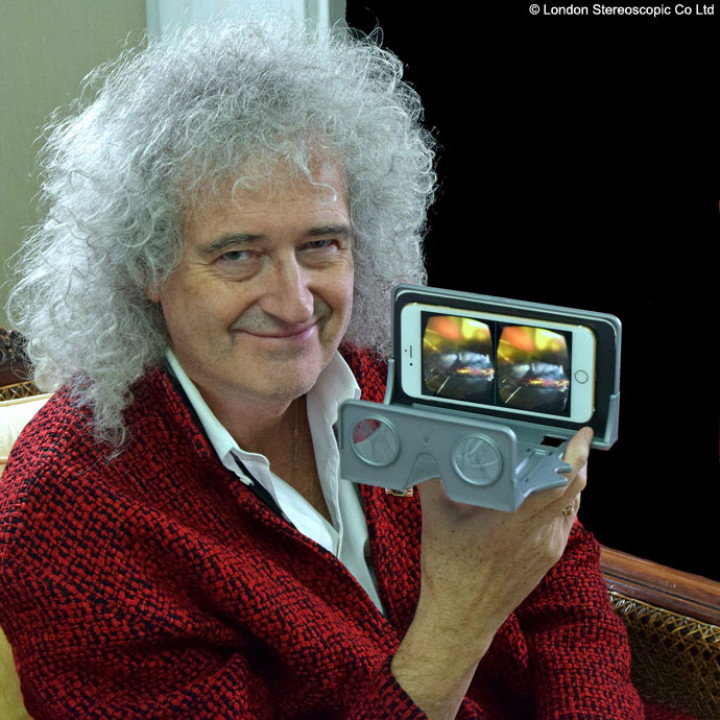 Queen guitarist and astrophysicist Brian May is jumping on the virtual reality (VR) bandwagon with the launch of his own VR smartphone viewer to rival the Google Cardboard viewer. Unveiled on 24 May at Dolby's European headquarters in London, the Owl Virtual Reality Kit is designed by his London Stereoscopic Company which sells modern versions of the Victorian era's stereographic viewers.
Showing off a similar design as his patented Owl Stereo Viewer that was released in 2009, the new Owl VR viewer allows users to view 3D images and VR content from any smartphone. However, instead of sliding in printed stereo cards, users can simply fit their smartphone in front of two lenses, much like the Google Cardboard viewer.
The Owl viewer features a fully collapsible high-grade polypropylene frame that snaps into shape and includes a pair of optical lenses on one end, a magnetic strip on the other and an adjustable focus.
"The great thing is that any smartphone will work in Owl," May said at the event, according to Wired. "Most devices on the market only accept certain types of smartphone, so this is unique."
The legendary guitarist showed off the plastic VR viewer's functionality with a demo showcasing a curated animation of Bohemian Rhapsody created by Google and a dinosaur-based virtual game at the launch event.
Besides giving people a low-cost alternative to enjoy the VR experience, May says he created the new Owl viewer to recreate Victorian stereoscopy.
"People get frustrated and fatigued very quickly with other VR devices," May said. "They get frustrated that they can't reach the controls on the phone and the eyepieces get sweaty... so I quickly realised, in some ways, this was a better way of viewing virtual reality."
Although the viewer's open stage does not shut out surrounding light to allow for a more immersive VR experience, the London Stereoscopic Company says it gives viewers full access to the smartphone's controls and the headphone socket.
May said the experience he would most like to share with the world via VR is the "Buckingham Palace" event when he played God Save the Queen on the palace rooftop during the Queen's Golden Jubilee concert in 2002.
"Ultimately VR will change the world, because you'll be able to build everything that you love and cherish in the virtual world," said May. "You'll feel like you can touch and hear and interact with them. VR could advance to the point where you feel a tug, a sort of nostalgia, a feeling that you've lost something, because you've fallen in love with the virtual world. Eventually, I think people won't want to come out."
The Owl VR Kit is now available to pre-order for £25 with shipments expected to begin in mid-June.