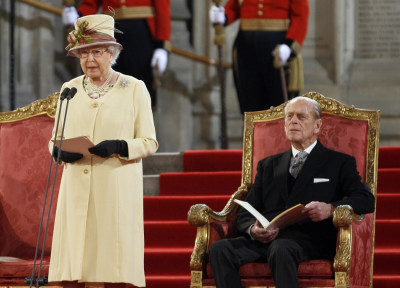 After 60 years at the throne, Queen Elizabeth has marked her Diamond Jubilee by rededicating herself to the service of the nation.
During her parliamentary address at Westminster Hall she paid tribute to public servants, the armed forces and her family.
She told her family, MPs and dignitaries: "This great institution has been at the heart of the country and the lives of our people throughout its history.
"As parliamentarians, you share with your forebears a fundamental role in the laws and decisions of your own age."
She also praised Prince Philip for his "constant strength".
"During these years as your Queen, the support of my family has, across the generations, been beyond measure.
"Prince Philip is, I believe, well-known for declining compliments of any kind. But throughout he has been a constant strength and guide."
She chose a pale buttercup-yellow dress with flower motifs in shades of olive, lavender and pale burgundy by Karl Ludwig for the occasion.
Her outfit was completed with a buttercoup coat, a wool crepe and a matching hat by Angela Kelly.
Among the guests was Prime Minister David Cameron, former premiers Tony Blair and Gordon Brown and Labour leader Ed Miliband.
In closing she said: " I have been privileged to witness some of that history and, with the support of my family, rededicate myself to the service of our great country and its people now and in the years to come."
Following her touching address, which drew a standing ovation, a Diamond Jubilee window, a gift from the members of both Houses - was unveiled to mark the monarch's 60-year reign.
International Business Times UK looks back at the Queens' special day...