Queen Elizabeth II's 90<sup>th birthday gala was a grand celebration with the stars of stage and screen, plus representatives of the royal guard, paying tribute to Britain's longest serving monarch. The royal family turned out, en-masse, at Windsor Castle for the extravaganza to honour Her Majesty as she celebrated her milestone birthday.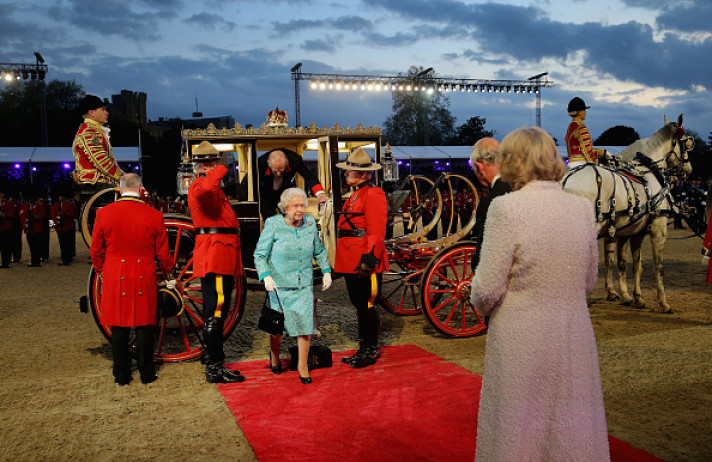 An evening of nostalgia and reverie, Ant and Dec ensured the evening comprised of all the pomp and ceremony the occasion demanded, with a certain air of formality and tradition, featuring royal pipers, drummers, a caber tossing display, 900 horses, dancing horse guards and equestrian performances, all performed in recognition of the Queen's passion for the animals.
The celebration also featured a touch of showbiz celebrity, with performances and appearances coming from Andrea Bocelli, Dame Helen Mirren, Imelda Staunton, Gary Barlow, Dame Shirley Bassey and Kylie Minogue.
The Queen's arrival was a grand spectacle to watch, with the reigning monarch arriving in a horse-drawn carriage accompanied by her husband, the Duke of Edinburgh. She was warmly greeted by her son, the Prince of Wales, who led her to the royal box where the senior royal family members were joined by the Duke and Duchess of Cambridge, Prince Harry and Princesses Beatrice and Eugenie.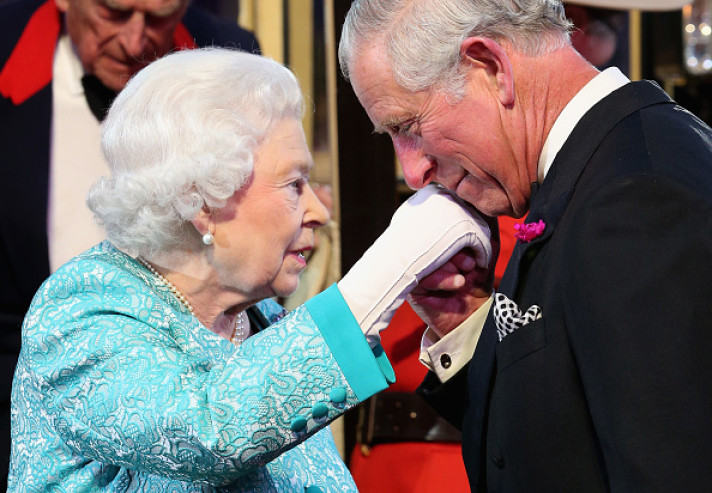 While Prince William and Prince Harry wore the Windsor uniform, Kate Middleton was coordinated in a red cape and white skirt from high street chain Zara.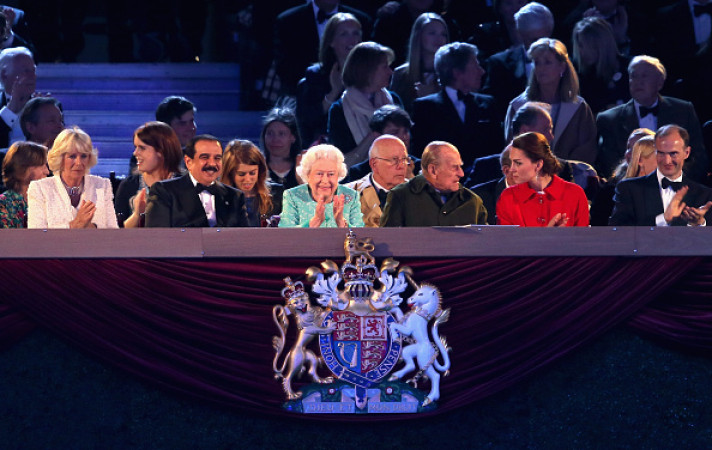 The evening featured a delivered a touching homage, featuring a video chronology of key moments during her illustrious reign, with candid video of her at play as a child, the war years, her marriage, and her coronation. And of course, there were plenty of references to her much-loved horses and corgis.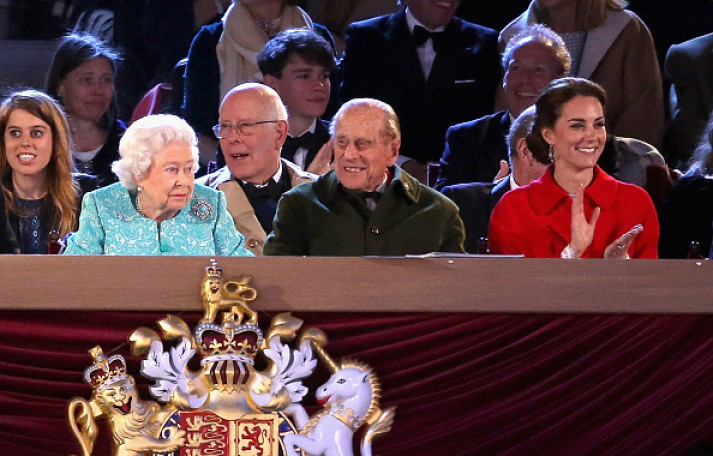 Introducing the event as a celebration of the Queen's life, co-host Ant McPartlin said: "Her life has spanned 10 decades and historic milestones include one world war, two coronations, a man landing on the moon, the dawn of the new millennium, two London Olympic Games and of course 287 bush tucker trials."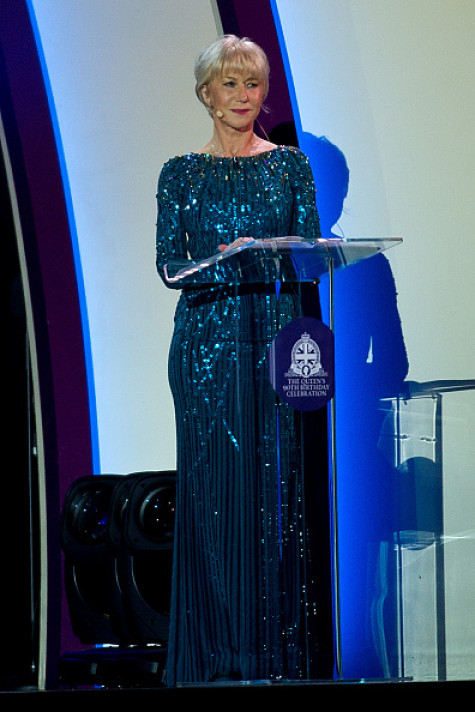 Downton Abbey star Jim Carter and his wife, Imelda Staunton, marked the Queen's childhood years, their narration and song accompanied by rare archive footage of the young Princess Elizabeth at home with her parents and sister Princess Margaret.
Dame Helen Mirren, who portrayed Her Majesty in film The Queen, provided an evocative narration capturing the Queen's teenage years during the Second World War.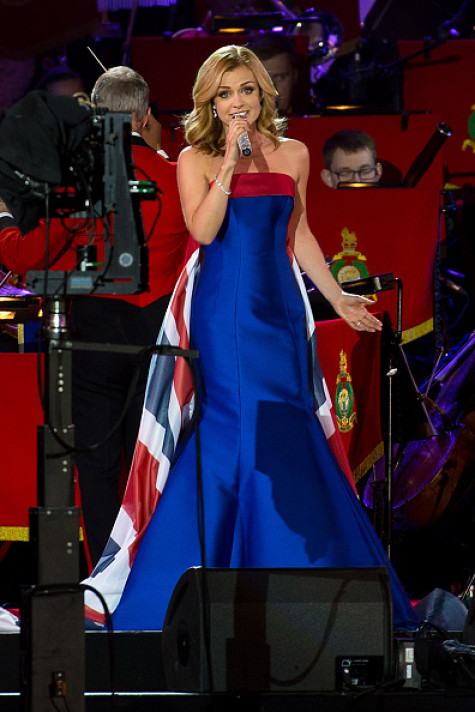 The Queen's coronation was relived as opera singer Katherine Jenkins performed the rousing rendition of I Vow To Thee My Country, while royal favourite Alan Titchmarsh presented the Queen's estates and her much-loved collection of horses and dogs who came out for an impressive display.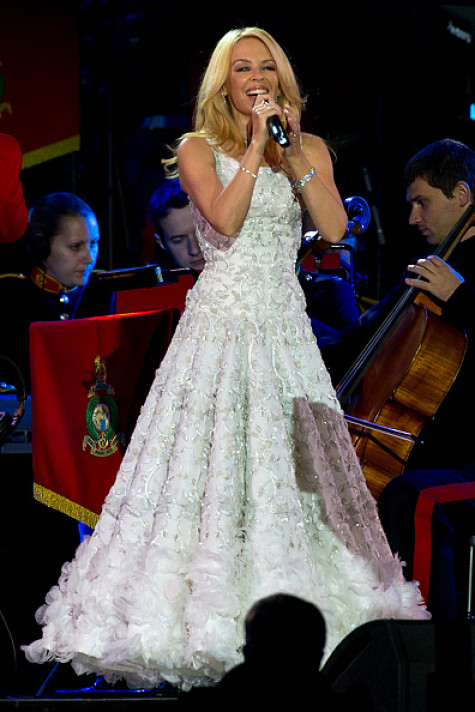 Take That and former X Factor judge Gary Barlow opened musical proceedings with Something About This Night, taken from the musical Finding Neverland, while Kylie Minogue sang her hit, I Believe In You, as miniature ponies came out in formation. Jess Glynne sang Hold My Hand, while the incomparable Dame Shirley Bassey concluded the evening's entertainment with a rousing rendition of the James Bond classic, Diamonds Are Forever.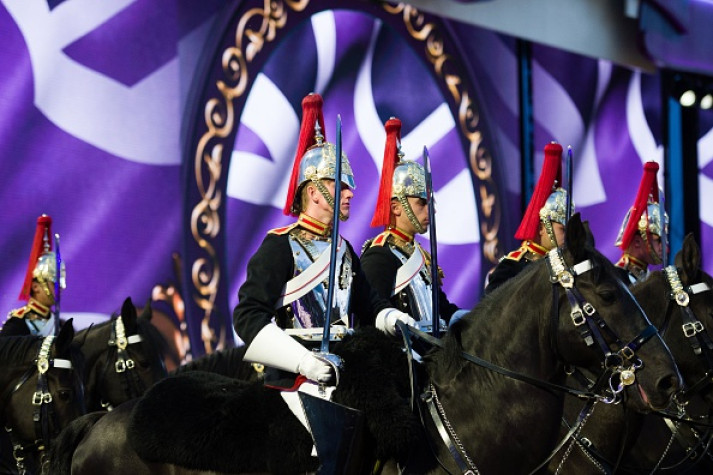 There were rumours of a royal performance during the proceedings and the Queen's children and grandchildren didn't disappoint, with Zara Tindall and Princess Anne joined the parade of the Queen's show horses. As the celebration came to a close, Dame Bassey led the crowd in a special chorus of Happy Birthday.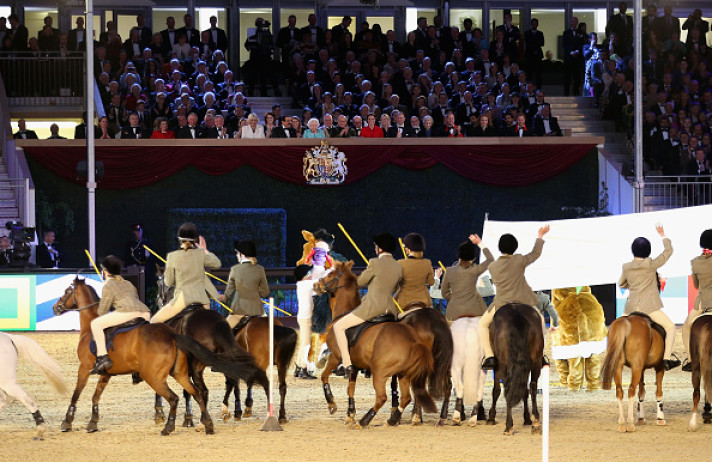 Dressed in a sea green ensemble, the Queen looked on in delight at the display, applauding frequently and beaming broadly as she watched the spectacle which encompassed so much that is held close to her heart, celebrating her personal passions and commemorating her life of service to the nation.