The Second R3 Smart Contract Templates Summit has taken place this week in London and New York, bringing together once again a range of financial institutions, law firms, standards bodies, data and technology providers, and academia.
The summit featured presentations by Barclays, CIBC, Nordea Markets, ISDA, FIA, Norton Rose Fulbright, Thomson Reuters, University College London, Cardozo Law School, and R3.
Todd McDonald, co-founder of R3, said: "We wanted to hold this second summit to keep up the cadence and to continue what we at R3 and all the participants feel is important: progressing this in the open and it being industry led, rather than by just one organisation or one company."
McDonald said the second summit was also intended to encourage a deepening of understanding, in terms of not just the legal aspects and the code but also from an operating model perspective – and identify from this where to go next.
He added: "Trade associations such as ISDA and FIA are looking at points of commonality and standardisation, whether it's product identifiers or standard documentation such as master agreements or transaction level documentation. There is an opportunity to explore how to future-proof smart contracts for the industry."
Dr Lee Braine, of the Investment Bank CTO Office at Barclays, agreed: "Standardised templates for agreements, schedules, annexes, etc would be required for many smart contracts use cases in investment banking. It's also possible to imagine leveraging smart contracts to broaden the scope and adoption of standardised underlying data formats, for example to also include the exchange of smart legal agreements.
"Now, if we assume one of the potential benefits of industrialising smart contracts could be to improve efficiency by minimising unnecessary variation both across processes and within processes, then greater standardisation could help facilitate the rationalisation of operating platforms."
Clive Ansell, head of market infrastructure and technology at ISDA, said: "ISDA's recent whitepaper, The Future of Derivatives Processing and Market Infrastructure, identified standardisation, collaboration and technology as three mechanisms to help the derivatives industry address the challenges that it faces today. ISDA is supportive of all initiatives where broad involvement of market participants and subject-matter experts can work together to advance these objectives."
Simon Puleston Jones, head of Europe at FIA, commented: "Distributed ledger technology and smart contracts sit at the centre of FIA's work relating to the FinTech sector. Whilst the conclusion of today's FIA presentation on smart contracts is that self-executing contracts are not yet viable for cleared derivatives, we look forward to working with the industry to explore ways of solving the challenges that have been identified."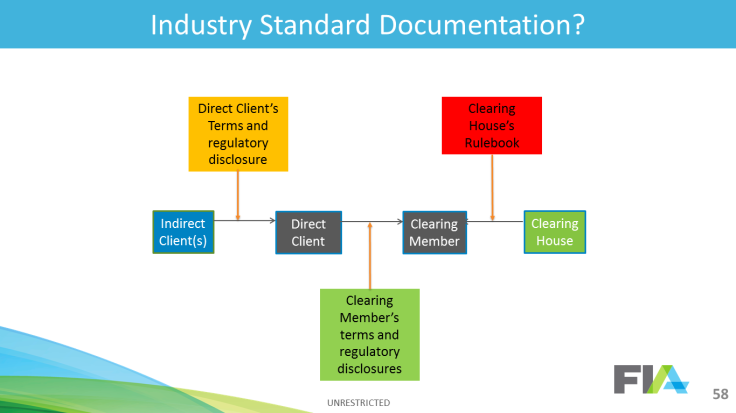 Sean Murphy, partner at Norton Rose Fulbright, said: "Looking at this from a lawyer's perspective, there are certain types of contracts that would seem to lend themselves particularly well to this kind of technology. These are contracts that are (or can be) standardised and where the scope of negotiation is relatively limited. Contracts that are by their very nature highly negotiated will be more challenging.
"On a similar theme, it is important to keep in mind that there isn't one agreed model for smart contracts. Rather, there is a spectrum of possible models from, on the one hand, the 'prose, parameters and code' template structure showcased by Barclays and R3, through to the 'code is contract' model which is often talked about, particularly in the Ethereum ecosystem. I wouldn't want to say code is contract isn't possible; I would just say I see significantly more challenges from a contract law perspective with the code is contract model than I do with the template model.
"The other point I would make is the legal analysis of smart contracts has to be conducted on a jurisdiction-by-jurisdiction basis. For example, a question that comes up very frequently is: are smart contracts binding in a contractual sense? The answer to this varies from jurisdiction to jurisdiction. We have been working with the legal team at R3 for last few months on a multi-jurisdictional survey of that question and have just published a white paper setting out the results."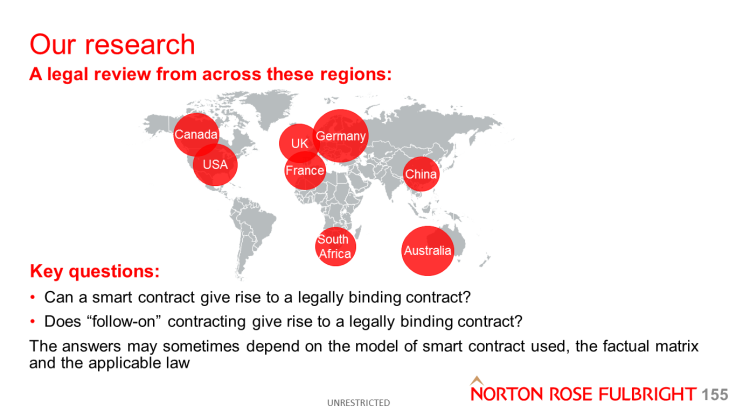 Isabelle Corbett, senior counsel at R3, said: "It is inevitable that disputes will happen over contracts, smart or otherwise. To give people confidence that smart contracts can be reliably used for trading in financial services it is imperative that we define an approach for handling and resolving these disputes. But this shouldn't just be seen as a necessity, it's an opportunity to establish new and better ways to solve issues."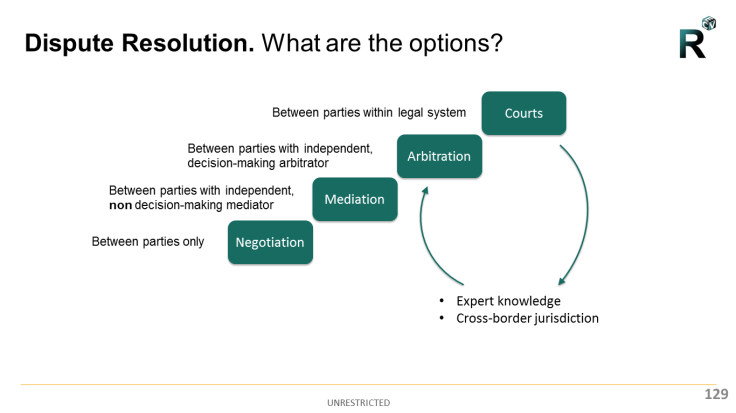 One topic being delved into at the summit was how data oracles could operate in a smart contract template model. Thomson Reuters, which attended the first summit, gave a presentation at the second summit on this topic.
R3's McDonald said: "We are very excited to have Thomson Reuters present and show some of the work that they have done with Corda directly on the concept of oracles. I think it's another example of our work at the intersection of existing market infrastructure and new technology and new models. Imagine all the data assets and expertise that they can bring, combined with a new approach with Corda and the handling of oracles."
On the subject of oracles, Lee Braine added: "From a technology perspective, it's not too difficult to envisage a world in which many types of information that market service providers currently supply as data feeds could also be supplied as oracle information to smart contracts. But more research is required to explore whether certain abstracted aspects of oracles could potentially be incorporated into smart legal agreements, perhaps at a network level. Consider, for example, the cross-referencing and discrepancy resolution rules for scenarios in which the same information could potentially be obtained from different oracles as a matter of operational convenience."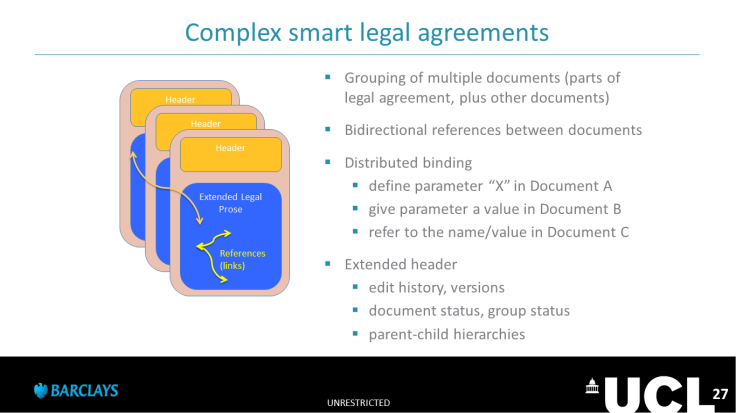 The summit also included presentations from academia. Dr Chris Clack, senior lecturer at University College London, said: "UCL's Centre for Blockchain Technologies is continuing to research the academic foundations for smart contracts, including exploring abstract specifications for smart legal agreements in electronic form. This research may prove useful in summarising, at an abstract level, some of the pertinent features of data structures for connecting legal prose and smart contract code via execution parameters."
The Second R3 Smart Contract Templates Summit's presentations are publicly available online.