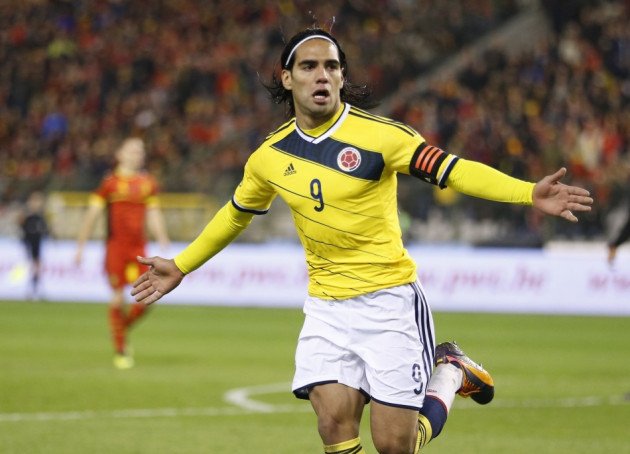 Monaco striker Radamel Falcao hopes to have attracted the attention of Chelsea manager Jose Mourinho after scoring in Colombia's friendly win over Belgium.
Falcao opened the scoring after 51 minutes before Victor Ibarbo struck after the hour mark to seal victory between the two of next summer's World Cup dark horses.
Chelsea boss Mourinho was spotted in the crowd and while the Portuguese boss insisted he was monitoring his own players including Eden Hazard and Kevin de Bruyne as well as loan pair Thibaut Courtois and striker Romelu Lukaku, suggestions are rife he was in Brussels to watch Falcao.
The Premier League side have consistently been linked with a move for the 27 year old, who joined Monaco from Atletico Madrid in the summer, and after problems in front of goal for Samuel Eto'o and Fernando Torres latest reports have suggested the Colombian international will be subject to a £60m bid in the January transfer window.
But after leading his country to a World Cup warm-up win over Belgium, Falcao denied any intention to leave Ligue 1 in the near future, but hoped Mourinho was captivated by his display.
"He came here to see good football, played by good players and to see a good spectacle," he told Sky Sports News.
"The Premier League is one of the most important in the world but I am playing well and enjoying Monaco. I don't know, that is something you have to ask him [if I played well]. I hope to make a good impression on him."
While Falcao will naturally be keen to impress Mourinho, who is regarded as one of the leading managers in world football, his interest in the attendance of the Chelsea manager will likely add fuel to the fire regarding a possible move to west London.
Mourinho however declared he had only attended the game to watch his own Chelsea players: "To see my players," he answered when asked about the nature of his visit. "For a friendly, it was a very good game."