You need only observe Rafael Benitez's consternation on the touchline to appreciate why he saw it fit to criticise the Chelsea board after the FA Cup win over Middlesbrough earlier this month.
Following reports of a falling out with members of the first-team squad after the defeat to Manchester City in February, Benitez, claimed his role as first team coach was being undermined by his 'interim' title.
And if the Spaniard's frustrations during Thursday's Europa League win over Steaua Bucharest are anything to go by, Benitez is continuing to struggle to gain the respect of the current Chelsea squad.
The 52 year old uncharacteristically hounded the touchline last night, barking orders, particularly at his back four, who were regularly crossing the fine line between pressing forward and losing their defensive shape.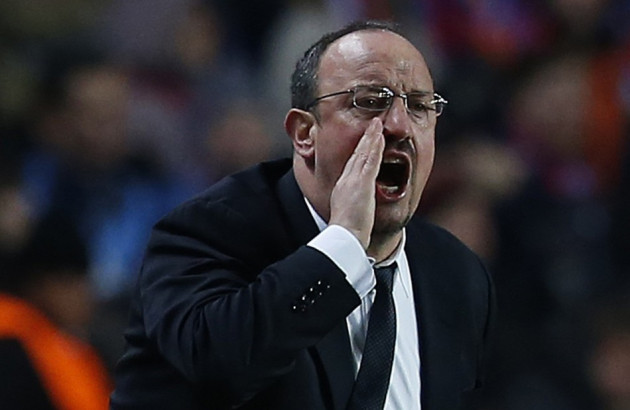 Amid the vociferous Steaua visiting support, Benitez was either not heard, or was chosen not to be heard. Either way, his requests for Ashley Cole to stretch the pitch, and David Luiz to resist going forward were never heeded; directions conspicuously ignored.
But if Benitez has engraved one aspect from his wall of experience, on this current Chelsea side, it is a display of resolve and strength in recent cup performances which has worked to prevent Chelsea's season from being derailed.
Benitez's philosophy of caution over ambition has always suited the cup format, with his team craving control in a game, squeezing the life out of a tie before striking a final blow.
Roles were slightly reversed last night, but the result remained the same. John Terry heading home crucially before Fernando Torres slid Chelsea into the quarter final.
You almost had to look twice at this Chelsea team, who five days previous had recovered from a 2-0 half-time deficit against Manchester United to earn an Easter Monday quarter final replay.
Identical results were required here, and following Eden Hazard's brilliant late strike against Sparta Prague in the previous round, signs of Chelsea showing grit and determination are becoming a trend akin to the days of Jose Mourinho.
The Portuguese boss will forever be the biggest of elephants in the room at Stamford Bridge, but positive comparisons can be made here between a side whose individual quality may be greater, but ability to pull results out of the fire are on are on equal standing.
The criticism towards Benitez was again stifled by the result and the entertaining fashion from which it came, but don't misinterprete a sudden decrease in animosity as an acceptance. Don't expect praise either, even if his Chelsea's side are mirroring the power of the adored 'special one'.