Raffaele Sollecito appears to be distancing himself from Amanda Knox, questioning her actions immediately after the death of Meredith Kercher.
Last month Sollecito and Knox were re-convicted of the British student's murder in Perugia in 2007. They had both served four years in jail before their verdicts were overturned on appeal in 2011.
Italy's Supreme Court quashed both their acquittals last year on the premise that the appeals process had not been handled correctly.
It is now expected their next appeal will be heard by the court in early 2015.
But in a new twist, Sollecito, 29, who has always defended his ex-lover, has admitted on Italian television that he still has unanswered questions about Knox's behaviour on the morning Kercher's body was found.
He said when Knox returned later that morning, she seemed 'very agitated'. She told Sollecito – her then-boyfriend of just 10 days - that her front door had been broken into and she found small blood stains in the bathroom.
Speaking on the Today show he said: "Certainly I asked her questions. Why did you take a shower? Why did she spent so much time there?"
When asked by the interviewer whether he received any answers to those questions, he responded: "I don't have answers."
Legal experts believe Sollecito is trying to distance himself from Knox ahead of their supreme court hearing.
NBC's legal analyst Lisa Bloom said: "I think he's distancing himself from her. He's saying that there is some evidence that may apply to her, which doesn't apply to him."
Sollecitto's volte-face comes after Knox posted an email from him on her blog earlier this month. While maintaining their innocence, he wrote: "I don't want to be punished for, nor have to continue to justify, those things that regard you and not me."
A year ago Sollecito raised similar concerns about Knox's behaviour in his book Honor Bound, but in another TV interview on Today shortly afterwards he said: "The real facts are that we are innocent."
Knox, who also posted an image online in which she held up a sign saying "we are innocent" in Italian, rejects claims that Sollecito is distancing himself.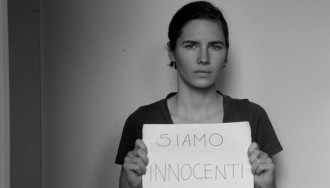 "This is not the case," she said. "Raffaele has plenty of reason for resentment, but not against me. The only reason he has been dragged into this is because he happens to be my alibi.
"He is collateral damage in the unreasonable, irresponsible, and unrelenting scapegoating of the prosecution's grotesque caricature that is 'Foxy Knoxy'."
Theodore Simon, Knox's lawyer, told Today: "There is no evidence then and there is no evidence now. There will never be any evidence."
Knox was sentenced to 28 years and six months in prison, while Sollecito was given a 25-year sentence. A third person who was convicted over Ms Kercher's death, Rudy Guede, is currently serving a 16-year sentence. He was found guilty of sexually assaulting and stabbing Kercher at a separate trial.