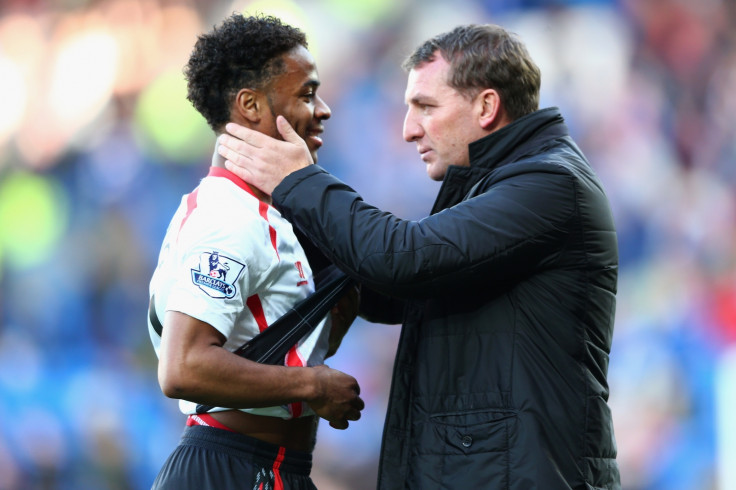 Liverpool manager Brendan Rodgers has called on the club's travelling fans to show support for Raheem Sterling during the final match of the Premier League season at Stoke.
Rodgers' side travel to the Potteries on 24 May after a particularly hectic and difficult week in which the England forward's ugly contract saga rumbled on, following a controversial interview given to the London Evening Standard by outspoken agent Aidy Ward in which he appeared to confirm beyond doubt that Sterling will not sign an extension to his contract.
Sterling, who joined Liverpool from Queens Park Rangers in 2012 and has two years remaining on his current deal, has already rejected an opportunity to extend his stay on Merseyside that would have seen his weekly wage rise sharply to around £100,000-per-week but claimed that his decision was not motivated by financial desire.
Despite those protestations, however, public opinion of how the whole affair is being handled has notably plummeted in recent weeks and the 20-year-old was subject to audible boos when attending an awards evening at Echo Arena last week.
The recent outburst from his representative may have Sterling fearing an even worse reception at the Britannia Stadium, but Rodgers has been eager to provide a reminder of the player's strong character and excellent form for Liverpool since he burst onto the scene as a gifted teenager.
"My message to the supporters would be, look, this is a young boy who in my time as manager has given the football club everything," he was quoted as saying by the Liverpool Echo.
"He was thrust into the team at 17 years of age. He was given that opportunity and he grabbed that opportunity. In the following period, he has been exceptional for me. Of course, he has had dips in form and performances but only because his standards are so high.
"I think with Raheem his character is unquestioned. He is a really strong boy mentally but he's also a human being as well and a very young one at that."
Rodgers had previously stated that Sterling would be available to feature against Stoke given that he is not currently suffering from any injuries although it now seems likely that such a decision will not be completely established until late.
"There's no doubt these type of things can affect players, but what I know of Raheem is that he's a strong boy who is continuing to work hard. It hasn't affected him in terms of training but of course I will always gauge that up until the very last minute. My duty will always be to protect him and to support him and to guide him.
"He's a young man who has obviously passed his career on to other people and, unfortunately, whether people perceive it as right or wrong, he is being led by the representative.
"But the young boy I see on a daily basis and who I work with is still the same boy who wants to learn and I think the supporters will just continue to show what they always do, which is wonderful support for every player in the Liverpool shirt.
"It is hard and it has been a difficult season for the supporters this season, we all appreciate that, but give us that great support for the last game against Stoke when you fill that away end. Let's see if we can finish the season off on a high. We will then go away, reflect on the whole season and come back strong next year."
While so much of the pre-match build-up has been focused on Sterling and the inevitable mass of transfer speculation that now engulfs him, the visit to Stoke also represents Steven Gerrard's last game for Liverpool before his summer switch to Los Angles Galaxy.
The long-serving captain's last home game was somewhat spoilt by a 3-1 defeat to Alan Pardew's Crystal Palace and he will no doubt be desperate to ensure that he can end such an illustrious chapter of his long career on a positive note.
Liverpool are not able to progress any further than fifth, but a third loss in five matches could cause them to finish as low as seventh if Southampton and Tottenham record positive results against Manchester City and Everton respectively.