The average UK rail commuter has had to face a rise in fares more than twice his pay increase, states a new report. According to research by the Action for Rail union campaign and the Trades Union Congress (TUC), fares have been increased by 25% since 2010, while average weekly wages have risen by only 12%.
The analysis was released soon after the government announced another fare rise in 2017, which will affect commuters across England, Scotland and Wales. The increase will be linked to July's Retail Price Index inflation rate, which will be confirmed at 09.30am BST on 16 August.
A rise of 1.5% is expected, adding about £40 ($51, €46) to the average season ticket next year, with some annual passes going up by £150.
Blaming the rise on privatisation of the transport system, Action for Rail pointed out that while fares have gone up, "dividends paid to shareholders of private train companies have risen to £222m in the last year – an increase of 21%".
While a fare increase is expected in the New Year, train users will also have to face disruptions in commuting as Virgin Trains East Coast line has planned a three-day strike later this month, including the Bank Holiday Monday (29 August).
"Rail passengers are paying more and getting even less. Fares go up while trains remain overcrowded, stations are unstaffed, and rail companies cut the guards who ensure journeys run smoothly and safely," said Frances O'Grady, TUC general secretary.
"Enough is enough. It's time for rail services to be publicly owned, saving money for passengers and taxpayers alike.
"Instead of increasing fares and cutting staff, we should be building an accessible, reliable train service that Britain can be proud of," BBC quoted him as saying.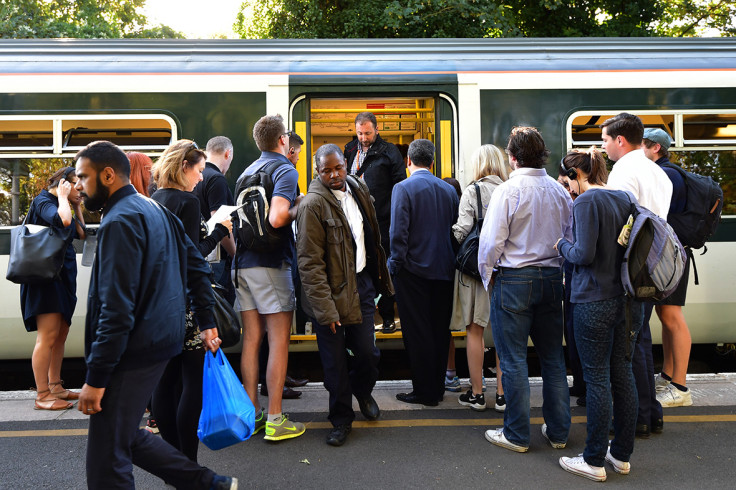 Meanwhile, on 12 August, Eurostar workers walked out with a plan to remain on strike for four days, but the Rail, Maritime and Transport workers' union (RMT) later suspended the action to discuss the issues relating to jobs, working conditions and safety.
Negotiations between the RMT union and Govia Thameslink Railway (GTR) company fell through on 15 August after workers for the Southern rail operator went on a five-day strike earlier this month over the change in roles of train guards. The strike caused major problems for tens of thousands of commuters.
Conservative MP John Redwood said those affected by the strikes and the rise in fares, have "a particular need for anger".
"Our rail fares are already the highest in Europe and today's increases will only make that record worse. It's time that ministers gave rail passengers a break and actually froze fares in real terms," Manuel Cortes, of the TSSA (Transport Salaried Staffs Association) rail union, said.
"Fares on the most popular routes have jumped by more than 245% since rail was privatised 20 years ago.
"Running a publicly-owned railway would end this annual mugging of passengers and give us a network run in the interests of passengers and staff," he added.
However, Jeremy Corbyn is expected to renew his pledge to renationalise the railways and promise fare savings of up to 10% for passengers if a Labour government comes to power. He will launch his new campaign Transport Tuesday on 16 August and organise transport-centric rallies in the Midlands.