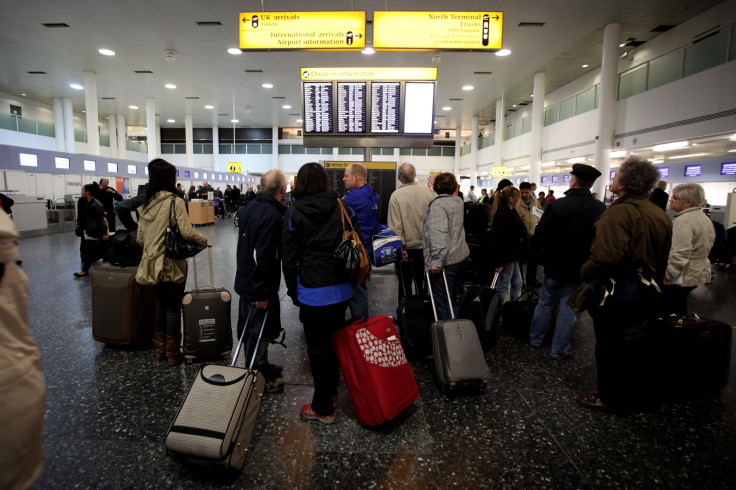 Air passengers using London Gatwick suffered the longest average delays to their journeys compared to any other UK airport, new figures have revealed. Those using the airport for their holiday getaways and business trips were typically delayed by 18 minutes.
Flights at the next worst-offending airports – Luton, Manchester and Glasgow – suffered average delays of 14 minutes, while journeys at Heathrow were on average 13 minutes late.
The data, provided by the Civil Aviation Authority (CAA) to the BBC which covered the period January 2015 to March 2016, also showed the average delay among airlines operating in the UK was about 15 minutes.
The worst-performing company, Turkmenistan Airlines, saw customers forced to wait on average 70 minutes beyond the scheduled time.
The most-delayed flight from the UK, the Pakistan International Airlines flight from Manchester to New York's John F Kennedy Airport, was late on eight out of 10 occasions, with an average delay of 88 minutes.
A spokeswoman for Gatwick said it regretted delays at the airport but explained it had been affected by "several incidents beyond [our] control", including last year's air traffic control strikes in France which left thousands of passengers across Europe stranded.
They added: "Gatwick has more flights to Europe than any UK airport and can therefore be impacted disproportionately by events on the continent."
The CAA said a record 257m passengers passed through UK airports in 2015, surpassing the previous peak of 242m reached in 2007.
Average flight delays at UK airports (January 2015 to March 2016)
Gatwick: 17.8 minutes
Luton: 14.4 minutes
Manchester: 13.9 minutes
Glasgow: 13.8 minutes
Heathrow: 13 minutes
Edinburgh: 11.8 minutes
Bristol: 11.7 minutes
Stansted: 11.5 minutes
Birmingham: 10.9 minutes
Newcastle: 10.8 minutes
Passengers affected by delays can apply for compensation under EU law, with the amount determined by the length of flights. Eligible customers on short-haul flights who are delayed by more than three hours can claim up to €250 (£217, $280), while for medium-haul flights the compensation is €400.
Delays of three to four hours on long-haul journeys can see airlines forced to pay €300 and if longer compensation doubles to €600.
Alex Neill, Which? director of policy and campaigns, told the BBC: "Arriving at the airport to discover your flight has been delayed is incredibly frustrating, and something thousands of holidaymakers will encounter this summer.
"We know that tens of thousands of passengers on late running flights aren't claiming the compensation they're due and so we encourage people to claim what they're rightly entitled to."
The British Air Transport Association, which represents UK airlines, said 350m passengers and 3.1m aircraft are expected to pass through UK airspace by 2030.
Most delayed flights
Airport
Destination
Carrier
Average delay
Manchester
New York (John F Kennedy)
Pakistan International Airlines
88 minutes
Heathrow
Ashgabat, Turkmenistan
Turkmenistan Airlines
75 minutes
Birmingham
Islamabad
Pakistan International Airlines
73 minutes
Birmingham
Ashgabat, Turkmenistan
Turkmenistan Airlines
68 minutes
Manchester
Chambéry
Jet2.com
62 minutes
Leeds Bradford
Chambéry
Jet2.com
60 minutes
Gatwick
Chambéry
Thomson Airways
56 minutes
Manchester
Islamabad
Pakistan International Airlines
53 minutes
Manchester
Lahore
Pakistan International Airlines
49 minutes
East Midlands
Chambéry
Jet2.com
49 minutes