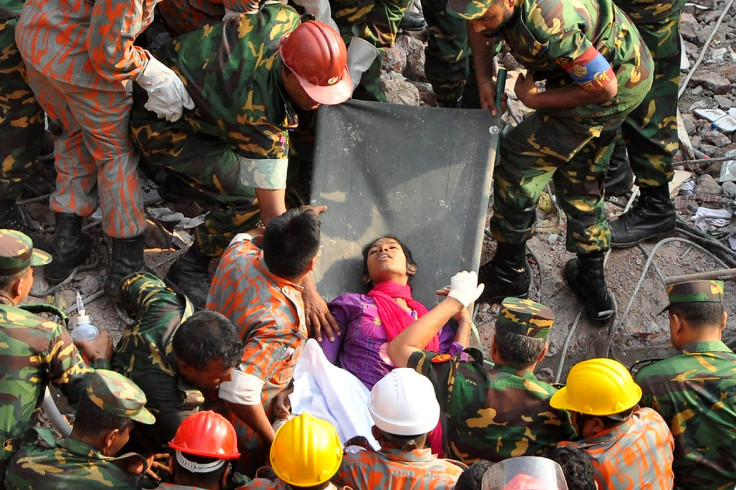 Nearly two years after the Rana Plaza clothing factory collapsed in Bangladesh, some brands with confirmed ties to the sweatshop have not yet paid compensation to the families of the 1,134 workers who died and the hundreds of people who were injured in the incident.
To date, Italian company Benetton is the only major multinational firm with links to Rana Plaza that has refused to pay out, prompting nearly one million activists to sign an online Avaaz petition urging the company to compensate the victims.
Following what was deemed to be "one of the worst industrial accidents of the 21st century", the Rana Plaza Coordination Committee, established in September 2013, developed the Rana Plaza Donors Trust Fund to collect money for the victims. It is backed by the International Labour Organisation (ILO).
In order to properly distribute the set target of $30m (£19m) among the victims, the scheme also developed a process, known as "the Rana Plaza Arrangement", to support survivors, families and their dependants to submit claims, assess the level of payments and undertake medical examinations.
As of 16 December 2014, the amount of funds received was $21m, leaving a $9m gap which activists are arguing could be covered - at least partly - by Benetton.
"Everyone, brands, governments, the public, recognised that the people affected by the collapse should receive compensation since the arrangement was established," Ilona Kelly, campaigns director at NGO Labour Behind the Label (LBL), told IBTimes UK. "All that's really needed is for brands to step up and pay into the fund according to their abilities.
"There are other small companies, such as JC Penny, that still have not paid. We are calling on all the brands to pay and those who have already contributed to contribute more.
"Walmart, for example, has paid $1m, which sounds like a lot, but it's not considering that the company makes billions of profits every single year."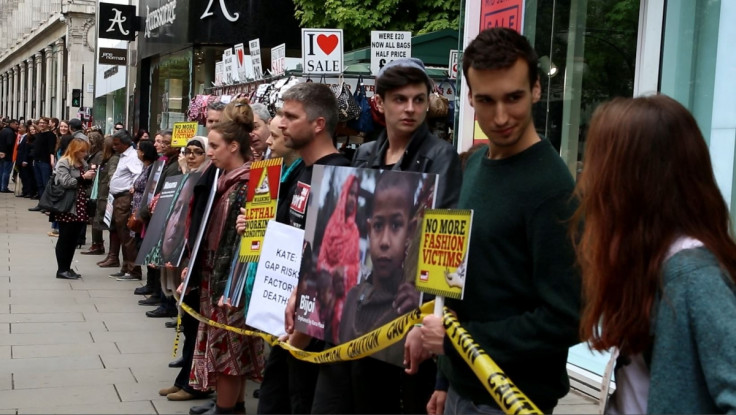 Rana Plaza survivors affected by stigma
LBL met with some of the survivors last October. The NGO highlighted that one of the most significant issues affecting those who have not sustained debilitating injuries and are still able to work is the stigma attached to them.
"Factories won't hire the survivors as they believe they will no longer be able to work after the tragedy they experienced," Kelly said. "It's something you would not necessarily think would happen, but this is why compensation is so important: It is the main instrument which people can use to start rebuilding their lives.
"The reason why these families are in an endless situation and many homes are facing destitution, is the direct result of negligence.
"The fund is not about giving charity, it's about giving compensation calculated on the loss of income and medical cost. Compensation is an entitlement and it is disgraceful that 10 weeks from the second anniversary, victims almost have to beg for what they entitled to."
Disaster aftermath: New measures to guarantee safer workplaces
Following the incident, global brands, retailers and trade unions signed the Bangladesh Accord on Fire and Building Safety, an agreement which binds its parties for five years to commit to creating a safe and healthy workplace environment in Bangladesh.
Benetton, signatory of this agreement, believes that "actual facts regarding issues relating to our company continue to be misrepresented".
Speaking to IBTimes UK, a spokesperson for the company said: "By being part of the Accord we can contribute to the long-term, permanent improvement of overall safety conditions for workers in the Bangladesh ready-made garment industry.
"As of today, over 1,100 factories have been inspected by the Accord and many more will undergo ongoing safety screening thanks to the concrete contribution of company signatories like ours.
"Similarly, we partnered with Brac, a Bangladesh-based NGO, to support 280 victims and family members, from their immediate-term medical needs – including limb replacement – to ensuring that they had the means – including financial – to rebuild a sustainable future for themselves and their families."
Although the collaboration with Brac did not result in any donations to the victims, Benetton explained that the programme involved work on the ground.
The company also believes that the Rana Plaza victims are "exploited at various levels" by media outlets.
Referring to survivor Rozina Begum, believed to have not yet received any compensation, Benetton said: "Begum is one of the beneficiaries of the program in partnership with Brac and she received a prosthetic arm, ongoing psycho-social and medical follow-ups.
"She also received a livelihood monetary grant to set up and manage her own small business activity and benefits from a fixed deposit scheme that allows her to receive a sum of money each month, to help with her living expenses."
LBL and the nearly one million activists that signed the Avaaz petition, believe that although Benetton has provided some assistance to the survivors, this does not amount to compensation.
Samantha Maher, LBL international solidarity and policy co-ordinator, told IBTimes UK: "This goes to the heart of the argument about what compensation actually means: A direct payment that is calculated using a specific set of complicated formulas that makes payments based to all eligible people based on the actual losses that they suffered.
"What Benetton is describing is an NGO scheme that provides training and income generation activities. It is simply not the same thing and this clearly demonstrates that workers themselves are able to see the difference, and as such are stating that while they have received some support from outside parties, they have not received compensation," she continued.
"I haven't met Rozina so I am not able to speak about this case study, but a prosthetic limb does not count as compensation, nor does psychological counselling. It counts as medical treatment. A business loan is also not the same thing. This is what why we have been arguing: that such schemes do not replace compensation payments."
IBTimes UK contacted the organiser of the Avaaz online petition, but had not received a response at the time of publishing.