Anti-poverty campaigners have said clothing retailer H&M could "well afford" to pay a decent wage to the Bangladeshi textile workers they rely on after the firm's chief executive said that while he wants them to have higher pay, he also wants to stay competitive.
Karl-Johan Persson, who runs H&M, told Germany's Die Welt newspaper that he is in favour of higher wages for Bangladeshis.
But Persson added that Bangladesh would lose jobs to other low-paying countries if it forces wages up for textile workers.
And when he met the Bangladeshi government he said he "stressed that we advocate wage increases, but we also need to remember our competitive situation".
"In Bangladesh, the clothing industry offers four million jobs that are relatively well paid compared with others," he said in the interview.
"Textile workers earn about as much as teachers. The garment industry contributes a great deal to alleviate poverty in this poor country. "
The firm had already pledged to pay an undefined living wage to its staff there.
Persson dismissed a question on what is a reasonable wage in Bangladesh, saying it is "complex" and "not for us to decide on the correct wage in a country on the other side of the earth".
He said it should be left to negotiations between workers, unions and the government.
Jeff Powell, campaigns and policy director at the British anti-poverty charity War on Want, said the risk of firms chasing ultra-low labour costs means authorities must step in.
"Multinational retailers like H&M can well afford to ensure a living wage for garment workers, since labour represents a tiny proportion of their costs," said Powell.
"Threats to base production with even cheaper suppliers underline the need for government regulation to halt a race to the bottom and require firms to pay a living wage."
Persson said H&M was already looking at Africa for its clothes manufacturing and it had placed a small amount of orders in Kenya and Ethiopia.
His company has put pressure on the Bangladesh government to increase the number of their inspections of working conditions in the textile industry following the Rana Plaza disaster.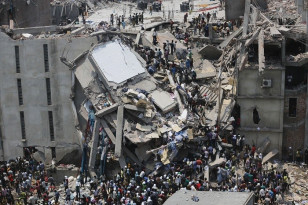 A total of 1,200 Bangladeshi textile workers died when the Rana Plaza factory building collapsed in Dhaka, leaving people trapped in the rubble. H&M and other well-known retailers were linked to the factory's clothes producers.
H&M has also been campaigning for Cambodia, another source of its clothes, to lift the minimum wage.
This is all part of an effort by the firm to rebrand itself as ethical and sustainable amid intensifying competition in the high street clothing retailer market.
According to the Trades Union Congress (TUC), Bangladeshi textile workers can earn as little as £27 a month.
In Cambodia, the minimum wage is £48 a month. The government has offered to raise it to £60, but campaigners in the country are demanding £96.