Rana Plaza Disaster: Woman Named Reshma Found Alive After 17 Days [FIRST PICTURES + VIDEO]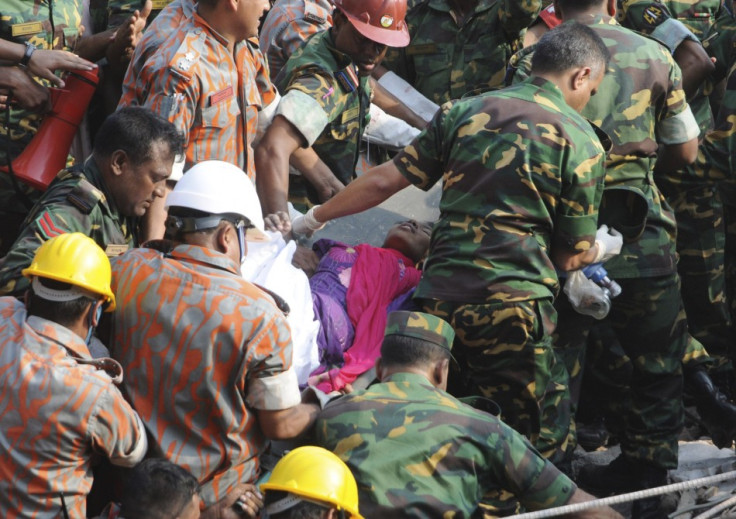 A woman has been found alive under the rubble of the Rana Plaza building which collapsed more than two weeks ago, leaving more than 1,000 people dead.
The woman, named as Reshma by officials, was trapped in the basement of the eight-storey building and waved her hand in response to rescuers at the scene.
Army officials used a handsaw, welding and drilling equipment to free the woman, and a small oxygen cylinder to help her breathe normally.
She did not have significant injuries when she was pulled out, according to the rescuers.
"She has been located in a gap between a beam and a column. Her name is Reshma. She may have reserves of water or have drunk some of the water that we've pumped into the building," a soldier, Ahmed Ali, said.
Pale, drawn and seemingly unable to walk, the woman, identified by Bangladeshi media only as Reshma, was hoisted out of the rubble on a stretcher, then loaded into an ambulance in scenes broadcast live on television.
Mohammad Rubel Rana, a workman who had been cutting iron rods, said he had alerted rescue crews after hearing a feeble voice.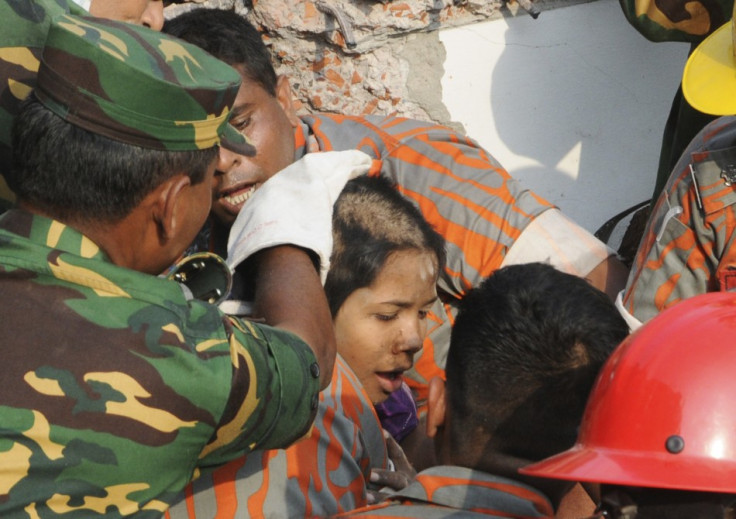 "I heard a faint voice saying 'Save me, Save me'," Rana said. "She was given water, biscuits and oxygen."
"She has been rescued and taken to a military hospital," said Bangladesh's army spokesman Shahinul Islam.
Rescuers speculated that she may have survived by drinking water that had pooled in the site when firemen doused a fire that had broken out earlier in the rescue effort.
It was not clear if she was one of the thousands of garment workers who had been working in the eight-storey building, which collapsed on April 24, a day after its owner assured factory bosses and news crews that it would stand for "a century".
Workers rescued more than 2,500 people but no one had been found alive until Reshma. Many of the bodies found were "little more than skeletons", Brig Gen Siddiqul Alam said.
READ MORE: Benetton Admits Links to Rana Plaza's New Wave Garment Factory
Rana Plaza Disaster: Benetton Admits it 'Occasionally' Made Clothing at Bangladesh Factory
Bangladesh: Were Rana Plaza Workers Sewing Clothes for Benetton when Building Collapsed?
Dhaka Factory Fire: Eight Dead in Primark, Peacocks and New Look Sub-Contractor Blaze [VIDEO]
© Copyright IBTimes 2023. All rights reserved.