When Randall Park Mall opened in 1976, it was the world's largest shopping centre. The gleaming shoppers' paradise in North Randall, Ohio covered 2,000,000 square feet and had 200 shops, a cinema, three 14-storey apartment blocks, two 20-storey office buildings and a performing arts centre.
Flamboyant developer Edward J DeBartolo envisioned Randall Park as a "city within a city", though it was more like a city within a village. At the time of its opening, North Randall's population was 1,500 and the mall's employee population was 5,000.
As the years passed, so the mall's popularity declined. The cinema became a second-run theatre in 1991 and closed in 1993. The main anchor tenant, JCPenney, closed its outlet in 2001, signing the mall's death warrant.
By 2003, over half of the mall lay vacant. The last of the remaining small stores in the mall closed in March 2009. All power to the shopping centre was turned off in May 2009. In December 2014, demolition work began.
Photographer Johnny Joo visited the abandoned mall recently, roaming its dusty corridors, picking his way through broken glass and trudging across its muddy carpets to capture the downfall of a once great American dream. See more of his work here.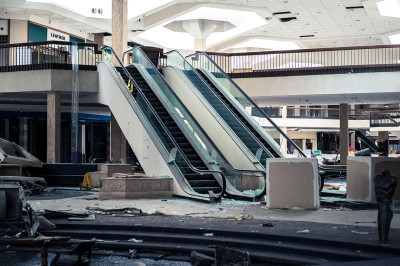 See more of Johnny Joo's photos at his website, or pre-order his book, Empty Spaces. He is currently seeking funding for a planned trip across America, exhibiting his work and photographing more abandoned spaces along the way. See his Ohio to Oregon crowdfunding page for more details.