Huge swathes of the massive US Army base at Bagram Airfield in the Parwan province of Afghanistan are being demolished. At its peak, 40,000 people lived in these six square miles of Afghanistan protected by concrete barriers and razor wire.
Most of these have withdrawn; roughly 13,000 foreign troops, mostly Americans, will remain at the base under a new two-year mission named "Resolute Support" to train Afghan troops.
Reuters photographer Lucas Jackson captured the eerie beauty of the deserted areas of the base, finding patterns in the rows of concrete barriers and sandbags.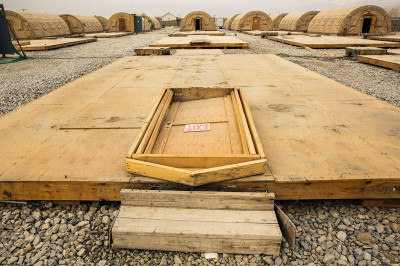 At his final news conference of 2014, US President Barack Obama spoke just 18 words on Afghanistan, saying, "In less than two weeks, after more than 13 years, our combat mission in Afghanistan will be over."
On October 7, 2001, less than a month after terrorists hijacked US airliners and flew them into the World Trade Center and the Pentagon, America invaded Afghanistan to root out al-Qaida and topple its host, the Taliban.
By the time Obama took office in January 2009 the US had 34,400 troops in Afghanistan. He tripled the total, to 100,000, in 2010 in a bid to turn the tide and defeat the Taliban. That aim was never achieved; the Taliban took a heavy pounding, but it remains a force to be reckoned with, in part because of sanctuaries it enjoys in neighbouring Pakistan.
The number of US troops in Afghanistan has dropped to just over 11,000 from about 38,500 in January 2014. But Obama's original plan to go down to 9,800 by the end of 2014 and limit forces to advising the Afghans and only fighting al-Qaida — not the Taliban — has changed.
About 1,000 additional US troops will remain in Afghanistan for a few months to fill in for other coalition forces that Washington hopes will arrive by spring 2015.
As of 16 December, a total of 2,215 US troops have died in Afghanistan and 19,945 had been wounded.