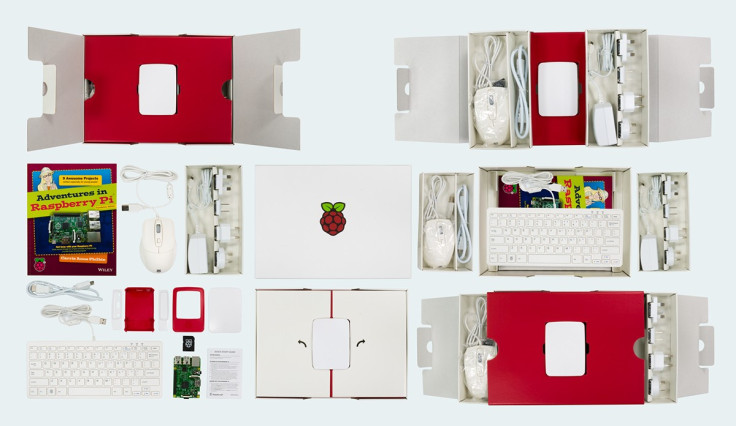 The Raspberry Pi has fixated tech tinkerers since it was released in 2012 and recently celebrated an important milestone after selling 10m units. To mark the occasion, the Raspberry Pi Foundation has launched a starter kit to get even more users experimenting with its low-cost microcomputer.
The official Raspberry Pi starter kit is available to order online in the UK from the company's partners, element14 and RS Components, for £99 ($130, €117), plus VAT. The foundation says the kit will come to worldwide markets via various resellers over the coming weeks.
The box includes a Raspberry Pi 3 Model B microcomputer, 8GB NOOBS SD card, power cord, 1m HDMI cable, optical mouse and scissor-switch keyboard, carry case and the official Adventures in Raspberry Pi guidebook. The book is aimed at 11-15 year-olds but presumably contains the fundamentals of Pi programming to get beginners of all ages up and running.
Indeed, the Raspberry Pi has been somewhat of an unexpected success for its creators, who introduced the concept mainly as a way to get young people interested in the fundamentals of computing, beyond the screen.
Since then users have created all manner of weird and wonderful devices using Raspberry Pi components, from hacked retro consoles to Tetris-playing bookshelves. It is not just amateurs harnessing the power of Pi either, Microsoft recently revealed the British-made microcomputer to be the brains behind its smart mirror project, while various startups have favoured the microcomputer for use in things like robotics and smart home devices.
"At the time, we thought our lifetime volumes might amount to ten thousand units — if we were lucky," the foundation revealed in a blog post. "There was no expectation that adults would use Raspberry Pi, no expectation of commercial success, and certainly no expectation that four years later we would be manufacturing tens of thousands of units a day in the UK, and exporting Raspberry Pi all over the world.
"With this in mind, you can imagine how strange it feels to be able to announce that over the last four-and-a-half years we've sold a grand total of ten million Raspberry Pis. Thanks to you, we've beaten our wildest dreams by three orders of magnitude, and we're only just getting started."