Ratko Mladic, the former Serb general known as the "Butcher of Bosnia", was forcibly removed from his war crimes trial on Wednesday (22 November).
The one-time commander started shouting loudly during the trial at the International Criminal Tribunal in The Hague, delaying the verdict for the last genocide committed in Europe.
The verdict was previously delayed for half an hour when Mladic asked the judge if he could take a bathroom break. The delay was extended when rumours started to circulate that Mladic had been taken ill.
At the start of the hearing, Mladic appeared relaxed and listened quietly to presiding judge Alphons Orie.
But as Judge Orie started reading out the judgement, Mladic burst into an angry rant and accused him of lying.
The judge ordered for him to be removed from the court, denying his defence lawyers' request that proceedings be halted due to Mladic's high blood pressure.
"They are lying, you are lying. I don't feel good," Mladic shouted, as he was dragged out of court by two UN security guards. He watched the rest of the proceedings from a nearby room.
Mladic's lawyer Dragan Ivetic said his client's blood pressure had been taken three times during the first break. Ivetic said that, according to British and US medical organisations, this indicated Mladic was in "hypertensive crisis" and that a continuation of the trial could lead to a "fatality".
The court found Mladic guilty of 10 of 11 charges, including genocide and crimes against humanity, committed between 1992-1995 during the Bosnian War and the Srebrenica massacre. Mladic pleaded not guilty to all counts.
After the verdict was announced, Mladic's son said the court was "totally biased from the start".
UN human rights chief Zeid Ra'ad al-Hussein described it as a "momentous victory for justice".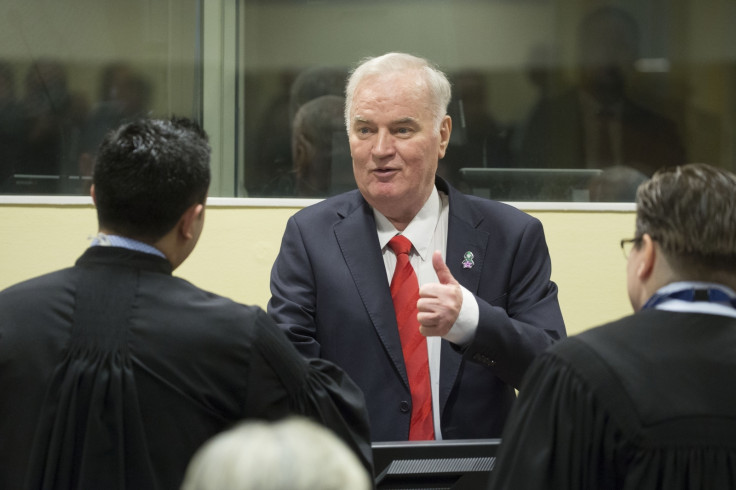 "Mladic is the epitome of evil, and the prosecution of Mladic is the epitome of what international justice is all about," he said. "Today's verdict is a warning to the perpetrators of such crimes that they will not escape justice, no matter how powerful they may be nor how long it may take."