Showbiz journalist Fiona Cummins' dreams became reality when her debut thriller novel was snapped up by a famous screenwriter and is now set to become a television series.
Cummins, an entertainment reporter for the Daily Mirror, quit her 9-5 in favour of penning her debut novel, Rattle. The book tells the tale of a ruthless and obsessive psychopath, a family who has what he wants, and a detective who knows what he needs.
It caught the attention of the screenwriter behind hit movies The Grudge and Red, Stephen Susco. Archery Pictures have since acquired television rights to the novel after "fierce competition".
While the television series is yet to have a confirmed air date, Cummins spoke about her experience writing the novel in an exclusive interview with IBTimes UK.
What inspired you to write a thriller novel, and how did you go from being a showbiz writer to fully-fledged novelist?
My sister-in-law Ceinwen was diagnosed with stage IV lymphoma a few weeks after giving birth to my niece – on the day my youngest child Alice was born. It was aggressive and advanced. Eight weeks later, my son Isaac, who was not yet two, was hospitalised with a potentially life-threatening complication of his eczema. It was an incredibly difficult period in our lives and I had a moment of epiphany; time is not infinite and, if circumstances allow, we owe it to ourselves to do the things that make us happy. Writing fiction makes me happy.
Thankfully, both Ceinwen and Isaac are now doing well, but I will never forget that fear of loss, and I think that darkness is written into the book.
What is the crux of the novel, and what set it apart to be made into a TV series?
Rattle is my debut novel and it's a crime thriller. It's about a collector who covets specimens – namely skeletons with bone deformities – for his 'family' museum. He sets his sights on a young boy suffering from Stone Man Syndrome, which is a real condition where sufferers become imprisoned in a second skeleton of bone.
I have been told the character of The Bone Collector is exceptionally creepy, and that the concept and the style of writing is compelling and original.
How will readers relate to the characters in the novel?
Although the story has been described as scary, it's a story about families too, and the impact of child abduction of those families. We all experience grief and fear and loss. The book shines a spotlight on how those families cope – do they pull together or crack apart? And it's about that seam of darkness that runs through us all, that struggle between light and shadow, redemption and revenge.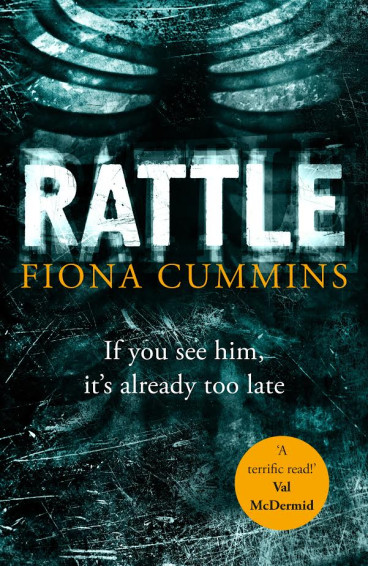 How long did it take you to write it, and did you have an idea of a plot before sitting down to pen the book?
I wrote it in about a year, was offered representation by my literary agent Sophie Lambert, and then spent another year rewriting it.
I had an idea for a story, and the ending has never changed, but it was a very organic process. I prefer to let the story unfold rather than planning in minute detail.
What do you know about the forthcoming TV show based on Rattle – is it staying true to the story?
The book has been optioned for a six-part series by the producer of political thriller Miss Sloane, starring Jessica Chastain. The script is being written by Stephen Susco, who wrote the box-office smash-hit The Grudge films. I have only spoken to him on the phone as he's based in LA, and there will be a few tweaks to the plot, but his ideas so far are brilliant, and I love the sound of what he's doing.
Are you involved with the television production?
I will read the scripts but I have no expertise in the field of television and much prefer to leave it to the professionals. I'm hoping they might allow me a cameo role, though!