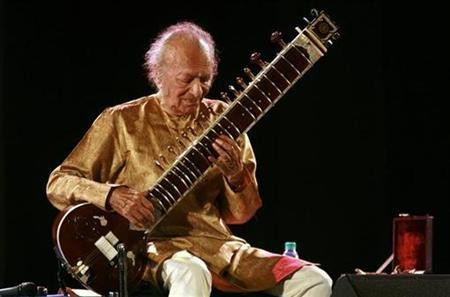 Renowned Indian Sitarist and composer Ravi Shankar has died at the age of 92 in a hospital in the US.
Shankar, a three-time Grammy winner, had undergone heart-valve replacement surgery at the Scripps Memorial Hospital in San Diego last week but was unable to recover. He had been in frail health for several years and was suffering from upper respiratory and heart ailments.
"Unfortunately, despite the best efforts of the surgeons and doctors taking care of him, his body was not able to withstand the strain of the surgery. We were at his side when he passed away," his wife Sukanya and daughter Anoushka told Reuters.
"Although it is a time for sorrow and sadness, it is also a time for all of us to give thanks and to be grateful that we were able to have him as a part of our lives," his family said in a statement.
"He will live forever in our hearts and in his music".
Indian Prime Minister Manmohan Singh described him a "national treasure and global ambassador of India's cultural heritage".
Shankar was credited with popularising Indian music to the western world through his association with The Beatles and the violinist Yehudi Menuhin in the 1960's.
In a musical career spanning eight decades, he was a major influence to western musicians to learn and understand Indian musical tradition.
He is the father of American singer-songwriter and Grammy award winner Norah Jones.