Real Madrid Injury Blow: Vinicius Suffers Relapse On International Duty
The Brazilian said that he felt discomfort in the same place where he was injured earlier in the season.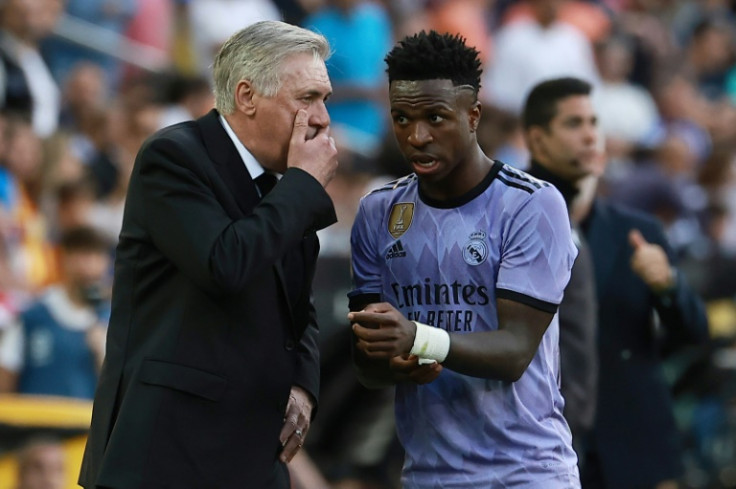 Real Madrid manager Carlo Ancelotti is dealing with a major headache now that his squad has been dealt with yet another massive injury setback. Brazilian forward Vinicius Junior has reportedly been ruled out until the end of 2023 after suffering a relapse on the hamstring injury that kept him out of action for several weeks earlier in the season.
The 23-year-old was sidelined for a month after suffering a thigh injury in August, and has just gotten back to peak performance level before suffering another setback. He has scored six goals in 13 appearances so far this season, including a brace in their recent 5-1 league victory against Valencia.
Injury suffered on international duty
Unfortunately for Real Madrid, the international break has not been kind to their players. Vinicius was forced off Brazil's FIFA World Cup Qualifying fixture against Colombia on Thursday last week.
Speaking after the match, ESPN quoted the Brazilian saying: "I think it's the same injury as last time. I got a knock, and I felt it [again] later. I'll have tests, to see what it is."
The Brazilian Football Confederation (CBF) has also ruled him out of the national team's next match against Argentina on Wednesday. The prolific forward has returned to Madrid where he underwent a battery of tests conducted by the club's doctors, and they have now shared the gloomy prognosis.
Bad news confirmed
A statement shared by Real Madrid on Friday read: "After the tests carried out today on our player Vinicius Jr. by the Real Madrid Medical Services, he has been diagnosed with a tear in the femoral biceps with involvement of the distal tendon in his left leg. Evolution pending."
The club did not confirm how long he will be out of action, but various media outlets are reporting that he won't return until after the New Year. That's about two-and-a-half-months in the sidelines, which is something that is causing a bit of a nightmare for the Italian manager.
Real Madrid's injury woes seem never-ending
It came as a huge relief when Vinicius returned from his injury earlier in the season, and no one expected him to be out of action once more and possibly for a longer period this time around. The setback comes after Eduardo Camavinga also suffered a torn knee ligament while on international duty with France.
Camavinga suffered the knee injury last Wednesday at Clairefontaine while training with his own national team side. He clutched his knee following a collision with teammate Ousmane Dembélé, and was unable to continue training. It was initially thought to be a minor sprain, but further assessments have confirmed that he is expected to be out for two months.
Keeper Kepa Arrizabalaga also suffered a thigh injury earlier this month, with Aurelien Tchouameni and Jude Bellingham also sidelined due to foot and shoulder injuries, respectively.
Meanwhile, some players are also out for longer periods, including summer signing Arda Guler, who has yet to make his debut for the club after suffering a series of injuries since the start of the seasons. Thibaut Courtois, and Eder Militao have also been unable to make a single appearance this season after both suffering ACL injuries in the pre-season.
Despite the injury issues, Real Madrid have remained undefeated in the Champions League so far. They currently top Group C, and have already qualified into the knockout stage. In La Liga, they are two points adrift of leaders Girona, but FC Barcelona are also just another two points further back.
In other words, they can't afford to drop any points if they want to end the year at the top of the table. That will be challenging considering the number of players that are sidelined, but the bench is deep at the Santiago Bernabeu and the likes of Luka Modric, Rodrygo Goes and Joselu are raring to get more playing time.
© Copyright IBTimes 2023. All rights reserved.