Mourinho Includes Casillas in Squad for Champions League Clash [FULL SQUAD]
Real Madrid playmaker Mesut Ozil warns Manchester United to be afraid
Real Madrid goalkeeper Iker Casillas has been included in the squad to face Premier League leaders Manchester United on Tuesday evening. The Spanish champions will play Sir Alex Ferguson's men in the second leg of a Champions League knock-out tie.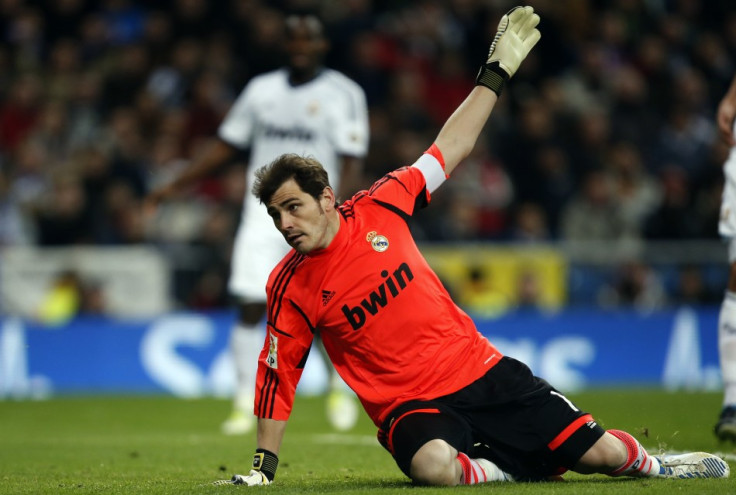 The tie is evenly balanced ahead of kick-off. The first leg, in the Santiago Bernabeu, finished 1-1, with ex-United star Cristiano Ronaldo cancelling Danny Welbeck's opener. In addition, both United and Madrid come into this game with loads of confidence after impressive wins in the Premier League and La Liga respectively.
The Old Trafford club dismantled Norwich City 4-0 at home, with summer signing Shinji Kagawa in inspired form. However, Madrid's weekend was probably the more impressive. Jose Mourinho's much-maligned squad faced arch-rivals Barcelona in two consecutive El Clasicos... and won them both, playing their best football of the season.
The focus, though, is now well and truly on the Champions League tie and Casillas could play a part in the game. The 31-year-old veteran, who is believed to have had a major fall-out with Mourinho, fractured his hand on 23 January, in a Cope Del Rey game against Valencia. He returned to basic training last week and has been named to the squad Mourinho will take to Manchester.
Real Madrid Squad: Iker Casillas, Antonio Adan, Diego Lopez, Jesus; Sergio Ramos, Alvaro Arbeloa, Marcelo, Raul Albiol, Raphael Varane, Pepe, Fabio Coentrao, Ricardo Carvalho; Luka Modric, Xabi Alonso, Sami Khedira, Mesut Ozil, Kaka, Jose Callejon, Angel Di Maria, Michael Essien; Cristiano Ronaldo, Karim Benzema, Gonzalo Higuain, Alvaro Morata.
Ozil: United Have Been Warned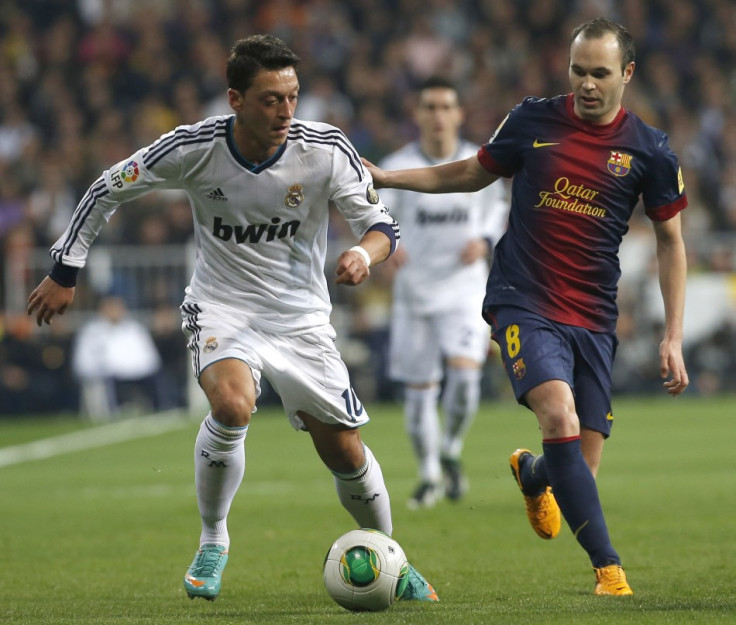 Meanwhile, confidence in the Madrid camp is as high as it has been all season. Los Blancos' comfortable dismissal of Barcelona over two matches - the 3-1 Copa Del Rey win, at the Nou Camp, last midweek and the 2-1 league win at the Bernabeu on Saturday - have given the nine-time European champions belief they can go on to win La Decima - their tenth European crown.
And German international Mesut Ozil believes that if his side can beat the famed Barcelona outfit in two games running, they need not be scared of United.
"We have great respect for United but we aim to play our game; that way we can beat anybody. If you can win in Barcelona, you can win in Manchester. It's going to be a difficult match against a really good squad, but we already showed what we're capable of in the first leg. We were clearly better in the first half, with loads of chances," Ozil explained to Die Welt.
© Copyright IBTimes 2023. All rights reserved.