Real Madrid 3-4 Barcelona
(Benzema, 19, 23, Ronaldo, 54)
(Iniesta, 6, Messi, 41, 64, 84)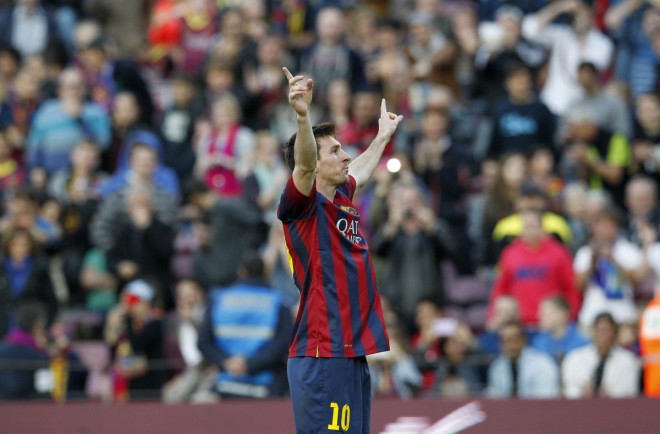 9:55: With nine games left, Diego Simeone and Atletico Madrid have their fate in their own hands. The league leaders visit the Nou Camp on the final day of the season on May 18. Expect this three-horse way to grow even more absorbing as that date approaches.
9:50: And that's it! Atletico Madrid remain top due to their head-to-head record with Real Madrid with both sides on 70 points. Barcelona, who could have been seven points adrift, are now only one point behind their title rivals.
FULL TIME
Real Madrid 3-4 Barcelona
(Benzema, 19, 23, Ronaldo, 54)
(Iniesta, 6, Messi, 41, 64, 84)
9:49: We are well into the three minutes of added time and Barcelona are running the clock down, Busquets aiding that cause by taking his sweet time to get up from a Bale challenge.
9:47: Final roll of the dice, Alvaro Morata is on for Modric. Real Madrid have a free kick from the right about 40 yards out but having piled nearly everyone forward, it's an awful delivery that barely beats the first Barcelona man back in his own box.
9:45: Two minutes of normal time remaining. Not sure how that happened, this half has flown by.
9:43: Alonso is shown a yellow card for his protests. He's probably right to air them, though. Ancelotti brings on Isco for Di Maria who has had a quiet second half. Ronaldo is also shown a yellow card for... something.
9:42: Messi slams a flawless penalty into the top right corner to complete his hat-trick!
Goal! Real Madrid 3-4 Barcelona (Lionel Messi, 84)
9:41: The third penalty! Iniesta picks up the ball inside the area and knocks it between Carvajal and Alonso and hits the deck. Has to be said, the Barcelona man went down very easily looking for the spot kick.
PENALTY - Barcelona
9:39: Mascherano tries his luck from 35 yards out. It's not a bad effort, but it was never troubling Lopez.
9:37: Real Madrid win a free kick in their own half to relieve the pressure after Mascherano attempted to leap frog Ronaldo.
9:35: Cesc Fabregas is off and is replaced by Alexis Sanchez, who scored that sublime winner at the Camp Nou earlier in the season.
9:33: Real Madrid gratefully accept a free kick having sat back following that equaliser. It's swung out to Ronaldo on the right flank who pings is directly to Bale in the box, but the Welshman hits the deck after challenging Pique for the ball. Obligatory shouts for a penalty, admittedly from supporters, are waved away
9:31: Alves hits the post! Barcelona patiently probe just outside the Real box when suddenly Messi slips the ball into Alves, who is as usual part of the attack. The Brazilian belts a sweet shot from the edge of the area that thunders of Lopez's left hand post. Hugely unlucky.
9:29: Barcelona win a corner and Xavi plants it onto the head of Busquets who is free inside the left of the box, but it's lifted over the bar.
9:27: By the way, that was Sergio Ramos' 19th red card of his career. He's 27. His third in El Clasico history.
9:26: Lots of replays later, it does look like there was contact between Ramos and Neymar's left leg. And with that, the Brazilian is off, replaced by Pedro.
9:25: Real respond but taking off hat-trick hunting Bemzema for... Raphael Varane? Huh?
9:23: Messi slams it home, we're all level! Again!
Goal! Real Madrid 3-3 Barcelona (Lionel Messi, 64)
9:22: This is beyond belief! Messi plays a sublime pass through to Neymar who may have drifted just offside. The Brazilian gets there before Ramos anyway and his touch takes the ball away before the Spaniard collides into him. There wasn't much contact but it doesn't matter. Referee points to the spot.
RED CARD - Sergio Ramos
PENALTY! Barcelona
9:20: Fabregas threads a through ball for Neymar, but the Brazilian is always struggling to beat Pepe to it. The forward looks drained, and could be coming off soon.
9:18: That was close from Iniesta! The little Spaniard connects with a sweet half volley just outside the area that takes the slightest nick of Gareth Bale on the way as it flies inches past Lopez's post. Real get the corner, but it's well cleared by Ramos again.
9:16: Real are at it again. Ronaldo digs out a low cross from the left flank into Benzema who in the centre; he swivels on the ball and backheels a ball to Bale, but it looks like there is too much on it. Not a problem for the Welshman, he's on the clever through ball anyway and from a tight angle on the right, draws another good stop out of Valdes.
9:14: Oooh this is controversial. Ronaldo picks the ball up on the edge of the area, drops a shoulder and jinks his way past Dani Alves, but the Brazilian clips his trailing foot. It's a clear foul, but that trailing foot was a couple in inches outside of the box when contact was made! Barcelona are fuming, Ronaldo doesn't care as he steps up and slams a perfect penalty into the bottom left hand corner.
Goal! Real Madrid 3-2 Barcelona (Cristiano Ronaldo, 54)
PENALTY - Real Madrid
9:10: Valdes denies Benzema! It's an absolutely wonderful run from Bale who explodes past three Barca men cutting in from the right flank, who then tees Benzema up to complete his hat-trick though. Valdes is out quickly to make a great save. Replays suggest the Frenchman may have strayed just offside.
9:09: It's a bit more cautious from Real Madrid so far. There's a good tempo to the half but the home side haven't really enjoyed a prolonged spell of possession.
9:07: Bale is barged of the ball by Busquets but the referee waves play on, cueing a cacophony of boos from around the Bernabeu. Barcelona eventually win a corner out of it but Ramos does well to clear up.
9:05: The second half has started how the first did with Barcelona taking early control of possession.
9:03: And Barcelona get us back under way. Please, please, please, more of the same.
9:00: As mentioned during that madness, Messi's goal was another landmark, he is now the top goal scorer in history of this fixure with 19, having beaten Alfredo Di Stefano's long-standing landmark. Fancy him to score another? You're not alone. Should he do that, , he will become the second top scorer in La Liga history. He is on 233, one behind Hugo Sanchez.
8:49: That was stunning.
HALF TIME
Real Madrid 2-2 Barcelona
(Benzema, 19, 23)
(Iniesta, 6, Messi, 41)
8:47: Benzema nearly puts Real ahead again! Carvajal finds space down the right and swings an excellent cross over to the far post where the Frenchman is waiting. He connects with a thumping header that flashes inches wide of Valdes' post. He could have five to his name already.
8:45: It all kicked off after the goal and replays show Fabregas and Pepe going head to head before both hit the deck. After both rise to their feet, they are shown yellow cards. Wouldn't be an El Clasico without at least one of those moments, would it? Both deplorable and hilarious.
8:44: It's about time, Lionel! The Argentine has brilliantly levelled his side. From the edge of the box he drives in before sliding the ball into Neymar who is blocked off by Carvajal. The Brazilian manages to drag the ball back to Messi who jinks past his marker before driving another record breaking goal into the back of the net!
Goal! Real Madrid 2-2 Barcelona (Lionel Messi, 41)
8:42: After that relentless opening half an hour, things have slowed down a tad.
8:39: Neymar cuts inside the right channel and clips an overcooked pass into the box. Fabregas chases it down in vain, as the linesman's flag goes up straight away and Real have the goal kick.
8:37: Just as a write that, Di Maria is booked for a late slide on Neymar.
8:35: Finally, there is a moment to breathe in this contest. Barcelona have not responded at all to Real's rampant assault on their goal. Benzema has recovered magnificently after two early misses to give his side the lead, while Di Maria has been simply mesmerising.
8:34: John Terry is apparently in attendance at the Bernabeu tonight. We are reliably informed his kit has been left back home in west London.
8:33: Difficult to describe Angel Di Maria this evening, he is stealing the show. After his brilliant work to set up the first he looked as if he had fainted and it looked certain as if he would be taken off. Moment later he's working his magic to create Benzema's second and nearly a third.
8:32: Now Barcelona have a free kick of their own, for a hand ball, funnily enough. After Messi and Xavi stand over it, the latter strikes it, but it's into the wall.
8:31: Real want more blood. They win a free kick that Ronaldo thumps into the wall and immediately claims there was a handball. The referee has a look but waves the appeals away, and it may have been the wrong decision. The rebound falls to Modric who skies it over the bar.
8:28: Benzema nearly has a hat-trick! Di Maria is stealing all the headlines tonight as again dances down the left and swings a ball into the box. Benzema is allowed to take a touch to cut the ball back onto his left foot and he steers towards the far corner, but Pique is there to clear off the line! Breath-taking stuff.
8:25: It's two! After a few worrying moments where Di Maria received treatment after falling to the ground looking very pale, the Argentine has just teed Benzema up for his second! Another excellent cross comes in from the left and having moved from his marker and Benzema controls on his chest before thumping a superb volley into the back of the net!
Goal! Real Madrid 2-1 Barcelona (Karim Benzema, 23)
8:22: Real are level and it's a howler from Valdes! The impressive Di Maria swings an excellent cross in from the left that Benzema meets with a thumping header. Valdes gets a firm hand to it, but it somehow it creeps through and into the back of the net!
Goal! Real Madrid 1-1 Barcelona (Karim Benzema, 19)
8:20: Real are all over the shop. Messi slides a simple ball through to Neymar who dances past three confused Real defenders on the edge of the box,. The Brazilian pulls to the left but just as he is about to pull the trigger Marcelo makes up for the lacklustre defending to brilliantly slide in Neymar's path and block.
8:19: Di Maria has been excellent this evening. The Argentine picks the ball up in his own half and side steps two challenges before freeing Benzema. Maybe with his recent misses in mind, he wisely looks up to find Ronaldo, who receives the ball and immediately looks to shoot. It's a rather tame one, however that Valdes easily collects.
8:18: Both sides have shown little concern for defensive solidarity so far this evening. Excellent.
8:17: What a chance for Messi to double the lead! Real lose the ball and Barca's counter attack is ruthlessly swift, led by the Argentine. He cuts across to the left of Lopez's goal but he drags his effort wide of the far post.
8:15: Prior to that last chance, Bale did brilliantly to drive through the heart of Barcelona. He laid the ball off to Benzema before being taken down, but the Frenchman's effort was off target. Three chances for him so far, all wasted.
8:14: What a miss by Benzema! Angel Di Maria does exceptionally well cutting in from the left wing, dancing past four Barcelona men en route to getting into the box before sliding a perfect ball back into Benzema who, albeit slightly off balance, lifts it over the bar. What a chance.
8:13: In the immediate aftermath of that goal, Neymar attempted to compound Real's woes as he breaks through one on one but is brushed off the ball. Ronaldo already has the hump with officials by the way, they have waved away three appeals for a free kick already.
8:12: Carvajal looked to at fault for that goal, cutting inside needlessly leaving Iniesta in acres of room. His finish was absolutely exceptional, however.
8:11: Did we expect anything less from this fixure?
8:09: What a start this is! Messi leads a counter and slides a beautifully timed ball into the path of Iniesta who has burst through on the inside left channel. Taking the ball in his stride the Spaniard absolutely wallops a fine effort into the roof of the net, leaving Lopez with no chance.
Goal! Real Madrid 0-1 Barcelona (Andres Iniesta, 6)
8:07: It's end to end already! Real Madrid march up the other end and contain Barcelona who try to pass their way out of trouble. They can't and Bale intercepts and finds Benzema, but the Frenchman snatches at his shot and it rolls wide.
8:06: Ronaldo is dumped to the ground by Alves and his appeals are ignored as Barcelona pounce on the counter attack. Neymar is fed down the right hand channel, cuts inside and from a tight angle fires an effort directly into the arms of Lopez. Difficult shot to take on from the young Brazilian.
8:04: Barcelona assume early control of possession, methodically stroking the ball across the pitch to the background noise of thousands of piercing whistles.
8:02: Ronaldo immediately bursts down the left flank and sends a low cross into the box but Pique is well placed to hoof it away.
8:01: And Real Madrid get us started.
7:59: Ahead of kick off, there is a minute's silence for former Spanish Prime Minister Adolfo Suarez, who died today.
7:54: Just five minutes away from kick off at the Bernabeu, here's a reminder of those line ups.
Real Madrid: Diego Lopez; Carvajal, Pepe, Ramos, Marcelo; Alonso, Modric, Di Maria; Bale, Benzema, Ronaldo
Subs: Casillas, Varane, Coentrão, Nacho, Morata, Isco, Illarra.
Barcelona: Valdes; Alves, Pique, Mascherano, Alba; Busquets, Xavi, Iniesta; Fabregas, Messi, Neymar
Subs: Pinto, Bartra, Adriano, Song, Sergi Roberto, Pedro, Alexis.
7:48: Those who were eager to condemn Gareth Bale following his world record move to Real Madrid rubbed their hands with glee as the Welshman struggled in the season's first El Clasico. The 24-year-old was ineffective and was taken off after an hour as Barcelona sealed a 2-1 win, but tonight will feature a Gareth Bale now very much in tune with La Liga. His haul of 11 goals and 10 assists in the league and the impact he has had on what could be a momentous season for Real means he is not out of place among the best footballers in the world.
7:43: By the way, the poor soul charged with maintaining a sense of order at the Bernabeu this evening is Alberto Undiano. Good luck.
7:39: This is Gareth Bale's second El Clasico, but for one man, tonight will be his last taste of this fixture, unless the Champions League pairs these two together later down the road. The Copa Del Rey final offers another chance, but the likelihood of Jose Manuel Pinto starting in goal for that game suggests this will be Victor Valdes' final test against the old enemy, before he leaves his boyhood club at the end of the season.
7:33: This game almost comes with a guarantee of things boiling over at some point, but what does Andres Iniesta, usually the coolest man on the pitch, want from tonight? Silly question, really.
We can't settle for anything other than a win - that has to be our mentality, with no doubts at all," he said.
We'll have to put in an almost perfect game - that's what beating Madrid demands and we are capable of doing it.
We have to have confidence in ourselves, as we always have with this kind of game. We aren't 20 points behind the leader and there's no big difference in results or the way we are both playing." [via BBC Sport.]
7:31: Atletico's superior head to head record over Real Madrid sees them top despite being level on points with their neighbours, with Barcelona one point behind the pair. And who do Barcelona host on the final day of the season? Atletico.
7:28: Of course, it hasn't just been about these two this season. Atletico Madrid's quest to smash Real Madrid and Barcelona's duopoly of Spanish football has been relentless this season and Diego Simeone's warriors sit top of La Liga ahead of kick off after a 2-0 win over bottom of the table Real Betis earlier today.
7:25: For Barcelona, Cesc Fabregas, Gerard Pique and Neymar come in after missing out on the win over Osasuna last time out.
7:22: All the A listers are present and accounted for. After resting eight names for their Champions League dead rubber against Schalke Real Madrid are back to full strength, led by the World Player of the Year Cristiano Ronaldo.
7:18: First things's first; the teams.
Real Madrid: Diego Lopez; Carvajal, Pepe, Ramos, Marcelo; Alonso, Modric, Di Maria; Bale, Benzema, Ronaldo
Subs: Casillas, Varane, Coentrão, Nacho, Morata, Isco, Illarra.
Barcelona: Valdes; Alves, Pique, Mascherano, Alba; Busquets, Xavi, Iniesta; Fabregas, Messi, Neymar
Subs: Pinto, Bartra, Adriano, Song, Sergi Roberto, Pedro, Alexis.
7:13: It's that time again. When football's global audience comes together for the rivalry that capitvates like no other. El Clasico. It;s one of the few rivalries in world football that transcends sport, and we are just 40 minutes away from kick off.
7:10: Good evening and welcome to IB Times UK's LIVE coverage of the biggest fixture in the footballing calender, Real Madrid v Barcelona.