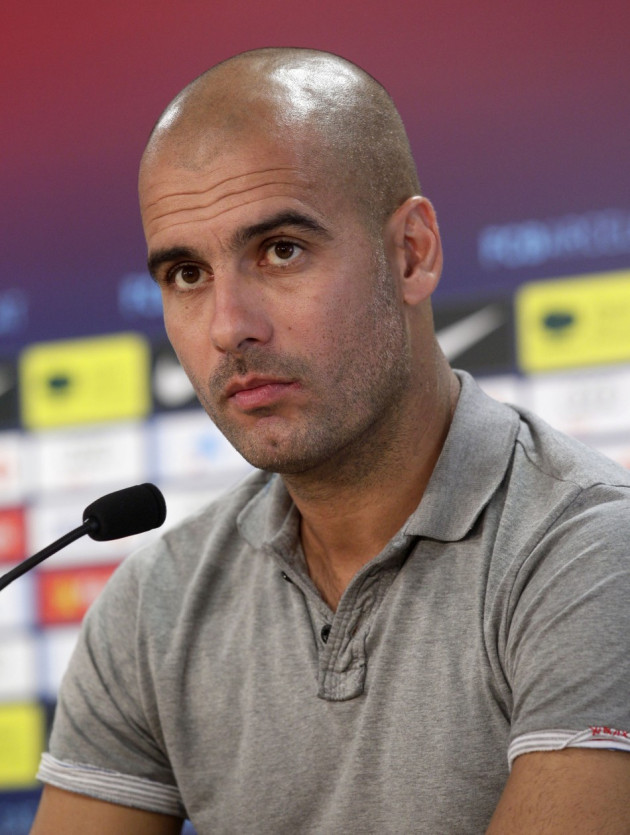 The first leg of the 2011 Spanish Super Cup takes place at the Bernabeu on Sunday 14 August.
Cesc Fabregas remains an Arsenal player, despite reports on Friday suggesting the two clubs had reached an agreement for the midfielder.
The European and La Liga champions head to the Bernabeu on Sunday for the first leg of the Spanish Super Cup, with their long-running pursuit of the Arsenal captain nearing completion.
Reports in Spain on Friday said Barcelona had agreed to pay €40m for Fabregas, 24, and the player would be unveiled after Sunday's match.
But Barcelona manager Guardiola insists no deal has been finalised ahead of Sunday evening's game.
"According to the information I have it is all very advanced but it still lacks a piece of paper. He is still an Arsenal player," Guardiola told a news conference on Saturday.
The Super Cup is the traditional curtain-raiser to the new season in Spain. However, next weekend's scheduled start is under threat after the Spanish players union [AFE] called a strike for the first two rounds of matches in the top two divisions, Reuters reports.
The AFE is demanding the Spanish football league [SFP] to increase the financial protection afforded to players at clubs who have entered administration and who are therefore not receiving wages.
Guardiola supports the players' move: "My opinion is thie situation depends basically on the players," he said. "I back their stance and I give them my support because if I am coach it is thanks to them."
Where to watch live coverage
In the UK, Sky Sports will broadcast live online coverage from 2100 BST, with highlights and analysis shown after the game. Check the company's Web site for further details.
In the U.S.A., ESPN Deportes starts its programming from 1600 Eastern Standard, further details are available on the company's website.Otherwise, the IBTimes offers minute-by-minute coverage of the entire game, just head over here.
For all other countries, a quick search of the multiple live streaming sites will point you in the right direction. Although quality and legality are subject to the broadcasting laws of individual territories.