Beyonce and Jay Z skipped Kim Kardashian and Kanye Wests wedding because they believed it wouldn't reflect well on their image.
A new report claims the showbiz power couple currently trying to do "damage control" on their brand after being blighted with divorce rumours, refused to attend the nuptials in Italy as they considered it too down-market.
A source told the New York Post's Page Six: "They are guarding like hell their status. Beyonce wasn't going to allow a Kardashian to socially climb her. And Jay didn't want Kanye with Kim - he thinks it's bad for business. I think Jay lost a little respect for Kanye there."
The insider added it's not who they hang out with, "it's who hangs out with them".
While Queen B didn't want to be overshadowed by the reality star who shot to fame after her sex tape was released, Jay Z who has shared a close working relationship with Kanye over recent years, believes brushing shoulders with reality stars is an instant career killer.
Despite reports Kanye asked Jay Z to be his best man, the On The Run tour duo snubbed the lavish wedding and opted to spend the weekend in the Hamptons instead.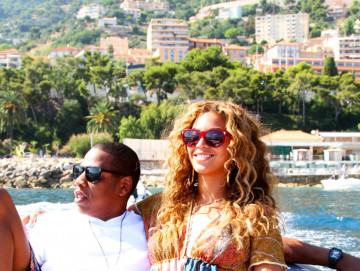 The Single Ladies singer, however, did post a message of support for Kim on Instagram. She captioned a picture from Kim, Kanye and their daughter North's photoshoot with Vogue: "Wishing you a lifetime of unconditional love. God bless your beautiful family."
Page Six also claims the infamous lift fight between Beyonce's sister Solange and Jay Z was over Rihanna.
A source close to the power couple said the elevator fight was over Rihanna, who he reportedly planned to meet later that night.
Meanwhile, West recently opened up about going on a 45-minute rant during his wedding speech about celebrity rights and told GQ magazine that he didn't care about Beyonce and Jay Z not attending his wedding.
"It doesn't even matter to me whatsoever, who would show up. Because the most important person to show up there, to me, was Kim. And that's all that matters to me. I had to fight for that for seven years," he said.