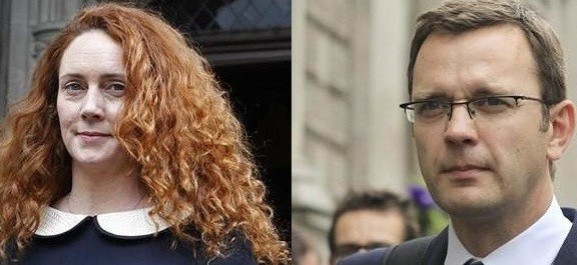 The phone hacking trial of Rebekah Brooks, Andy Coulson and other senior employees of the now-defunct News of the World will take place on 9 September 2013.
Former Downing Street communications chief Coulson and ex-News International boss Brooks were at the Old Bailey to learn that they will face trial in twelve months' time, charged with conspiracy to unlawfully intercept communications.
The News of the World's former managing editor Suart Kuttner, news editor Greg Miskiw, head of news Ian Edmondson, chief reporter Neville Thurlbeck and reporter James Weatherup will face trial at the same time, on identical charges. Glenn Mulcaire, a former private investigator hired by the News of the World, afaces four hacking charges relating to specific individuals.
The number of victims in the phone hacking scandal could number up to 600, according to prosecutors. The victims allegedly include murdered schoolgirl Milly Dowler, George Best's son Calum, and former home secretary David Blunkett.
In addition to the alleged hacking offences, Brooks, her husband Charlie and five others were also charged with perverting the course of justice.
The charges are based on claimss that evidence was hidden from police and illegal payments made to public officials by the Sun and News of the World. It has yet to be confirmed whether they will be heard alongside the phone hacking charges.
Following news of the trial date, Coulson, Brookes and all other defendents were released on bail.