Recent data shows gender pay gap is still prevalent
There is more transparency around gender pay gap reporting, which will help address the gap. However, pay differences persist in both the US and the UK.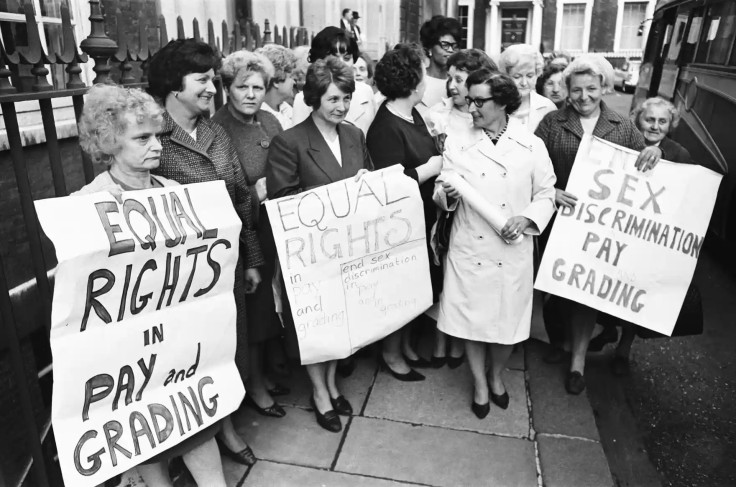 Equal Pay Day was marked on 14th March in the US this year. It is the symbolic day of the year when a woman earning the median for her gender would have caught up with her median male contemporaries' wages from the previous year.
Put another way, a woman earning median pay in the US would be working for free until 14th March, compared to a male counterpart.
"You can't improve what you don't measure," goes the phrase attributed to management guru Peter Drucker.
Hence, by contrast to the US, it is perhaps instructive that in the UK, where unadjusted median gender pay gap reporting is mandatory, the gap is less.
The equivalent day in the UK was 23rd February - compared to 14th March in the US. The TUC (Trade Unions Congress), an umbrella organisation for UK trade unions, declared it to be "Women's Pay Day".
Paul Nowak, the TUC's general secretary, said on the occasion, "Working women deserve equal pay. But at current rates of progress, it will take more than 20 years to close the gender pay gap."
Nowak continued, "That's just not good enough. We can't consign yet another generation of women to pay inequality."
This means that women's earnings in the UK represented 89 per cent of men's earnings. According to the recent report entitled "Racial and Gender Pay Scorecard", the latest number for the US is 83 per cent.
The report was the 6th annual "Racial and Gender Pay Scorecard" produced by Arjuna Capital, an investment management firm, and Proxy Impact, a shareholder advocacy organisation, to mark Equal Pay Day in the US.
Both organisations work on interventions through shareholder resolutions to not only boost gender and racial diversity in various sectors but also to advance the cause of pay equity.
Of 68 companies examined, 13 — Target, Starbucks, Mastercard, Microsoft, Pfizer, Bank of New York Mellon, Citigroup, Adobe, American Express, Visa, Lowe's, Best Buy, and Home Depot — received an "A", while 25 companies received an "F". Target is the first company in the history of the scorecard to earn a perfect score — A+.
"Target's score of A+ is really something to celebrate this Equal Pay Day," said Natasha Lamb, managing partner of Arjuna Capital. "Racial and gender pay gaps are structural and persistent, but the scorecard holds up those companies that are doing the real and honest work to create pay equity."
Further underscoring the importance of reporting, the 25 companies earning a failing grade of "F" on the scorecard - including Alphabet (Google's parent company), Goldman Sachs, Marriott, Charles Schwab, and Walmart - did so due to their lack of transparency.
Unsurprisingly, the consumer sector leads on pay gap disclosures - comprising 38 per cent of companies earning an A grade. Five consumer companies — Target, Starbucks, Lowe's, Best Buy, and Home Depot — report median pay gaps.
Healthcare lags behind, with only Pfizer disclosing median pay gaps - although Thermo Fisher has pledged to disclose median pay gaps this year. Healthcare is reported to have the third widest pay gap across 15 industries.
The good news is that median pay reporting is gaining momentum through shareholder proposals requesting disclosures. Specifically, whilst many companies only disclosed statistically adjusted pay gaps in the past, more companies are disclosing unadjusted median racial and gender pay gaps beyond their U.K. data, which is mandated.
This is important as unadjusted data provides more transparency. It assesses how jobs are distributed by race and gender and which groups hold the high-paying jobs. By contrast, statistically adjusted gaps only assess differences between minorities and non-minorities, men and women, performing similar roles.
The former is the more revealing standard, illustrating quite literally, how the company assigns value to its employees through the roles they inhabit and the pay they receive.
In a mark of progress, of the 68 companies covered by the scorecard, 18 companies currently disclose or have committed to disclose their unadjusted pay gaps in the next year. This includes Target, Starbucks, Lowe's, Best Buy, Home Depot, Chipotle, Mastercard, Bank of New York Mellon, Citigroup, American Express, Pfizer, Microsoft, Adobe, Visa, Disney, Amalgamated, BlackRock, and Thermo Fisher.
Returning to the UK comparison, it is worth noting that the data has limitations. The Office of National Statistics (ONS) calculates its figure for Women's Pay Day based on an hourly rate. Comparing weekly or annual pay would give bigger gaps because those numbers are directly affected by the amount of work that people do. Women – on average – work fewer hours than men (29 v 35 weekly hours).
In turn, the reasons why gender disparities still exist are varied and complex. Research by Institute for Fiscal Studies shows that women shoulder greater caring responsibilities. Connected to this is the widely-documented "motherhood penalty" - employers' propensity to deny mothers pay increases, promotions and important assignments – or to single them out for cutbacks or layoffs.
These trends were exacerbated during the Covid pandemic, a theme echoed in both US and UK data.
In the UK, for instance, where women represented three-quarters of the part-time labour force pre-pandemic, they were hit hard when 70 per cent of part-time jobs evaporated in the first 11 weeks of the pandemic.
Campaigners in the UK emphasise that employers can no longer justify lower pay for women on differences in jobs, or even on "unconscious bias". Their point is illustrated by the fact that a gender pay gap still persists in the country, which saw its first equal pay legislation pass in 1970.
In fact, sustained attention and action are needed if we are to close the pay gap - which research shows has cost the economy in both the UK and US trillions over the last 20 years. At that same time, the gender pay gap in the US, for instance, has hardly budged - reducing by a paltry 2%.
© Copyright IBTimes 2023. All rights reserved.