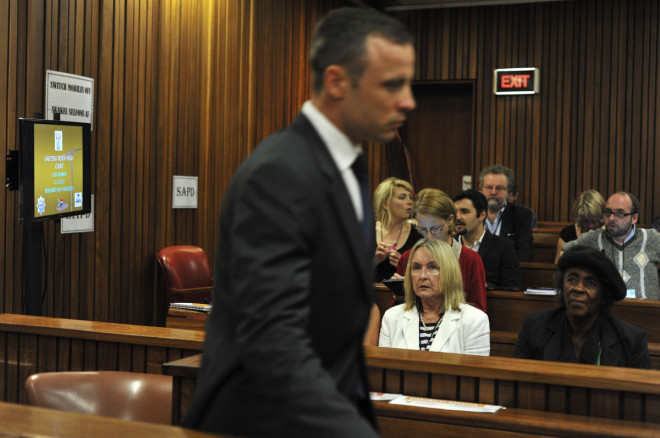 Reeva Steenkamp's grieving family intervened on behalf of her killer in court today as Oscar Pistorius prepared for another grilling in his murder trial.
A message from Reeva's mother June Steenkamp was read out by prosecutor Gerrie Nel before he went on tom make the fallen star cry again during relentless cross-examination.
But June's intervention struck a blow against Nel by undermining his portrayal of Pistorius as callous and self-centred.
June Steenkamp told North Gauteng High Court in her message that Pistorius had made efforts to meet with her following Reeva's violent killing.
She said they rejected the Bladerunner's request because they were not ready to meet the 27-year-old who gunned down the model.
Opening proceedings at North Gauteng High Court, Nel said: "After the adjournment yesterday Mrs Steenkamp said that Oscar Pistorius requested a meeting prior to the trial, but they were not ready for the meeting. Mrs Steenkamp felt it was important we put it on the record."
Earlier this week, the dogged prosecutor reduced the fallen track star to tears by claiming his apology to the Steenkamps in court was stage-managed and designed for his own benefit.
In dramatic scenes on Monday, Pistorius wept as he apologised to Reeva's relations present in court for gunning her down in a hail of bullets at his home on Valentine's Day last year.
Addressing them, he said: "There's not a month and there hasn't been a moment since this tragedy happened that I have not thought about your family.
"I wake up in the morning and you are the first people I pray for. I can't imagine the pain and sorrow you feel. I was trying to protect Reeva. I promise when Reeva went to bed that night she was loved.
"I've tried to put my thoughts on paper to write to you, but no words would ever suffice."
Recalling the episode on Thursday, Nel laid into Pistorius over the incident, saying: "That was more than a year after the event. Why would you create a spectacle in the public eye and not in private? You never thought about how they would feel sitting in the public gallery."
The Olympian and Paralympian denies murder and claims he mistook Steenkamp for an intruder inside his luxury home on the outskirts of Pretoria. The prosecution alleges he killed her following an argument between the couple.
The trial continues