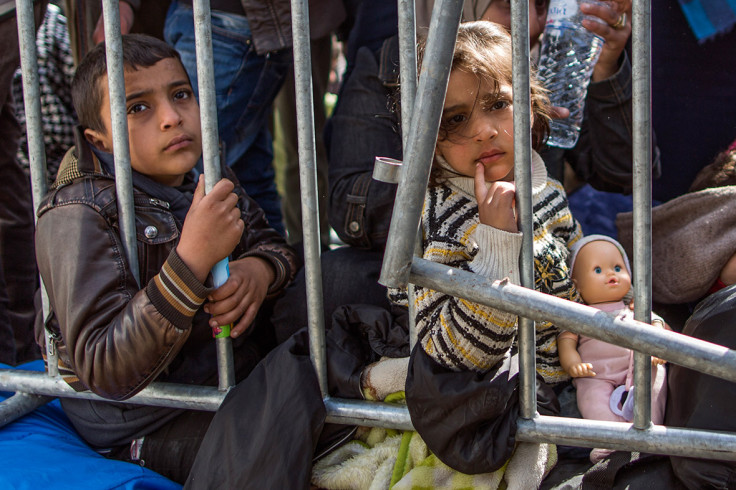 In 2015 more than 1.2 million asylum seekers applied in EU member states for protection – the largest number so far. Numbers from Syria applying for asylum doubled amid an explosion of migration to the EU from some of the most war-ravaged countries on earth.
Nearly a third of the first time asylum seekers to arrive in the 28 member states came from Syria. Of the 362,800 Syrians, almost half were registered in Germany, according to Eurostat.
Around 178,200 Afghans arrived in the EU seeking asylum protection for the first time in 2015. Of those, 45,600 applied in Hungary and 41,200 in Sweden.
The third largest number of asylum seekers to arrive in the EU came from Iraq. Of the 121,500 Iraqi applicants the majority were in Germany (29,800), Finland (20,400), and Sweden (20,200).
Although Germany has taken in the largest number of asylum seekers, comparing the population of each EU member state with the number of applicants it receives paints a different picture of the burden placed on that country.
For example, the highest number of registered first time applicants in 2015 was recorded in Hungary (17,699 applicants per million inhabitants), ahead of Sweden (16,016), Austria (9,970), Finland (5,876) and Germany (5,441).
The lowest numbers were recorded in Croatia (34 applicants per million inhabitants), Slovakia (50), Romania (62), Portugal (80) and Lithuania (93). In 2015, there were on average 2,470 first time asylum applicants per million inhabitants in the EU member states.
Below is the full list of origin countries and numbers of asylum seekers applying to EU member states:
Afghanistan - 178,230

Albania - 65,935

Armenia - 4,385

Angola - 720

Argentina - 15

Australia - 5

Azerbaijan - 2,305

Bosnia and Herzegovina - 5,940

Barbados - 5

Bangladesh - 17,695

Burkina Faso - 860

Bahrain - 40

Burundi - 485

Benin - 630

Bolivia - 55

Brazil - 110

Bahamas - 5

Bhutan - 20

Botswana -20

Belarus - 805

Canada - 25

DRC - 5,720

CAR - 1,020

Congo - 1,655

Switzerland - 5

Cote d'Ivoire - 5,575

Chile - 35

Cameroon - 3,335

China - 5,695

Colombia - 285

Costa Rica - 10

Cuba - 610

Cape Verde - 15

Djibouti - 270

Dominica - 15

Dominican Republic - 715

Algeria - 7,620

Ecuador - 40

Egypt - 3,390

Western Sahara - 695

Eritrea - 33,095

Ethiopia - 5,475

Fiji - 5

Gabon - 135

Grenada - 5

Georgia - 6,560

Ghana - 5,570

Gambia - 12,205

Guinea - 5,480

Equitorial Guinea - 35

Guatemala - 10

Guinea-Bissau – 1,200

Guyana - 45

Honduras - 25

Haiti - 3,230

Indonesia - 40

Israel - 75

India - 4,760

Iraq - 121,535

Iran - 25,360

Jamaica - 240

Jordan - 505

Japan - 5

Kenya - 410

Cambodia - 45

Comoros - 530

Saint Kitts and Nevis - 10

North Korea - 125

South Korea - 30

Kuwait - 515

Kazakhstan - 485

Kyrgyzstan 455

Laos - 15

Lebanon - 2,840

St Lucia - 25

Sri Lanka - 3,650

Lesotho - 285

Libya - 4,795

Morocco - 5,430

Moldova - 1,795

Montenegro - 3,615

Madagascar - 105

Former Yugoslav Republic of Macedonia- 10,545

Mali - 8,315

Myanmar - 445

Mongolia - 2,175

Mauritania - 1,325

Mauritius - 115

Maldives - 25

Malawi - 225

Mexico - 95

Malaysia - 65

Mozambique - 10

Namibia - 40

New Caledonia - 5

Niger - 470

Nigeria - 29,915

Nicaragua - 45

Norway - 5

Nepal - 480

New Zealand - 5

Oman - 10

Panama - 5

Peru - 145

Philippines - 245

Pakistan - 46,400

Palestine - 3,135

Paraguay - 15

Qatar - 5

Serbia - 19,090

Russia - 18,385

Rwanda - 450

Saudi Arabia - 110

Seychelles - 5

Sudan - 10,910

Singapore - 5

Sierra Leone - 880

Senegal - 8,880

Somalia - 19,575

Suriname - 10

South Sudan - 115

Stateless - 18,940

El Salvador - 580

Syria - 362,775

Swaziland - 25

Chad - 620

Togo - 955

Thailand -50

Tajikistan - 1,075

Turkmenistan - 365

Tunisia - 2,030

Turkey - 4,180

Trinidad and Tobago - 40

Taiwan - 20

Tanzania - 150

UAE - 25

Ukraine - 20,830

Uganda - 785

Unknown - 21,345

United States - 135

Uzbekistan - 485

Saint Vincent and the Grenadines - 5

Venezuela - 785

Vietnam - 1,760

Kosovo - 66,885

Yemen - 1,390

South Africa - 205

Zambia - 55

Zimbabwe - 475