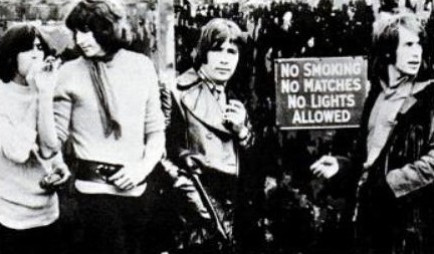 The Troggs singer Reg Presley has died from lung cancer at the age of 71.
Presley, who's best known hit was Wild Thing from 1966, died at his home, his friend and publicist Keith Altham said on Facebook.
Altham said Presley had suffered from a series of strokes and had been losing his fight with cancer recently.
He wrote: "My dear old pal Reg Presley of The Troggs died today at 1.00 surrounded by family and friends at his home in Andover following a succession of recent strokes and a losing battle with cancer.
"He was one very real person in a sometimes very unreal world. Our thoughts are with his wife Brenda and the family and those legion of fans who loved his music and his band. I will miss him hugely."
Presley announced his retirement from music in January last year after he was diagnosed with cancer. He had also suffered from a stroke in 2010.
He said: "As you all know I was taken ill whilst doing a gig in Germany in December. "During my stay in hospital tests showed that in fact I have lung cancer. I am receiving chemotherapy treatment and at the moment not feeling too bad.
"However I've had to call time on The Troggs and retire. I would like to take this opportunity to thank you all for the cards and calls and for your love, loyalty and support over the years."
Separate from The Troggs, Presley's best known composition was Wet Wet Wet's 1994 hit Love is All Around, which featured on the soundtrack of Richard Curtis' Four Weddings and A Funeral, starring Hugh Grant and Andie MacDowell.
The song spent 15 weeks at the UK number one spot. He used the royalties from the song to fund research into crop circles.
In a 1994 interview with the Independent, he said: "Yeah, it's been discredited by all the hoaxing. But there's still something going on.
"Seventy-five percent of the circles are probably hoaxes. I want to know who's doing the other 25 percent.
"I looked at my first crop formation in 1990 and after that I was hooked. When I was young and studying to be a bricklayer, with all the arches and things that we had to draw at college, that gave me an insight to know that this was no ordinary wind damage.
"I knew there was something more technical there.
"If a circle is absolutely perfect, that's one thing. But these were slightly out of true - elliptical, but only slightly."