Four men remain in custody at police stations across London after being arrested over a suspected terror plot to target the Queen as she attended a ceremony at the Cenotaph to commemorate Remembrance Day.
Both the Queen and Prime Minister David Cameron have been made aware of the alleged plot. The Queen has vowed to attend tomorrow's ceremony, despite fears Islamist terrorists possibly linked to Isis (Islamic State) were planning to kill her with a knife as she laid a wreath.
Some media reports claimed there was also a plot to attack random members of the public with guns, but police have declined to comment on the precise nature of the allegations.
Scotland Yard said the arrests formed part of "an ongoing investigation into Islamist-related terrorism".
Yousaf Syed, 19, who was also arrested as part of an anti-terror operation in May, and three other men aged 27, 25 and 22, were seized following months of surveillance by intelligence agency MI5.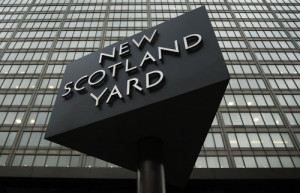 The 27-year-old was arrested at gunpoint while in a car in Southall, and homes in Hounslow, Uxbridge and Greenford were also searched. No weapons were found.
Syed's home in Desborough Avenue, High Wycombe, is still sealed off following his arrest at gunpoint by marksmen from the Met's Counter Terrorism Command (also known as SO15).
Neighbours claim Syed had become more devout in recent months, wearing a long beard and traditional Muslim garb. He is reported to have recently visited Pakistan.
Some members of Syed's community in High Wycombe questioned why the police action had been so dramatic.
"One of the concerns that we heard was that it was a disproportionate use of force and armed response," local youth worker Saqib Deshmukh told Sky News. "Did it necessitate that? Was there a need for that to happen? Was there an actual threat on the ground? And that's a concern – that the actual number of forces and the level of force used is disproportionate and it doesn't merit it based on the evidence."
The terrorism threat level in Britain was raised to "severe" earlier this year meaning an attack is "highly likely". Islamic State has called on young Muslims to target commemorative events. And in recent weeks armed guards have been posted to protect ceremonial sentries following the attack at Ottawa's parliament.
In 1987 an IRA bomb at a Remembrance Sunday event in Enniskillen, Northern Ireland, killed 11 people and injured 68.