Tens of thousands of deadly weapons – including "death stars", concealed swords and daggers hidden in belts – have been seized by border police over the past five years, shocking new Home Office figures reveal. Customs officials have been bombarded with people trying to smuggle almost 40,000 lethal weapons between 2010 and 2015, with many likely destined for UK streets and to be sold on the black market.
The figures, from the UK Border Agency (UKBA), show everyday items − like belt buckles, key rings and walking sticks − being illegally adapted to conceal knives and swords.
The haul also saw hundreds of more bizarre weaponry confiscated, such as blowpipes, ninja shoe spikes and kyoketsu-shogs – double-bladed ninja weapons attached to a long chain that can be hurled at victims.
The 10 types of weapons most seized by the UK Border Force between 2010 and 2015:
Knuckle duster: 13,718
Flick or gravity knives: 6,043
Truncheon or baton: 3,826
Martial arts weapons: 2,084
Disguised knife: 1,254
Butterfly knife: 872
Death star: 770
Swordsticks: 273
Hollow kubotan: 124
Stealth knife: 108
It comes as the police forces across the UK continue to run weapon amnesty campaigns in the face of a growing concern over the number of stabbings and violent attacks.
Last year, knife crime rose across England and Wales for the first time in four years. Figures showed a 23% increase in stabbings in London in the first 12 months to May 2015 compared to the previous year.
It led to a crackdown by Met Police in July, part of which saw officers seize a significant arsenal of dangerous weapons that managed to get into the UK unnoticed.
In 2011, Border Agency chiefs warned that "vicious" weapons its officers were seizing at ports of entry were becoming "more and more sophisticated".
But since then a steady stream of many thousands have continued to be confiscated. In a one year period over 2014/15, some 6,735 weapons were seized by customs, compared to the 6,064 taken in 2010/11. In total, from 2010 to November last year some 38,613 weapons were confiscated.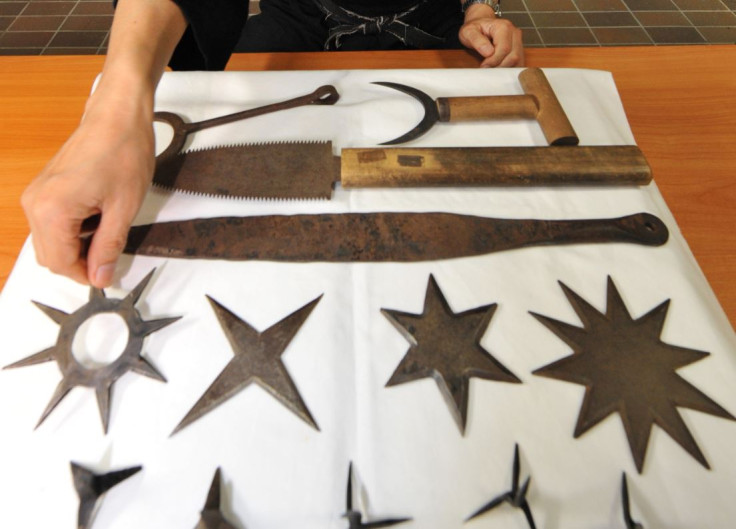 The most common weapon confiscated by customs officials since 2010 – reaching 13,700 – were knuckle dusters, banned items used to improve the power of a punch and which can break bones. Flick knives were second, at just over 6,000, while truncheons and batons were third, with about 3,800 taken by customs officials.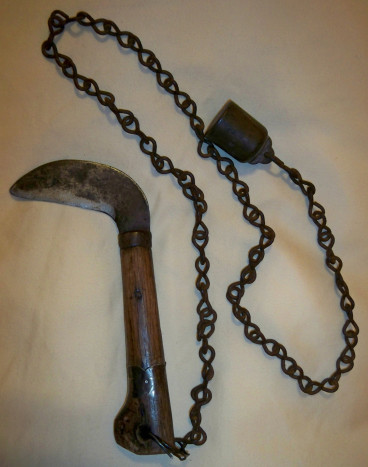 The UK government publishes a long list of what it classes "offensive weapons" that are banned or restricted in the UK.
But many are still able to be bought online and shipped from abroad, with even the retailer Amazon recently caught allowing spiked knuckle-dusters and stun guns to be sold on its website.
Holidaymakers can also be caught out at border checks after what they think are souvenirs bought abroad turn out to be illegal under UK law.
Items confiscated by the UKBA are either sent to a special warehouse to be disposed of or are put on display at the UKBA's "Seized" museum in Liverpool.
Police forces also regularly launch weapon amnesties in which banned items can be handed into a police station or disposed of in a special bin without risk of being arrested.
The border force figures were published on 7 January after a parliamentary question submitted by Labour MP Keith Vaz, the chair of the Commons' Home Affairs Committee. He was not available for comment.
A spokesman for the Home Office said: "Border Force already works closely with the police and National Crime Agency to prevent the importation of weapons into the UK. And we have intensified checks on people, goods and vehicles entering the UK from the near continent and elsewhere.
"Border Force officers use some of the most high-tech equipment available to keep offensive weapons off our streets and we keep this intelligence-led work under continued review to ensure we are always using the most effective approach. Anyone caught trying to smuggle dangerous weapons into the country will have them confiscated and could face prosecution."
What counts as an offensive weapon (source: Home Office)
Offensive weapons are items designed to kill or inflict serious injury that have no real legitimate use. Such weapons are restricted and in the case of flick and gravity knives are banned from being imported into the UK and can be seized by Border Force officers. These include:
knuckledusters, handclaws and push daggers
footclaws - i.e. spikes designed to be strapped to the foot
flick or gravity knives - i.e. with blades that are spring-loaded or can be opened using gravity or a flick of the wrist
weapons with a concealed or disguised blade or sharp point - e.g. swordsticks, stealth knives, butterfly knives and belt buckle blades
martial arts weapons such as death stars, hollow kubotans and kusaris
batons and telescopic truncheons
blowpipes or blowguns, except for use by vets or registered animal handlers
curved blade swords with a blade over 50cm