The Samsung RV720 is a powerful yet affordable laptop with a large screen that could easily act as a desktop replacement, ideal for students who want a laptop but also a screen big enough for watching films with friends.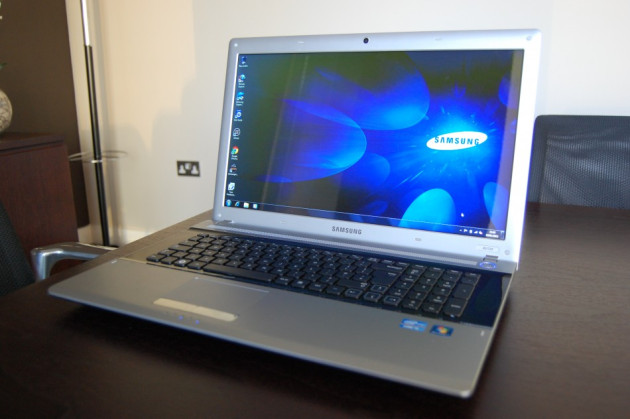 Look and Feel
With its massive 17-inch screen, the Samsung RV720 is certainly not marketing itself as highly portable. Sure, the laptop is fairly thin but at almost 3kg you're not going to be slinging this over your shoulder and strolling to the local coffee shop every day.
Despite its relatively cheap price of £470, the RV720 feels solid and well-made and we really liked the look of metallic-effect plastic interspersed with gloss black. The laptop looks like a premium product and the structure is solid, giving only a hint of flex when picked up by the corner or when pressure is applied to the wrist area.
The keyboard is similar to Apple's chicklet in design, where each key is separate. This makes typing easier, with less chance of catching a neighbouring key while typing quickly. Keyboard feedback is good and springy with a decent amount of resistance although we're a bit disappointed that the RV720 does without a backlit keyboard. The white lettering on black keys helps typing in low light.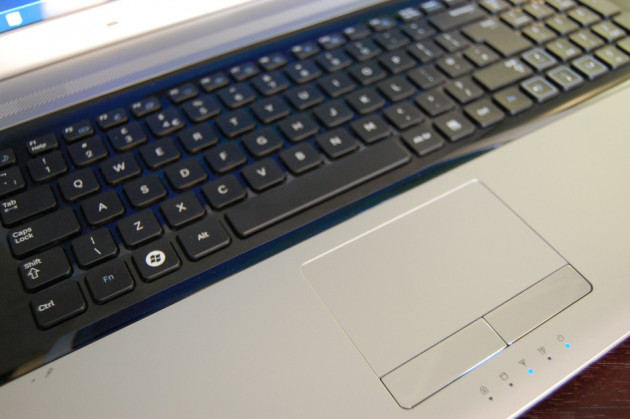 Offset to the left, the trackpad is quite small for such a huge laptop, which was a disappointment. Two-finger scrolling is available but in testing we found it to be nowhere near as responsive as on Apple's MacBook range, and scrolled in stages, rather than smoothly, with slow inputs.
While the screen can manage full HD 1080p content, the resolution - at 1600x900 - is a little on the low side for such an enormous panel. On the positive side, the screen can go quite bright if you wish, meaning it can still be seen even in a bright room or in direct sunlight. Not being made of glass also helps here.
Otherwise, the trackpad is responsive to one finger and the two buttons click easily and provide good feedback without being annoyingly loud.
Tech spec and battery life
The 2.1GHz Intel Core i3 processor and 4GB of RAM work to provide the RV720 with a decent amount of power; we had no problems at all with the usual day-to-day tasks of browsing, listening to music, email and word processing. Gaming, though, isn't the Samsung's strong point, as it is let down by its graphical power - or lack of. Very basic, older games will work fine, but don't expect to play anything like the Call of Dutys and DiRT 3s of this world. We would have enjoyed gaming on the huge screen but, sadly, the RV720 isn't really built for the job. Having said that, at less than £500 it would have been a big ask to play modern 3D games on the laptop.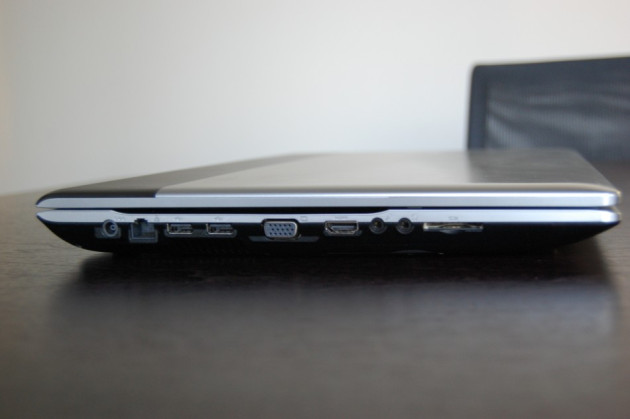 As for connectivity, the Samsung RV720 has three USB ports, along with VGA, Ethernet, HDMI, headphone and microphone jacks, as well as an SD card slot.
We ran the Geekbench application to get a gauge of how the RV720 performs in a range of processing tests. The laptop scored 2170, considerably lower than the 5093 scored by the Dell XPS 14z we reviewed last year. Of course, at £799, the Dell is considerably more expensive but the RV720 screen size outweighs its somewhat average performance.
Conclusion
The Samsung RV720 is never going to rival a dedicated gaming machine, and it'll struggle with intensive Photoshop work too - not to say that it can't do the basics, though. But what it does offer is a very big screen which makes watch films and TV shows a real joy; this laptop would be ideal for students who don't have the space or budget for a laptop and television, as the screen size makes comfortable TV viewing in bedrooms or university accommodation.
It's too heavy for most users to carry around every day, but it's certainly more portable than the desktop that it could easily replace.
The Good
Very big screen for the price.
Great for students or those looking to replace a desktop with something more portable.
Design; we liked the silver and black look
Good feedback from the keyboard
Quite slim for a 17-inch laptop
The Bad
Can't really do gaming or anything too intensive
Weight makes it cumbersome to carry around
While big, the screen resolution isn't as high as we would have hoped
Comparatively small trackpad
Overall
4/5